Cyber Security Undergraduate Degree: Is it a Good Place to Start?
Technology has entered every aspect of our lives. From the laptops on our desks and the phones in our pockets, to the server rooms of the companies we depend on, never before have thieves and criminals had access to so many possibilities for criminal enterprise. Standing between the "ne'er do wells" and the public are an unsung line of cybersecurity professionals who possess the skills and training to keep the hackers on the other side of the firewall.

Skills Essential for Success
Training to become a cybersecurity professional requires mastering a significant number of skills. Prior to graduation, undergraduates in cybersecurity programs need to know how to troubleshoot and maintain both hardware and software. It is crucial for students to understand available cyber security measures and the most effective methods of deploying them to protect data and manage information.
Finally, it is essential that students know how to monitor for threats and proactively defend networks before an attack can commence. Throughout your courses, you won't learn how to recite facts or repeat details; you will learn how to apply concepts and think outside the box to stay ahead of criminals.
From Courses to Careers
Undergraduate cybersecurity programs give you the fundamental skills required to build a successful career. These include principles of cybersecurity, logic and design, networking/cloud computing solutions, routing and switching, and computer configuration. Programs also includes courses in writing, algebra, communication, and psychology. Combined, these courses teach you how to design, operate, and manage cybersecurity networks effectively in the 21st century.
Career Options are Plentiful
Demand for cybersecurity professionals at an impressive rate. Between now and 2026 the Bureau of Labor Statistics, cyber security analysts are expected to see 28% growth. Individuals who earn an associate's or bachelor's degree can find ready employment when they graduate. There are ample opportunities for technical support staff, network and security infrastructure professionals, and network administrators.
Moreover, as technology continues its unstoppable march into every aspect of society, there are plenty of career paths those with the right skills could choose from. Graduates could find employment in every industry, whether it's finance and banking, agriculture, retail, hospitality and travel, or within a government agency.
There are plenty of opportunities for IT Security Engineers, Forensic Computer Analysts, Penetration Testers, Security Architects, and IT Security Consultants who can find themselves travelling the world as they help companies keep their networks locked down tight.
The First Step in a Rewarding Career
Cybersecurity is a career field that is only going to become more important as technology evolves. This means plenty of job security. It also means that there are plenty of opportunities to continue your education and climb even further up the ladder.
Companies and government entities are generally keen to sponsor individuals seeking advanced education in cybersecurity. This means after entering the field you might be able to seek a graduate degree in cybersecurity with your employer's financial backing.
Those who choose to continue their education could move into managerial positions or into c-level positions as they earn a master's in cybersecurity. Job growth within the field is expected to be exponential and individuals who enter the career now will be well positioned to help direct their company's cybersecurity efforts in the future.
ECPI University: Education and Support You Can Depend on
Are you interested in working in cybersecurity? If so, you will need a solid education behind you. If you want to earn a Bachelor of Science Degree in Computer and Information Science with a Major in Cyber and Network Security - Cybersecurity Track, ECPI University offers this program at an accelerated pace. For more information, connect with one of our friendly admissions counselors today.
It could be the Best Decision You Ever Make!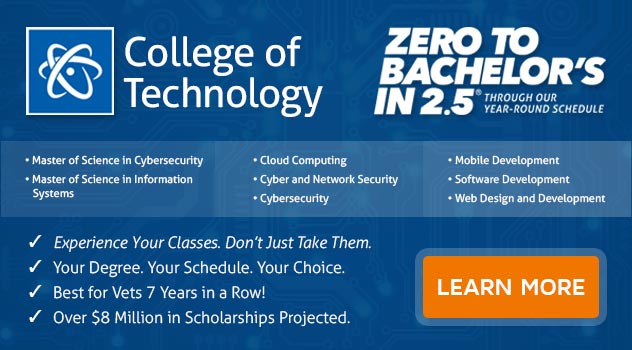 DISCLAIMER – ECPI University makes no claim, warranty, or guarantee as to actual employability or earning potential to current, past or future students or graduates of any educational program we offer. The ECPI University website is published for informational purposes only. Every effort is made to ensure the accuracy of information contained on the ECPI.edu domain; however, no warranty of accuracy is made. No contractual rights, either expressed or implied, are created by its content.
Gainful Employment Information – Cybersecurity Track - Bachelor's
For more information about ECPI University or any of our programs click here: http://www.ecpi.edu/ or http://ow.ly/Ca1ya.