Cybersecurity On the Job: How is Cybersecurity Practically Applied?
In 2018, hackers were busy violating companies' digital records and information. For those companies and their customers, fear and chaos reigned for quite some time. Of the "top ten," Aadhaar (1.1 billion Indian citizens' identification data) was the biggest hack and Panera Bread (37 million customers) was the smallest. That's right; 37 million customers' information was revealed to cybercriminals, and that wasn't even the worst cybersecurity breach of 2018.
Cybercrime is well reported when the hacked companies are large and the attacks affect millions. But what about all the small- to mid-size organizations that come under cyberattack every year? In one report, a security firm stated almost 90% of online login attempts are actually hackers using stolen data. Online payment systems appear to be the most vulnerable.

How Employees Can Increase Cybersecurity
Cybersecurity starts with you. No matter where you work, go to school, or reside; you're connected. And someone wants to know all about you, especially your account numbers and passwords.
If you are a cybersecurity professional, part of your job will include education. You'll likely be responsible for training employees on cybersafety protocols and techniques. Here are some cybersecurity tips that can help you and others protect important information:
Authentications – Instead of one, use 2-factor authentication methods. For example, your bank may require a password and the correct response to a random, pre-answered security question. You can do that to protect private information.
Email – If you get a suspicious email, including, "Hi, >Your Name!< from someone you haven't heard from in years, go ahead and open it. But don't click any links or attachments. Instead, send a new (not a reply) email to your friend and simply ask, "Did you send me an email about…?" Some email hackers use a subject line that makes you think you missed a payment (What payment? Click.) or you have a UPS delivery (Really? Did I order something and forget? Click.).
Passwords – Don't use 123456. That's the number-one-hacked password. (And 654321 isn't a good choice, either.) The other oft-hacked password? "Password." Common passwords include, "Charlie," "monkey," "donald," and "password1." It's best to go to a password generator site. Try to avoid password generator sites that give great passwords you'll never remember.
Personal information – Limit what data you give out. Retailers frequently ask for email and phone number so they can alert you to special buys and incentives. It is not recommended you share that information. Disconnect.me or Privacy Badger are free downloads and can offer additional protection against "malware and ransomware delivered through online advertisements," says USAToday.
Pin – Your pin doesn't have to be 4 digits. Use six for better cybersecurity.
Software – It's a pain when you are prompted that a software update is needed. But those updates include cybersecurity protections. Within a company or organization, cybersecurity professionals should monitor software upgrades.
Webcams – When not in use, cover your webcams. Hackers can film you and your surroundings.
How Cyber and Network Security Professionals Help Companies
A recent global survey conducted by ESG on IT professionals found that 53 percent of organizations have reported a problematic shortage of cybersecurity skills between 2018 and 2019. -Missing: Cybersecurity Pros
The best cybersecurity jobs – the ones with a challenging, charged environment that also lead to promotions and career success – require formal education. This particular career is incredibly in-demand and the predicted shortage of cybersecurity professionals is frightening at best.
In the next few years, the demand for cybersecurity professionals will be "very high," according to the Bureau of Labor Statistics (BLS). With a cyber and network security degree, your entry-level skills should include:
Administering hardware/software services
Creating basic security policy and procedures for organizations
Educate users about cybersecurity precautions
Managing software maintenance and upgrades
Monitoring and defending networks
Performing vulnerability and penetration testing for companies
Safeguarding and protecting company data
Troubleshooting hardware and software applications
Using cybersecurity measures for data protection and personnel management in single, mixed, and multi-user environments
Are You Ready to Learn About Cybersecurity?
If you want to work in the cybersecurity field, you will need an education. If you want to earn a Bachelor of Science Degree in Computer and Information Science with a Major in Cyber and Network Security, ECPI University offers this program at an accelerated pace. For more information, connect with a helpful admissions representative today.
It could be the Best Decision You Ever Make!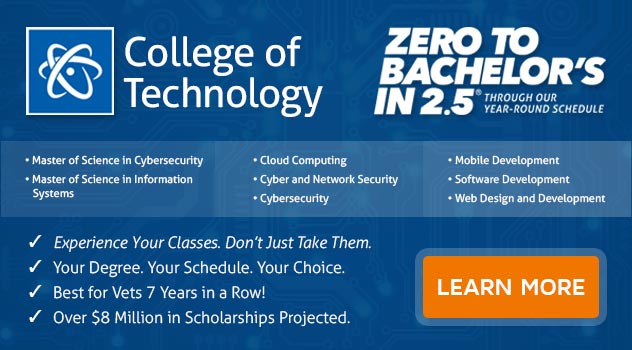 DISCLAIMER – ECPI University makes no claim, warranty, or guarantee as to actual employability or earning potential to current, past or future students or graduates of any educational program we offer. The ECPI University website is published for informational purposes only. Every effort is made to ensure the accuracy of information contained on the ECPI.edu domain; however, no warranty of accuracy is made. No contractual rights, either expressed or implied, are created by its content.
Gainful Employment Information – Cyber and Network Security - Bachelor's
For more information about ECPI University or any of our programs click here: http://www.ecpi.edu/ or http://ow.ly/Ca1ya.