Different Types of Catering: Which Setting is Right for You?
Catering may seem like a great way to get into the food service management business, but the field itself is subdivided into several different types of catering. Each has different requirements, and you might find that you are better suited to a particular type. Take a look at these catering businesses and see if any match up with your skills and temperament.
Wedding Catering: An Adventure Every Time
This is the big one, the type that everyone thinks of when they first hear the word "catering" mentioned. You and your employees would be responsible for setting up and breaking down tables and chairs, running a buffet, providing meals in accordance with preferences and requirements listed on RSVP cards, and possibly cutting the cake up into slices for guests.
This is a rather tense but rewarding kind of catering. You absolutely have to be on time, and you'll be dealing with people who are consumed by stress, and possibly taking it out on others around them. You have to keep a cool head, calculate recipe ingredients to ensure there's enough, provide an elegant menu, and have a completely professional presentation.
A similar but less intense type of catering is social event catering, for non-wedding events that still need full catering service. While the hosts might not be as stressed during these, you still need to follow the same guidelines: prompt, presentable, and professional.
Food Truck: Service on the Road
Nowadays people think of food trucks as those modern restaurants that took the traditional food truck and turned it into a mobile restaurant, people flocking to wherever the truck goes. Traditionally, though, food trucks spent a lot of time traveling to specific worksites, offices, schools, and other places to feed people who are already there.
Whether you want to start a traditional truck or one of the newer types, you have to be able to put together a comprehensive menu and re-create the dishes hour after hour, day after day. The menus don't have to be complicated. You could have a food truck catering business serving hamburgers, cheeseburgers, salads, and soda, and as long as the prices are reasonable and the food delicious. But you are not just offering one meal and packing up. You're steadily going for hours at a time.
Stamina is the key to this type of catering. Food truck catering can sometimes be a one-time deal, like for a festival, but chances are much of your catering will come from contracts with businesses that need to provide workers with a quick meal. You have to be ready for your business to come in waves as different offices let out at different times. Food truck catering can be casual and fairly relaxed, but you still have to be consistent and professional.
Corporate Catering: Quick and Convenient
Business lunches, grab & go boxes, cheese & vegetable platters -- the staple foods of corporate catering tend to be more buffet type deals, and they aren't always staffed. You may find a lot of corporate catering involves making and dropping off the food on disposable trays.
Food for these events may be more practical for the most part, but you should have fancy menus up your sleeve anyway, because you could be called upon to cater an award dinner, for example. Again, professional presentation and efficient planning are key qualities that this type of catering requires.
Concession Catering: You Might Find Yourself at a Ballgame
Want a friendlier, busier type of catering where the area is filled with energy? Concession catering might be your match. From fairs to sports events, concession catering is very busy and crowded, and you have to get good, safe food out fast. You really have to be on the ball for this one as orders can come in very quickly; people want to get their food and then continue with whatever event they're attending. You also have to be ready to joke with customers and handle complaints quickly and publicly.
Which type of catering do you think you might fit in? If you know the answer and are interested in earning a Bachelor of Science Degree in Food Service Management, consider ECPI University's Culinary Institute of Virginia. For more information, connect with a helpful admissions representative today.
It could be the Best Decision You Ever Make!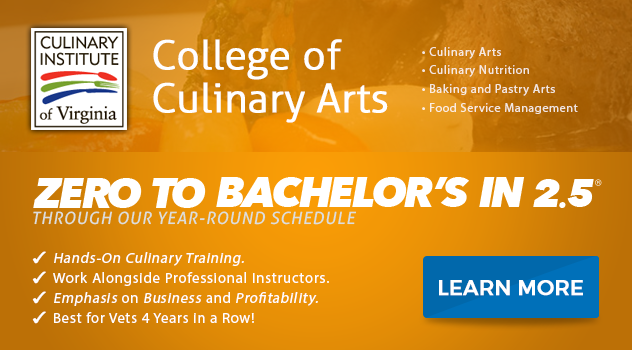 DISCLAIMER – ECPI University makes no claim, warranty, or guarantee as to actual employability or earning potential to current, past or future students or graduates of any educational program we offer. The ECPI University website is published for informational purposes only. Every effort is made to ensure the accuracy of information contained on the ECPI.edu domain; however, no warranty of accuracy is made. No contractual rights, either expressed or implied, are created by its content.
For more information about ECPI University or any of our programs click here: http://www.ecpi.edu/ or http://ow.ly/Ca1ya.