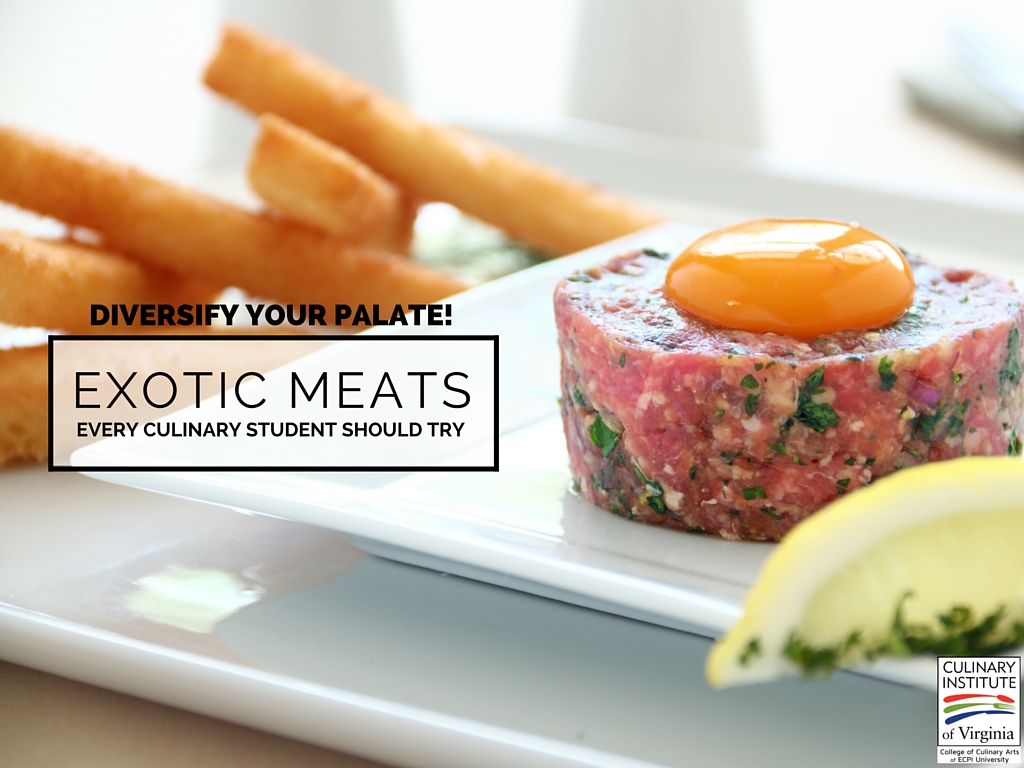 "Tastes like chicken" is a sure sign of a weak, undiscerning palate. One of the rituals culinary students learn to enjoy is the tasting, when their palates are educated. This does not mean their palates necessarily enjoy the new, the wild, and weird flavors. Appreciation is not the same as enjoyment. A trained chef must appreciate a wide array of flavors, including exotic meats. 
Environmentally Conscious Meat Tastes
In America we are blessed with plentiful sources of protein and rigorous food safety laws that protect consumers. Within the law, niche markets in exotic meats provide bizarre bounty that any chef should find intriguing. Regional favorites often depend on the type of protein source in local abundance (say, for example, seafood in New England, four-legged beasties in the mid-west, and swamp oddities throughout the south). 
The US Food and Drug Administration, which regulates game meat such as lion, bison and bear, says the meat can be sold as long as the animal from which it is derived is not on the endangered species list. Most exotic meats sold in the United States are farm-raised, much as chickens, hogs and cattle are. 
Knowing that exotic game and meats are perfectly legal to buy and prepare, what kinds of meats can you find? 
Edible Versus Tasty
The word "edible" is the unkindest cut of all—just about anything is, at some level, edible. Exotic meat goes far beyond adventure television shows about desperate contestants roughing it in the wild. Tasty, nutritious and flavorful exotic meats can include everything from alpaca to yak. With such a broad array of exotic meats, here are just a few that are growing in popularity.
See Ya Later, Alligator
The American Alligator is downright delicious, and, properly prepared, tastes nothing like chicken. Many recipes call for deep-frying the meat, but this recipe calls to mind the gentility of Southern living without the use of a deep fryer: 
Alligator Etouffee
Two onions, chopped
½ cup butter
Two cloves garlic, chopped
Salt and pepper to taste
Four celery stalks, chopped
½ cup green onions, chopped
One can tomatoes
¼ cup parsley, minced
One pound of alligator meat, cut in thin strips
Cayenne pepper to taste
Sauté the onions, celery and garlic in butter until all the ingredients are soft. Add the tomatoes and simmer for 20 minutes in a covered pan. Add alligator meat. Cook over low heat until tender, or about an hour. Add the salt, pepper, parsley and cayenne pepper. Add hot water if you find your gravy is too thick. Serve over cooked rice, garnishing with green onion.
Ostrich
You would have to keep your head in the sand not to notice that ostrich meat is growing in popularity. The folks at Ostrich Growers Meat Company provide this recipe for ostrich filet steaks: 
Ostrich Steaks
Two six-ounce ostrich filets
Four strips of bacon or pancetta
Kosher or sea salt
Pepper to taste
Partially cook four bacon or pancetta slices until they are slightly rendered. Wrap each filet with the strips of bacon or pancetta, fastening with a toothpick. Preheat your oven to 250°. Heat up a cast-iron skillet, sprinkle a half teaspoon of kosher or sea salt, and wait until the salt begins to smoke. Lightly pepper both sides of the filets. Sear one minute on each side, then place the skillet in the oven, covered loosely with foil. Leave for 10 to 15 minutes. The ostrich steaks will be evenly pink inside.
Mushroom Sauce for Ostrich Steak
Mushrooms
Shallots or onion
½ cup red wine
Salt and pepper to taste
Dash nutmeg
Finely chop the shallots or onion. Slice four mushrooms and sauté the onions and mushrooms until the mushrooms start to give up their liquid. Add salt, pepper, ½ cup of red wine and nutmeg. Simmer covered for two minutes. 
Must We? 
In addition to the exotic, edible (and tasty) animals you might find in zoos and game preserves, some meats come from un-exotic animals. Once used for thrift and efficiency ("waste not, want not"), these cuts are now often viewed as dining challenges for foodies: 
Rocky Mountain Oysters—Also known as Cowboy Caviar or Swinging Sirloin, the testicles of ungulates, fowl, reptiles and bovines can be deep-fried, grilled, and even drizzled with chocolate
Brains—Setting aside any squeamishness from...you know, eating brains...the protein is considerable in a four-ounce serving (12 grams) but so also is the cholesterol (2,000 milligrams). So while controversial, brains (from beef, pork, lamb or even rabbit) can be enjoyed for their light flavor. Prepare by lightly dredging in flour, then sautéing or even scrambling (yes, like eggs). 
Culinary Institute of Virginia Graduate Makes Final 2 in #HellsKitchen http://t.co/c7vOaLzhWD via @ECPIUniversity

— Mike Glover (@Inbound_Mike) January 9, 2015
Refine Your Palate at Culinary College!
To put your diversified, educated palate to best use, contact ECPI to learn more about enrolling in the Culinary Institute of Virginia's program to earn an Associate of Applied Science Degree in Culinary Arts in as little as 15 months. It could be the Best Decision You Ever Make!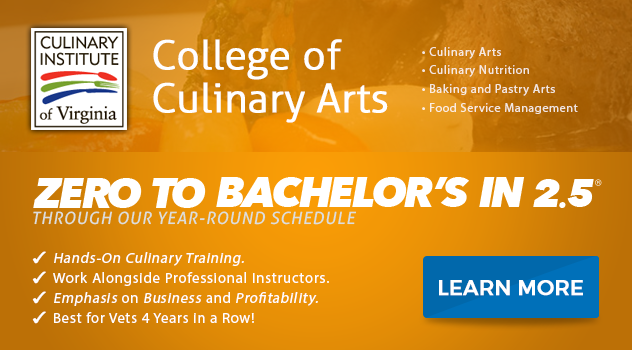 DISCLAIMER – ECPI University makes no claim, warranty or guarantee as to actual employability or earning potential to current, past or future students or graduates of any educational program we offer. The ECPI University website is published for informational purposes only. Every effort is made to ensure the accuracy of information contained on the ECPI.edu domain; however, no warranty of accuracy is made. No contractual rights, either expressed or implied, are created by its content.
Gainful Employment Information
For more information about ECPI University or any of our programs click here: http://www.ecpi.edu/ or http://ow.ly/Ca1ya.