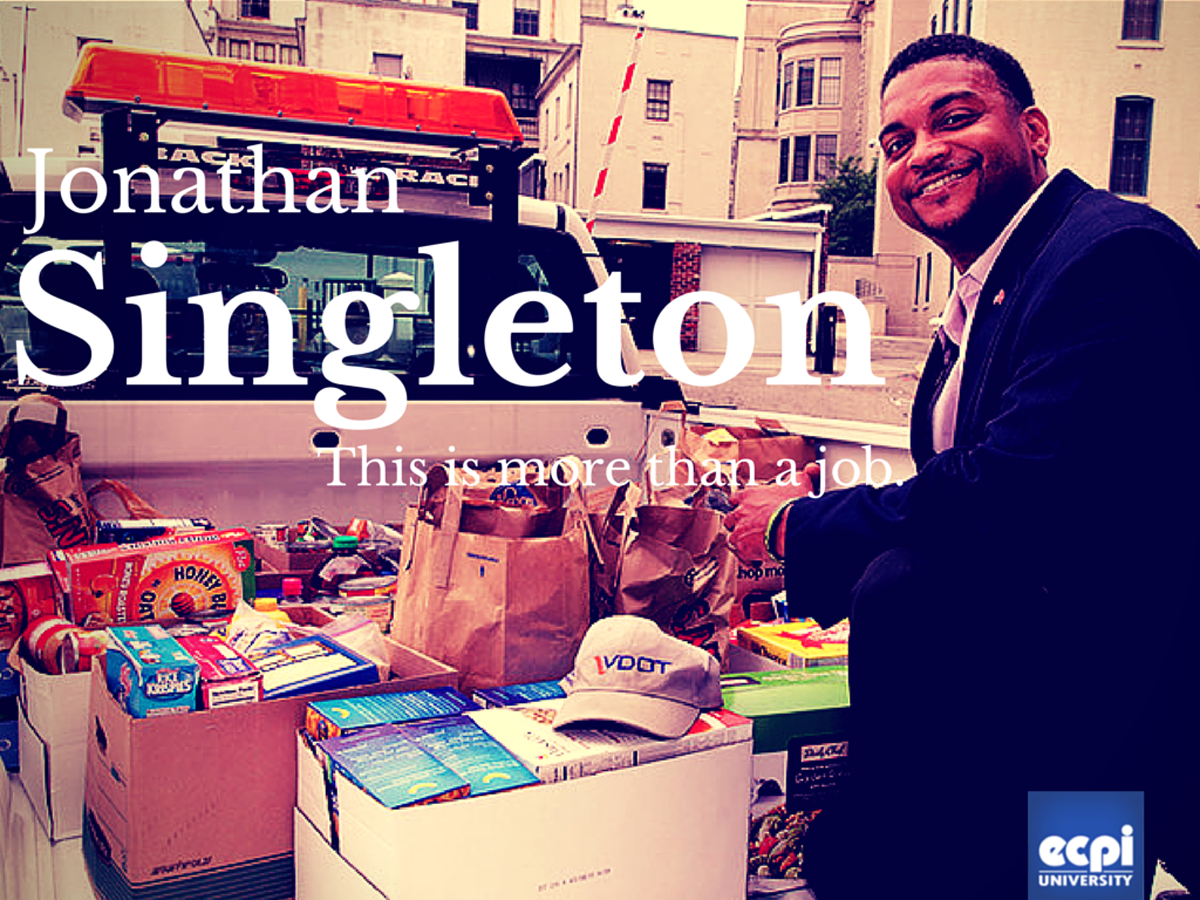 Jonathan Singleton has a very important job. Some might say it's a calling. He helps wounded veterans. When he's not working on his bachelor's degree at the ECPI University Richmond/Moorefield campus, he's coordinating the Virginia Department of Transportation's (VDOT) Wounded Veteran Internship Program, a federally funded initiative designed for veterans who are unable to return to a former job due to physical or emotional disabilities.
The program allows veterans to revamp old job skills or develop new ones. VDOT attempts to locate internships close to where the veterans are receiving rehabilitation or living. Jonathan, himself, is a former intern. As a Marine, he was wounded in Iraq during the Battle of Nasiriyah in March 2003. "For me, this is a great chance to pay it forward," says Jonathan. "This is more than a job. I feel very passionate about serving my fellow vets. Here, we not only help them transition vocationally; we also conduct a variety of workshops to help them with resume writing, interviewing skills, financial management, and post-traumatic stress disorder."
As for his own growth and development, the discipline Jonathan developed as a Marine is now serving him very well. Married and the father of three children, he stays focused on being organized in order to juggle work, school, and family. While deciding to go back to school was not an easy decision, where he would attend was. Jonathan earned his associate's degree from ECPI University in 2005. And after his little brother recently left the Army, he convinced him to join him on campus. "I definitely have my hands full," he says, "but I've got a great support system, both at home and on campus."


DISCLAIMER – ECPI University makes no claim, warranty or guarantee as to actual employability or earning potential to current, past or future students or graduates of any educational program we offer. The ECPI University website is published for informational purposes only. Every effort is made to ensure the accuracy of information contained on the ECPI.edu domain; however, no warranty of accuracy is made. No contractual rights, either expressed or implied, are created by its content. 
For more information about ECPI University or any of our programs click here: http://www.ecpi.edu/ or http://ow.ly/Ca1ya.