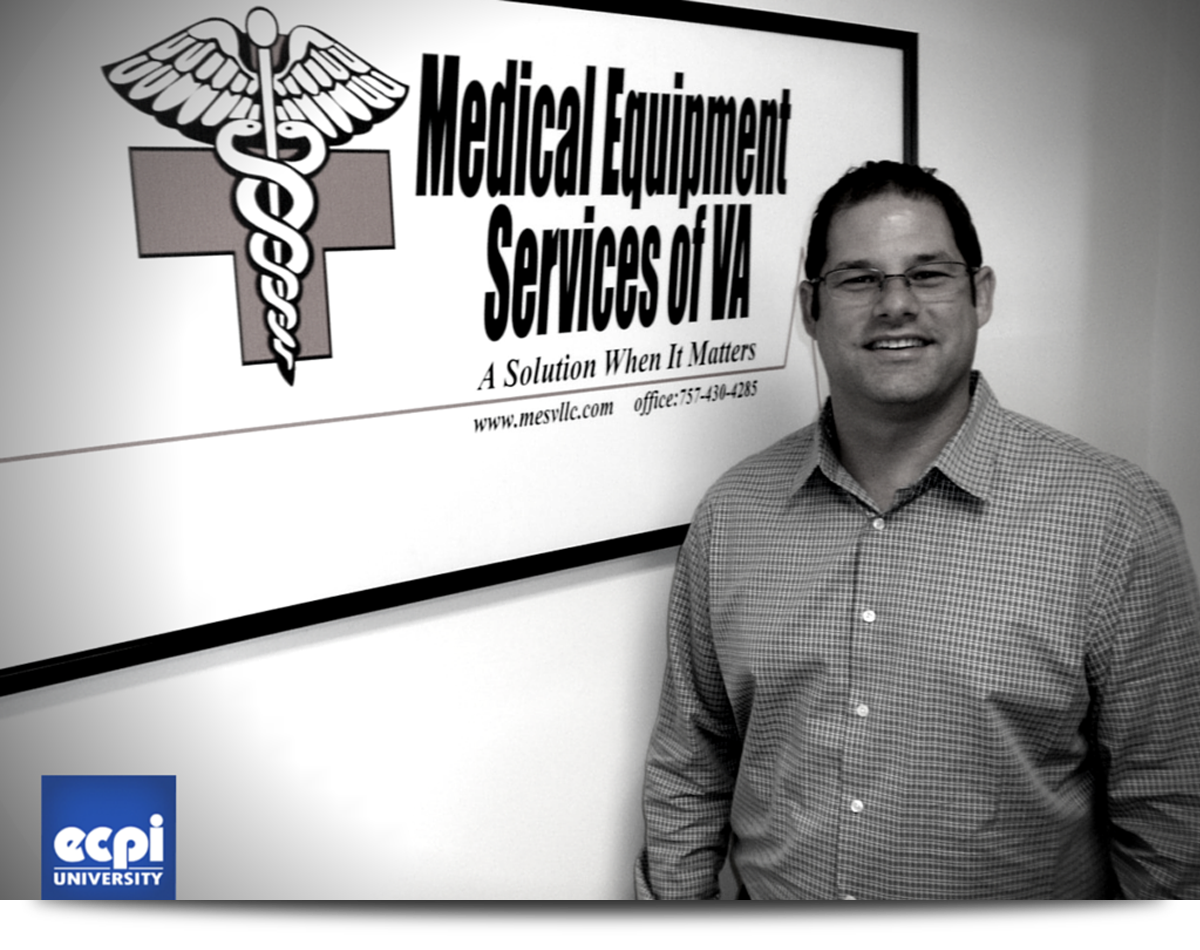 Need a gently-used defibrillator? How about an ultra-reasonable price on an ultrasound machine? Well, then John Taylor is your man. This 1996, ECPI University graduate is the owner of Medical Equipment Sales of Virginia. It's a company that seems to be perfectly positioned to serve a cost-conscious healthcare industry.
While the company does provide new equipment, it's built on refurbishing used medical machines and devices. Though, by the time it's done with them, they operate like new. From CT scanners to EKG machines to hospital beds – John's company can provide just about anything a hospital, clinic, surgery center or doctors' office could possibly need. All equipment comes with warranties and John's highly-skilled technicians provide 24-hour maintenance.
When John left the Navy, he knew he wanted to go into healthcare. "My mom was a nurse and I spent a lot of time with her when she was making rounds," says John. "Ultimately, I decided the technical side of healthcare was most appealing."
John entered ECPI University's Bio-Medical Technician program which culminated with an externship with Sentara Healthcare. Upon graduation, Sentara offered him a job as a bio-medical repair technician. He stayed for seven year and, just before leaving, set up all the operating rooms at Sentara's new Heart Hospital. After working several years as a medical sales/service representative, he saw an opportunity. "The pressure to contain costs is tremendous and some providers are buckling under it," says John. "I saw entire hospitals closing down, filled with equipment that was still very useful."
Five years after opening his doors, John now travels the country buying used medical equipment and bringing it back to his 12,000 square-foot Virginia Beach warehouse and repair center. His company is ISO 9001:2008 certified, the industry gold standard for the sales, service, repair, maintenance, calibration, and certification of medical equipment. After just five years, he now has customers across the nation and 25 countries around the world.
Locally, he works with Sentara, Riverside Hospital, and ECPI University. He is now getting ready to provide externships and recently hired one of ECPI University's Electronic Engineering Technology students, Buddy McDonough, as a repair technician. "I'm excited to once again be associated with ECPI University," says John. "They helped me enter a whole new world. I had never thought of myself as college material, but they made the whole process of attending college more attainable than other schools I considered. It's really great how everything is coming around full-circle."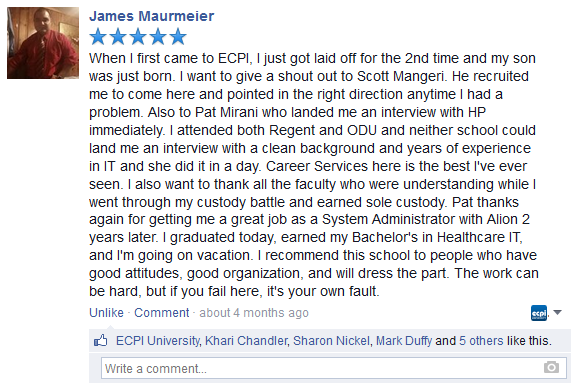 DISCLAIMER – ECPI University makes no claim, warranty or guarantee as to actual employability or earning potential to current, past or future students or graduates of any educational program we offer. The ECPI University website is published for informational purposes only. Every effort is made to ensure the accuracy of information contained on the ECPI.edu domain; however, no warranty of accuracy is made. No contractual rights, either expressed or implied, are created by its content.
Gainful Employment Information
For more information about ECPI University or any of our programs click here: http://www.ecpi.edu/ or http://ow.ly/Ca1ya.