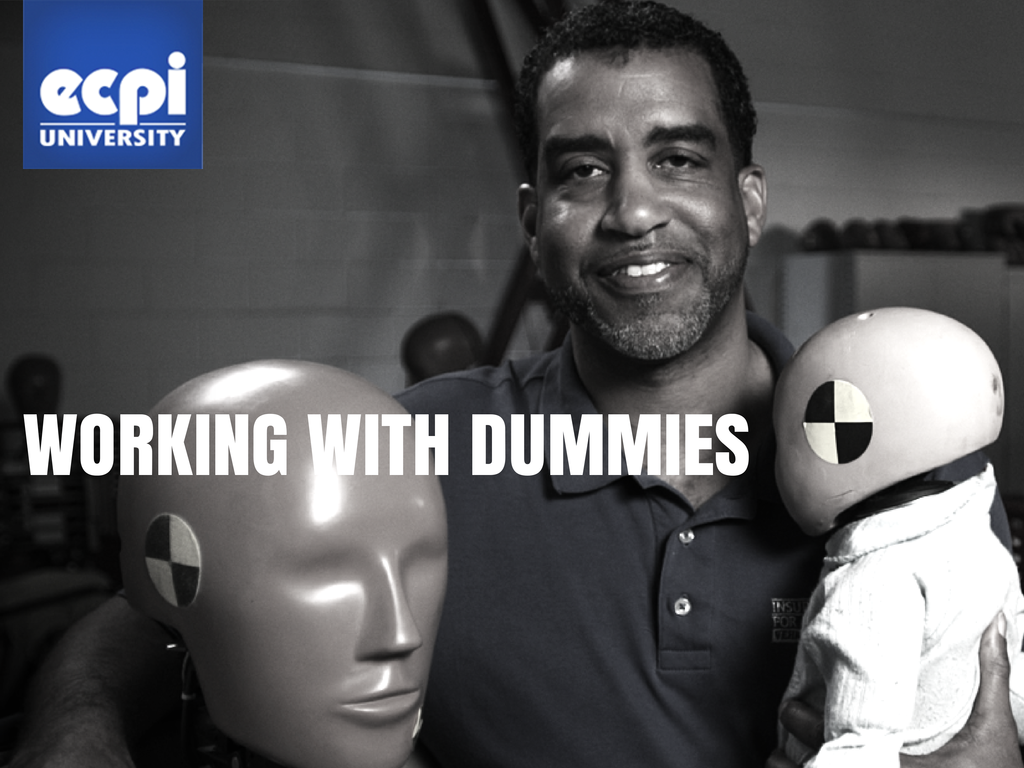 Marvin Hatchett spends his days surrounded by dummies. Yet, he enjoys every moment. That's because this 1984 ECPI University graduate is the Dummy Calibration Lab Manager at the Insurance Institute for Highway Safety (IIHS). Yes, Marvin Hatchett crashes cars for a living. He does so with a single goal in mind: to save as many lives as possible.
At his lab in Ruckersville, Virginia, he prepares crash dummies for a variety of collisions. It's critically important that each dummy is calibrated to near perfection to ensure consistent results and reliable comparative data for other researchers doing similar work.
While his co-workers may be short on conversation, they tell him a great deal. Each one has up to 40 different sensors, ranging in size from that of a six month-old infant to that of fully grown man. Data collected during each collision allows the IIHS to provide feedback to carmakers and warnings to consumers. At nearly $200,000 a piece, this information does not come cheap, but it is, nonetheless, invaluable.
"Knowing the impact that we have on the world, that we're saving lives…it's very rewarding," says Marvin. "When we identify a problem, we always try to work directly with automaker. Sure, we can issue a warning to consumers, but we also want to help the manufacturer make changes to improve a vehicle's safety.
"On one occasion, we tested a mini-van and the results were just terrible. It collapsed on the dummy and pinned it in, forcing us to pry it loose with hydraulic machinery. We immediately shared the results with the automaker, and the company made extensive changes. That mini-van went on to become a top safety pick. It's hard to overstate the level of satisfaction you receive when something like that happens."
Marvin has spent years developing his skills and has had a number of professional experiences prior to joining the Institute. Still, he says it all began at ECPI University. "It was a great learning experience," says Marvin. "It set the foundation to do what I enjoy doing. Understanding electronics and how things work and helped prepare me to explore that world. The faculty was very concerned with the individual student. They really strive to reach out to meet the needs of each person. It was just a great atmosphere to be in and study in."
DISCLAIMER – ECPI University makes no claim, warranty or guarantee as to actual employability or earning potential to current, past or future students or graduates of any educational program we offer. The ECPI University website is published for informational purposes only. Every effort is made to ensure the accuracy of information contained on the ECPI.edu domain; however, no warranty of accuracy is made. No contractual rights, either expressed or implied, are created by its content. 
For more information about ECPI University or any of our programs click here: http://www.ecpi.edu/ or http://ow.ly/Ca1ya.