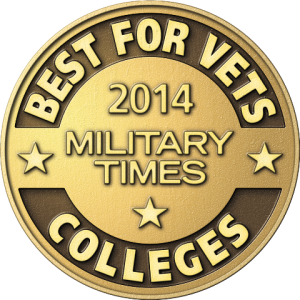 ECPI University Ranked 1 Military Times Annual Best Vets List
ECPI University is pleased to announce it has been ranked number one in the nation on Military Times' annual Best for Vets list.
"As with all of the Best for Vets rankings, Best for Vets: Colleges is an editorially independent news project that evaluates the many factors that make an institution a good fit for military veterans," said Amanda Miller, editor of Military Times EDGE.
The authors of the survey factored in Education Department statistics commonly used to track student success and academic quality, as well as university culture, student support, academic quality, academic policies and financial aid – all items veterans list as being integral to academic success. More than 600 schools throughout the nation responded to this year's survey, with ECPI University topping out the rankings among online and nontraditional programs.
"We do everything possible to keep our veterans in school from one semester to the next," says ECPI University Executive Director of Military Education Bob Larned. "Many of our veteran students have full-time jobs and/or families, so they are very busy. We are always looking for ways to help them work through challenges that may arise so they keep moving toward their goal of graduation."
To see full coverage from USA Today, click on this link.