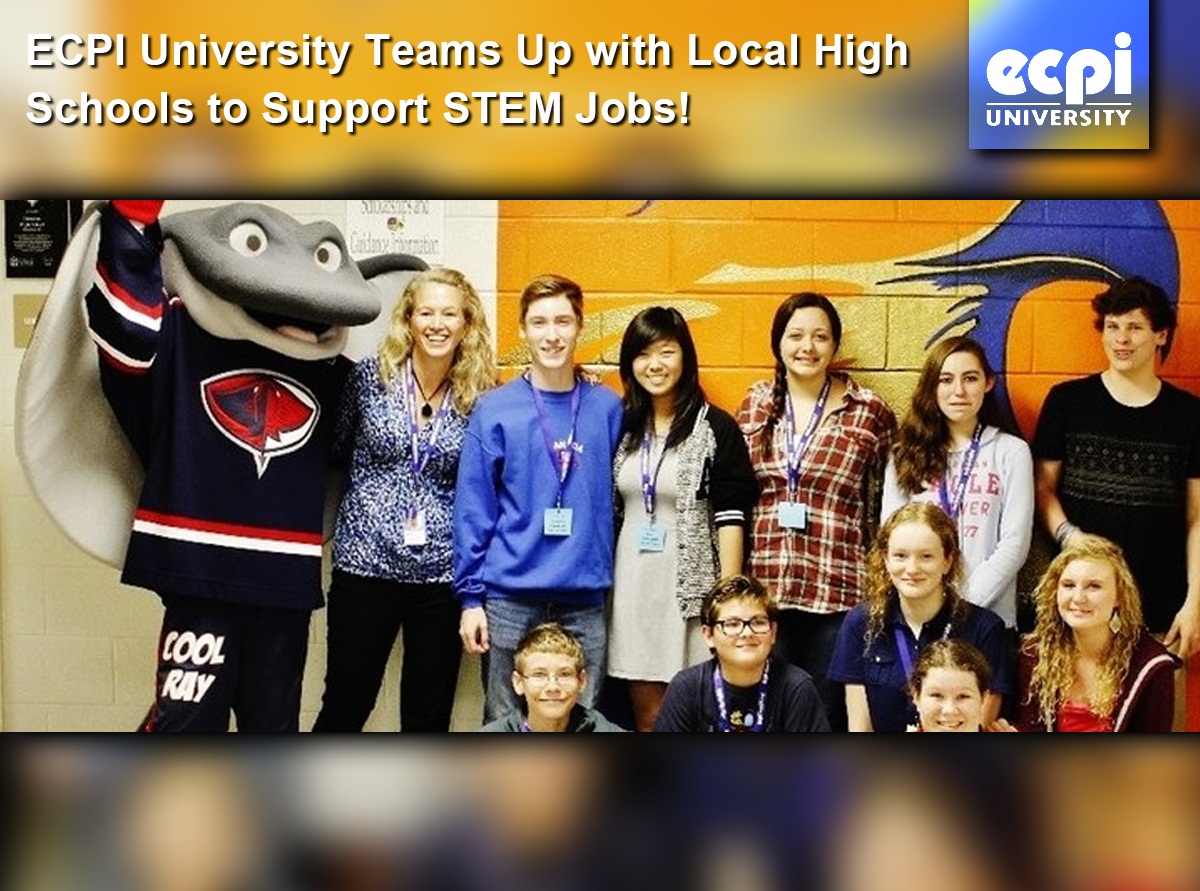 There's nothing like a game to get teenager's competitive juices flowing, and when you combine it with a little bit of STEM knowledge, big things can happen. That's exactly why ECPI University teamed up with the South Carolina Stingrays and some nearby high schools to stage STEM JobsSM magazine's Jeopardy!® Challenge.
There is a big push going on right now to fortify STEM (Science, Technology, Engineering, and Math) education in high schools throughout the country. South Carolina is no different. STEM JobsSM magazine is new resource for high school students, and it has listed ECPI University under "Schools that Train" for several careers including Data Security Analyst, Robotics Machinist, and Automation Technician.
Students from Hanahan and Fort Dorchester High Schools formed teams during their lunch and competed in a Jeopardy!® game based on content clues from STEM JobsSM magazine. Winners from each school were rewarded with tickets to see the South Carolina Stingrays and a picture with "Cool Ray" the team mascot.
Twenty two students emerged from playoffs into the STEM JobsSM Jeopardy!® Finals and four students at each school were crowned winners. "Our region has a lack of skilled talent that is vital to fill the many STEM-related jobs being created in the Lowcountry," said Hanahan Academy Coach Dr. Laura Kick. " The STEM JobsSM Classroom Jeopardy!® competition is a fun way for our students to get excited about careers in STEM as we meet the challenge to help build the talent pipeline that will provide employers in our region a highly qualified workforce."
Fort Dorchester High School Counselor Ms. Meredith Gadsden echoed that sentiment, saying "this is a fun and engaging way to help our kids learn about the exciting opportunities they have after high school. I hope this will become an annual event that will continue to grow and get better as the years go by."
If you are interested in learning more about ECPI University or any of our academic programs, contact us today! It could be the Best Decision You Ever Make!
DISCLAIMER – ECPI University makes no claim, warranty or guarantee as to actual employability or earning potential to current, past or future students or graduates of any educational program we offer. The ECPI University website is published for informational purposes only. Every effort is made to ensure the accuracy of information contained on the ECPI.edu domain; however, no warranty of accuracy is made. No contractual rights, either expressed or implied, are created by its content.
Bachelor of Science in Computer and Information Science
For more information about ECPI University or any of our programs click here: http://www.ecpi.edu/ or http://ow.ly/Ca1ya.