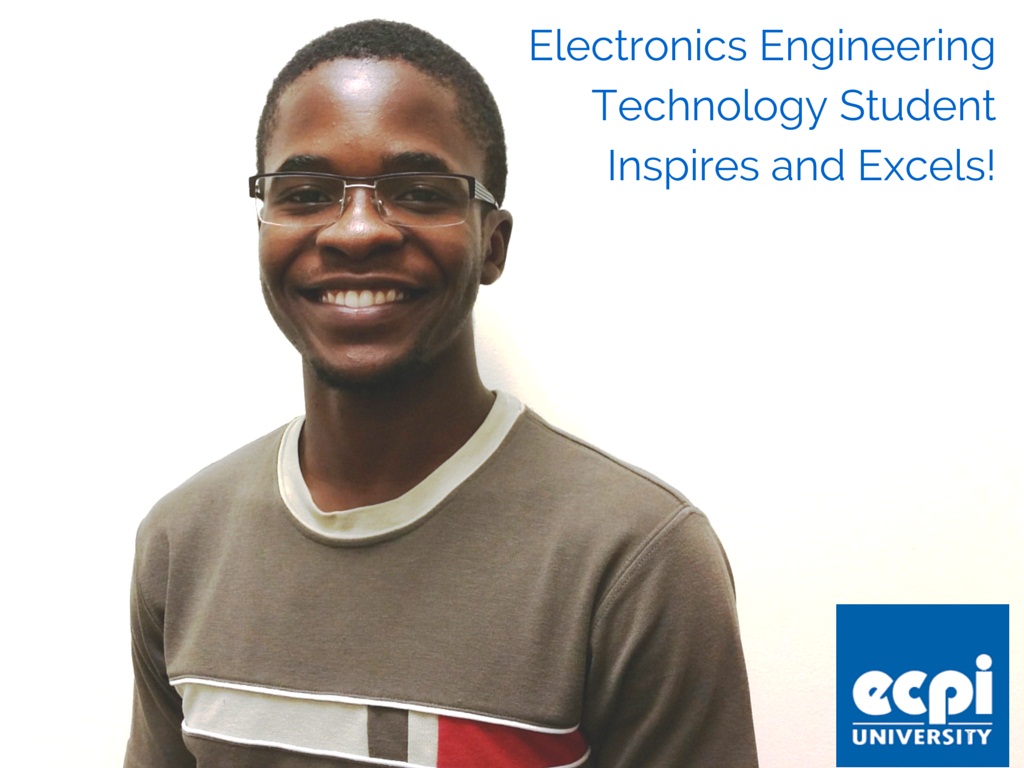 David Bupe's desire to learn about electronics began halfway around the world in his homeland of Zambia. "Ever since I was a kid I wanted to learn about electronics and engineering," says David. "When we were small, my dad visited America and he brought back electronic toy race cars for my brother and me. We tore them apart to see how to make them work differently. So, our parents then decided to get us electronics kits."
Not long afterward, his family moved to the United States, eventually settling in South Carolina. Between his propensity to learn things on his own and the opportunity to attend American schools, David flourished. "Education is my number one priority," he says. "If you want to accomplish anything in life, having a dream is important, but without knowledge, it will be a pipe dream."
Now an Electronics Engineering Technology student at ECPI University's Columbia Campus, David has excelled in the classroom and beyond. He says he was drawn to ECPI's small class sizes, the opportunity for one-on-one interaction with faculty, and the ability to finish quickly through the University's accelerated schedule.
As if he weren't busy enough, David continues to teach himself new things, primarily languages. He has learned Japanese and is currently working on Korean. He eventually wants to learn French, Spanish, and Italian, among others. "I like to think of it as a game," he says. "There's nothing like being able to communicate with someone in their own language. You're not only learning how to speak, but you learn about their cultural mindset. Anything can be accomplished so long as you work at it consistently and don't give up."
Now more than halfway through his program, David is excited about the education he's receiving, and has big plans for the future. Following graduation, he would like to work for an engineering firm or a company that utilizes robotics. He's also interested in starting his own company. Wherever he ends up, one thing is certain: for as long as he's on campus, he serves as a great example to all who seek to achieve great things.
Are you interested in a career path in electronics engineering technology? ECPI University offers an Associate of Science degree in Electronics Engineering Technology that you can complete in as little as 1.5 years! Contact us TODAY! It could be the Best Decision You Ever Make!

DISCLAIMER – ECPI University makes no claim, warranty or guarantee as to actual employability or earning potential to current, past or future students or graduates of any educational program we offer. The ECPI University website is published for informational purposes only. Every effort is made to ensure the accuracy of information contained on the ECPI.edu domain; however, no warranty of accuracy is made. No contractual rights, either expressed or implied, are created by its content. 

Gainful Employment Information

For more information about ECPI University or any of our programs click here: http://www.ecpi.edu/ or http://ow.ly/Ca1ya.