If you have a passion for good food, a desire to help people, motivation to start a new career and the determination to make it happen, then you have what it takes to become a personal chef. Before making a commitment to the culinary arts, consider the requirements and level of involvement required to make sure you're on the right career path. Becoming a personal chef isn't just about food – it's about people.
What Exactly is a Personal Chef?
Being a personal chef is more than cooking simple meals for someone. Many people think of a personal chef as being a private chef or a cook in someone's home. While there are similarities between them, the differences are far greater.
A personal chef serves several clients, generally once per week, creating multiple meals designed specifically for each client, whereas a private chef works with one client to create three meals per day, every day. Personal chefs aren't just glorified cooks – they create art with food and since they work with multiple clients, it's a new culinary adventure every day.
They create their own meals and menus, personalized for each client. Personal chefs do the grocery shopping, prepare the meals, package and store meals, and teach their clients how to heat their meals when it's time. Most personal chefs work with multiple clients on a weekly basis. They prepare a week's worth of meals based on the each client's preferences and special dietary needs, either in the client's home or in a professional kitchen. In addition to meal planning and culinary skills, personal chefs are held to high standards of safety, sanitation and nutrition.
Who Hires Personal Chefs?
Although the projected growth rate for chefs from 2012 to 2022 is slower than average at just 5% according to the Bureau of Labor Statistics, many people and companies hire personal chefs to help prepare meals on a full-time or part-time basis.
The Bureau of Labor Statistics reports religious organizations as having the highest rate of employment, with skilled nursing facilities and special food services following. Personal chefs often find individual clients that live in assisted living facilities, have special health and dietary needs, and often individual families looking for extra help or fine dining at home.
Religious organizations, non-profits, and community groups hire personal chefs to work full-time or for special occasions. Beginning your career as a personal chef could also prepare you for entering the catering business and give you an opportunity to create and share your recipes beyond friends and family.
Obtaining a Culinary Arts Degree
Having a love of food and basic knowledge of cooking at home is a start, but personal chefs benefit from additional training through specialized culinary arts degree programs. Quality culinary arts degrees go beyond the basics of home cooking and teach students hands-on techniques, leadership skills, and business-building strategies from professional chef instructors.
Earning an associate's degree in culinary arts teaches you basic culinary skills, different cooking techniques, working with pantry staples, cooking à la carte, baking and pastry skills, and proper meat selection. You can also learn about international cuisine, proper nutrition, and business management.
Prior to graduation, students will likely work through one or more externships. Externships give you the opportunity to apply the classroom techniques and skills in the real world. Externships are a valuable part of the program, as they allow you to practice organization, management techniques, professionalism, speed and accuracy, and other essential skills--all in a controlled environment under the direct supervision of the employer.
Once you complete the basic course requirements and your externship, you could be ready to advance your career to the next level and start building your business as a personal chef.
Advancement as a Personal Chef
After graduation from culinary school, it's time to start your own business. Consider joining a professional organization to help you grow your business and give you credibility as a personal chef. The American Personal & Private Chef Association represents personal chefs as well as private chefs and provides resources to help get your business off the ground and running smoothly.
The United States Personal Chef Association (USPCA) provides several different membership levels so you could start building your business immediately out of school. Once you've been in business for two years or more, you could become a Certified Personal Chef with the USPCA.
Ecpi #Culinary school sooooo excited. .. pic.twitter.com/5ffahbRJIM

— Lakisha Lilly (@lakisha_lilly) August 4, 2015
Take the First Step toward Becoming a Personal Chef
You think you have the passion, the desire, and the dedication to become a personal chef? Join the culinary world! Contact ECPI today to enroll in the Associate of Applied Science in Culinary Arts degree program and start your journey to a new and rewarding career. It could be the Best Decision You Ever Make!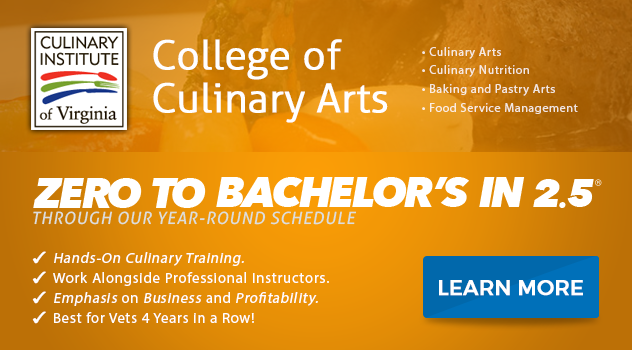 DISCLAIMER – ECPI University makes no claim, warranty or guarantee as to actual employability or earning potential to current, past or future students or graduates of any educational program we offer. The ECPI University website is published for informational purposes only. Every effort is made to ensure the accuracy of information contained on the ECPI.edu domain; however, no warranty of accuracy is made. No contractual rights, either expressed or implied, are created by its content.
Gainful Employment Information
For more information about ECPI University or any of our programs click here: http://www.ecpi.edu/ or http://ow.ly/Ca1ya.