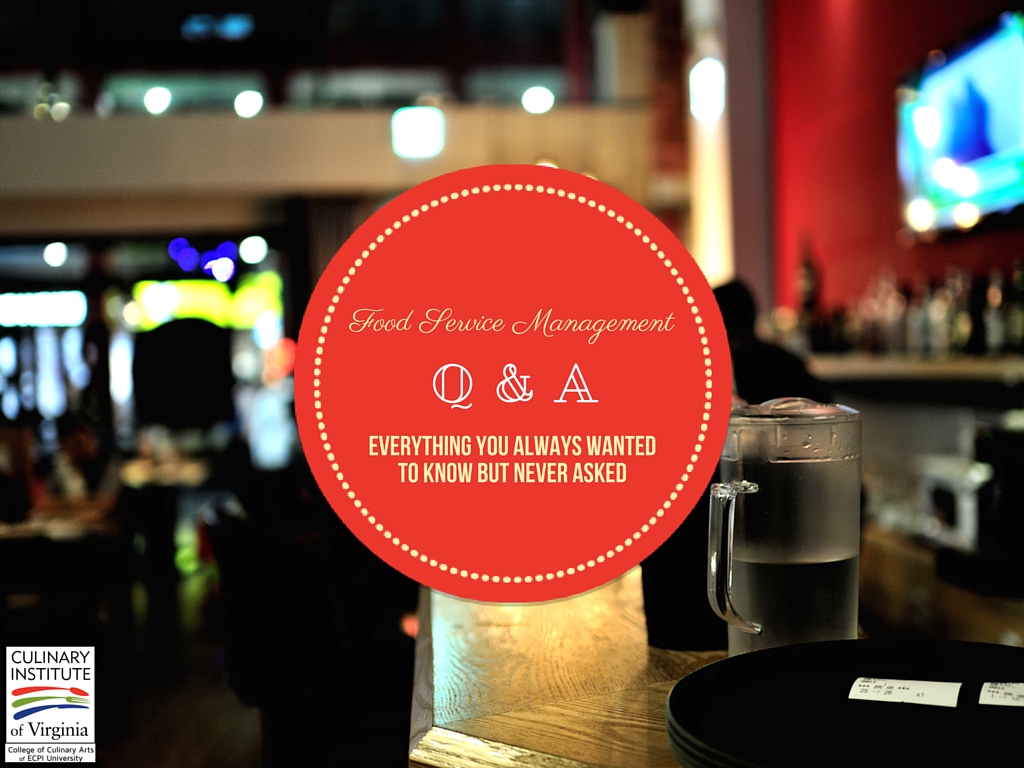 Throughout history, food has played an essential role in human society. It is about more than providing nutrition and energy; it is also about social cohesion, celebration, and enjoyment. Many of the world's festivals involve food, from the family meal to sharing food with the local community. This is one of the many reasons why the food service industry continues to grow . . . and with it, the need for well-trained food service managers. If you are looking for a challenging, and yet very rewarding career path then food service management could be for you.
What does food service management involve, exactly?
Let's say you decide to become a food service manager. At the core, you are the link between the customer and the establishment in which they are eating or drinking. You have the ultimate responsibility for ensuring that the customer enjoys their whole experience, from the food and beverages to the service and surroundings. To put it another way, it is your job to ensure a good Yelp review from each and every customer. Your actual duties will depend on the type and size of the establishment in which you are working but, in general, they will include:
Responsibility for the daily operations of the establishment
Overseeing the preparation and serving of food and beverages
Ensuring compliance with health and safety, food hygiene, etc.
Compiling or overseeing work rosters and cleaning schedules
The role may include overseeing budgets, ordering, and payroll as well
Where can you work as a food service manager?
The opportunities are almost endless; if an establishment serves food and beverages, the chances are they have a food service manager. You could find opportunities in restaurants, hotels, fast food establishments, bars, school cafeterias, hospitals, local cafes, and diners. Where you work, depends on what you are looking for in terms of personal goals, available opportunities, and how busy you like to be. Managing the food service at a diner may require a different personal skills set and approach than managing the food service at a five-star hotel; even though the end goal of satisfied customers and good Yelp reviews is exactly the same.
You mentioned personal skill set, what do you mean?
At any job, you need knowledge, experience, and personal skills; food service management is no different. The personal skills you need may differ, albeit only in approach, depending on where you are employed, but they are essential. They will include:
Ability to multi-task
Ability to solve problems quickly and in unique ways (thinking outside the box)
Patience
Good communication
Ability to diffuse and settle difficult situations (and customers)
Energy
The ability to smile no matter what is happening behind the scenes
Flexibility
The love of the job and the challenge
How do you become a food service manager?
Don't panic! You are not expected to jump in with no training.
Most individuals coming into food service management have spent some time working in the food service industry in some capacity although this is not essential. To develop the range of skills, knowledge, and experience you need to succeed, it is advisable to take on a degree in food service management. This not only provides you with what you need but also shows dedication and commitment to prospective employers. On a degree course, you can expect to cover at least the following areas to support your career path:
Financial management - accounting, budgeting, forecasting, cost controls, and facility management
Leadership - business ethics, motivating diverse workforce, learning strategic planning
Operations - program design, marketing, project management, customer service systems
How long it takes to complete your degree depends on your previous education and your schedule. If you have an appropriate associate's degree, a classroom based course can be completed in two and a half years, or less than 15 months. If you are working at your own pace through online distance learning, then the schedule is really up to you.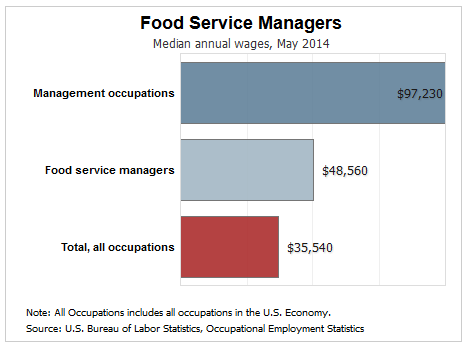 What can you expect to earn as a food service manager?
According to the Bureau of Labor Statistics (BLS) the median pay within the sector in 2014 was $48,560 per year. Of course, what you will earn depends on the environment in which you are working and may increase depending on the type and years of experience you have. The need for food service managers is expected to grow by 5% until 2024.
This means that there is likely to be more opportunities for those with the right experience and best education in food service management.
It is better than I could have imagined... The chef instructors are wonderful and you get to learn so much! I am so glad I made this my college choice!

Posted by Shannon Watts on Friday, December 6, 2013
Where can you earn a degree in food service management?
To get the best chance of opening up the wonderful opportunities before you, you need to choose the right school, with the most complete and detailed program. To this end, ECPI University runs one of the best Food Service Management degree courses you can find. Call today for more information and start your new career path today, it could be the Best Decision You Ever Make!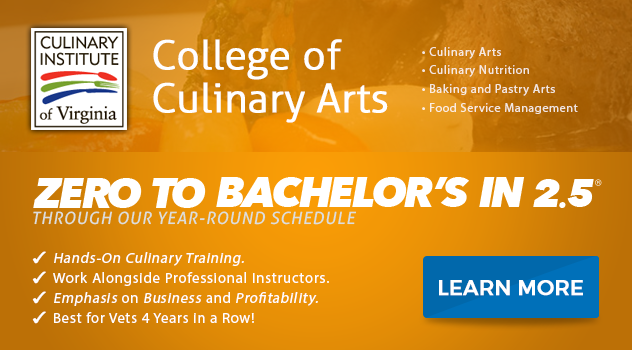 DISCLAIMER ECPI University makes no claim, warranty or guarantee as to actual employability or earning potential to current, past or future students or graduates of any educational program we offer. The ECPI University website is published for informational purposes only. Every effort is made to ensure the accuracy of information contained on the ECPI.edu domain; however, no warranty of accuracy is made. No contractual rights, either expressed or implied, are created by its content.
Gainful Employment Information  Food Service Management - Bachelor's
For more information about ECPI University or any of our programs click here: http://www.ecpi.edu/ or http://ow.ly/Ca1ya.