Food Service Manager Training: Do I Need Formal Education?
Food service managers often work their way up to management with just a high school diploma or even a GED, having earned no college degree. Yes, it's possible to do so, but those who hope to rise in any field to a manager's level could be shortchanging themselves if they don't get some formal training. In most cases, the best results require a bachelor's degree.

Why Education Matters
These days, company leadership is more apt to consider an applicant for management-level jobs if they have some formal training in food service operations, as well as the management of human resources and financials. Being able to show that you're familiar with what a manager does, even if you've never done it professionally, can be a big boost when you're job hunting or seeking promotion. Earning a degree will also teach you how to converse intelligently about the issues and operations of the food service industry, so that when a management opportunity presents itself, you're ready to prove yourself.
Some businesses, such as hotels, restaurants chains, or food service companies, may recruit management trainees directly from college hospitality or food service management programs; that means your chances of being "discovered" are enhanced by being enrolled in a college program. These programs often require the participants to work in an internship or have some food industry-related experience prior to graduation.
Typically, companies that hire managers from these types of programs want them to have had some training in food preparation, sanitation, security, management of personnel, and bookkeeping or record keeping.
What a Food Service Manager Does
If you're already working in food service, you probably have a good idea of what's expected of an FSM. But here's a rundown of what a typical food service manager might be expected to do:
Manage employees, including hiring, training, overseeing, disciplining, scheduling shifts, assigning duties, and even dismissing or firing them.
Oversee food preparation, including sizes of portions and presentation.
Order food and beverages, equipment, supplies.
Ensure employee compliance with food safety standards.
Interact with customers regarding food quality, service, or other complaints.
Manage budgets and payrolls
Other Duties and Responsibilities for a FSM
Today's professional food service manager will be up on how to set standards for personnel performance and help employees reach for the best in customer service. Ultimately, it's the food service manager's responsibility to ensure kitchen and dining room staff are in sync so that food is served at the proper time and in the right way. The FSM may even work with the chef during busy periods to help overcome any problems in the kitchen, or by processing payments or cleaning tables.
FSMs should also stay on top of cleaning and maintenance of equipment and facilities to assure compliance with health regulations. The FSM may also have to make arrangements for trash removal, heavy cleaning, and pest control.
Managers must manage records for the business, reviewing or completing paperwork that relates to taxes, licensing, and wages, as well as unemployment compensation. Even when they have a bookkeeper or assistant manager, the manager is responsible for overseeing the records.
Most managers prepare the payroll and manage employee records. They also may review or complete paperwork related to licensing, taxes and wages, and unemployment compensation. Although they sometimes assign these tasks to an assistant manager or a bookkeeper, most managers are responsible for the accuracy of business records.
How Education Can Help the FSM's Career
As you search for a college program in food service management, you will want to be sure the program you enroll in has certain key courses, including these:
accounting
financial management
entrepreneurship in the food service industry
facility management
project, special event management
hospitality
hospitality and social media (for marketing purposes)
wine and beverage management
cost controls in food management
customer service management
You might also want to add some electives in culinary arts, including baking, nutrition, and health and safety. It won't hurt to include courses in mathematics, computer skills, communications (written and public speaking), and macroeconomics.
A well-rounded program will give you a good grounding in all facets of the food service industry, so that you're well prepared for assuming duties in an internship or entry level job that may, in time, lead to a responsible position as a food service manager. Even if you are already working in the food service industry, earning a degree may be the next best step you can take toward encouraging a company to promote you into a manager's job.
Are you interested in food service management? If you want to start your career in the culinary industry or move it forward, earning a Bachelor of Science Degree in Food Service Management could help you get to where you want to be. ECPI University offers this degree program at an accelerated rate. For more information, connect with a helpful admissions advisor today.
It could be the Best Decision You Ever Make!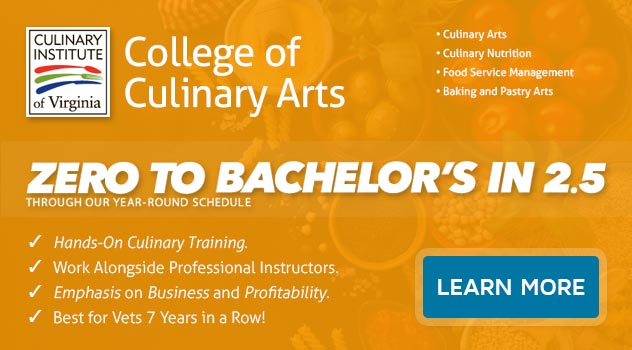 DISCLAIMER – ECPI University makes no claim, warranty, or guarantee as to actual employability or earning potential to current, past or future students or graduates of any educational program we offer. The ECPI University website is published for informational purposes only. Every effort is made to ensure the accuracy of information contained on the ECPI.edu domain; however, no warranty of accuracy is made. No contractual rights, either expressed or implied, are created by its content.
Gainful Employment Information – Food Service Management - Bachelor's
For more information about ECPI University or any of our programs click here: http://www.ecpi.edu/ or http://ow.ly/Ca1ya.