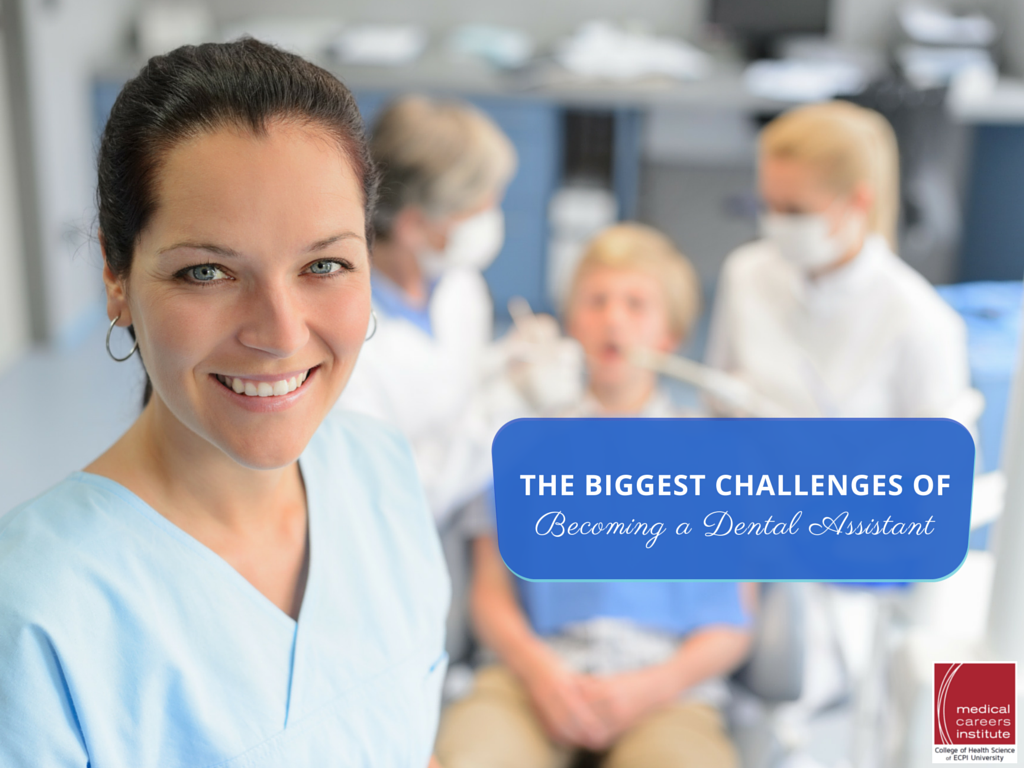 You roll out of bed to the insistent screech of your alarm clock, not really ready to take on another day of monotonous, less than challenging work and you run that little movie in your head of other work you could be doing. You do this every day. All work is noble, but working at some jobs is more of a chore and less of a career.
When you consider a new career as a dental assistant, you probably think of the many obstacles to your success. Your manager at the burger joint or warehouse is only too happy to remind you that staying where you are—low-paying as it is—is safe and secure, so how do you learn to overcome the biggest challenges to becoming a dental assistant? 
Challenge #1: Give Yourself Permission
With a dental assisting degree from an accredited institution, you could move away from mindless jobs and start building a rewarding career. Some businesses thrive by subtly reminding employees that their options are limited. They encourage employees to stick around long after job satisfaction is gone. 

Contrast that with the work of a dental assistant.  A dental assistant keeps a dental practice running smoothly—here are just some of your responsibilities: 
Ensure patient comfort in the dental chair
Prepare patients for treatments and dental procedures
Sterilize dental instruments—Work with scientific, hygienic, valuable, precision equipment and tools
Prepare the work area for patient treatment—Carefully arrange expensive, sterile dental tools and materials for a licensed dentist to use on a grateful patient
Schedule patient appointments
Keep patient records on procedures and treatments
Work closely with the dentist throughout procedures—Anticipate the dentist's need, hand them instruments expertly and decisively, and maintain hygienic conditions
Process X-Rays and complete dental lab tasks
Process payments and billing
You have to give yourself permission to see a better you, a smarter and more successful you. For some folks, that is the biggest challenge holding them back, and trapping them in unrewarding jobs. 
Challenge #2: What to Do With Extra Income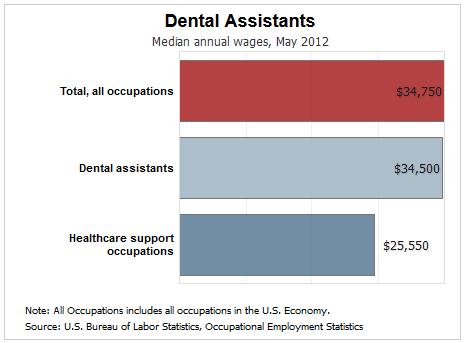 Becoming a dental assistant could give you new-found financial freedom. From a minimum-wage job you could see a significant increase in income. In return for 15 months of education, the Bureau of Labor Statistics puts your potential earnings at $34,500, with the top 10 percent of dental assistants earning as much as $47,580 annually and the lowest 10 percent earning less than $23,550 as of May 2012.  
Challenge #3: Many Possible Career Paths
Some people wither with choices. If you truly like being told what to do, both the American Dental Association (ADA) and the Bureau of Labor Statistics (BLS) will disappoint you. The ADA lists many potential employment settings to choose from:
solo or group dental practices
public health dentistry
hospital or dental school clinics
oral and maxillofacial surgery centers
orthodontics—straightening teeth
endodontics—root canal
periodontics—gum problems
pediatric dentistry—working with child patients
Further complicating your choices, the BLS points out that around one in three dental assistants works part-time, freeing up schedules to further educations or take care of children. Many dental assistants work evening and weekends, according to the BLS, based on schedules that mutually benefit their dentists and themselves. 
You have to allow yourself to see a future with nearly limitless options, and paths to further your training. 
Challenge #4: Decisions, Decisions, Decisions
If you want to keep your grinding job filling napkin dispensers or wielding a box cutter, no one will stop you. You have that freedom. If, though, you want to pursue a brighter future, becoming a dental assistant could be a great potential career path. After your education is complete, you're likely to have many more choices to make for your future. While making big decisions can be overwhelming at times, having options means having greater control of your future!
I love my school... Ima actually be sad when we graduate....#ECPI Dental baby!! May is around the corner

— Jordan (@F0r3VA_Y0unG) December 8, 2011
Break Free with a Dental Assisting Degree!
The BLS anticipates employment growth of 25 percent through 2022 for dental assistants, which is much faster than the average (actually, double) of all other occupations. Challenge yourself to step out of the comfort zone you're in, and see how far you could go. To learn more about pursuing an Associate of Applied Science degree in Health Science with a concentration in Dental Assisting from Medical Careers Institute, contact ECPI today. It could be the Best Decision You Ever Make!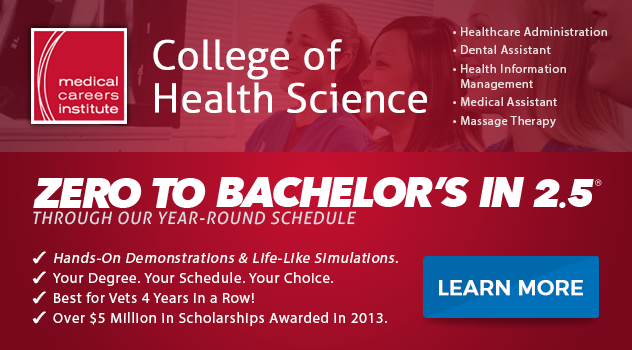 DISCLAIMER – ECPI University makes no claim, warranty or guarantee as to actual employability or earning potential to current, past or future students or graduates of any educational program we offer. The ECPI University website is published for informational purposes only. Every effort is made to ensure the accuracy of information contained on the ECPI.edu domain; however, no warranty of accuracy is made. No contractual rights, either expressed or implied, are created by its content.
Gainful Employment Information
For more information about ECPI University or any of our programs click here: http://www.ecpi.edu/ or http://ow.ly/Ca1ya.