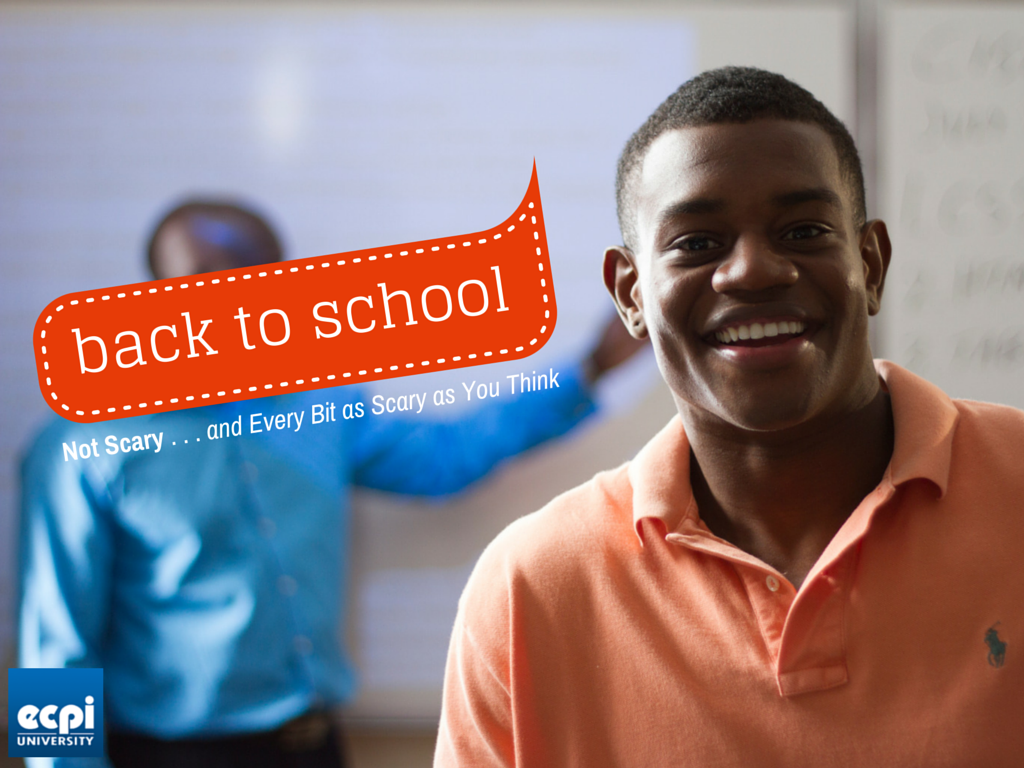 I walk into the classroom, text book in hand, ready to learn. It had been 18 years since I graduated Siena College with my degree in Political Science. I had joined the Navy and then went on to have a pretty successful run on radio. At this point, I was done with the radio business—or rather, the radio business was done with me. I wanted to re-brand myself and for that, I was going to have to go back to school.
I decided to use the Post 9-11 GI Bill ® to help me get ready for my new life and new career. Here I was in this classroom, a working man, a navy veteran, a father . . . and I was surrounded by a bunch of 19 year olds, with their laptops and their cell phones and their smug, judging looks.
"What's up pops?"
That's what I swear I heard through the snickers of this post-Nirvana generation as I sat in the back with my head buried in my Trapper Keeper. Okay, it wasn't a trapper keeper, but I really wanted one. I could smell the teen spirit . . . and it worried me (See what I did there?).
It took as much courage for me to walk into that class as it did for me to spend 77 days under the waves on my first deployment (I served on submarines while I was in the Navy). It took as much for me to walk into that classroom three times a week as it did to go out and do some of the missions I can't talk about. The anxiety was the same. The fear was the same. The worry was the same. Was I going to die there? I doubted it, but did I feel like I was going to? There were plenty of times during that first semester that I felt like I was.
For me, the bottom line was this: I got through that first class, and then the second and the third. It got easier and tougher at the same time. The fear went away and the work ethic that I had built over 25 years of blood, sweat, and tears kicked in. I got A's in my classes and was invited to join the Golden Key International Honor Society and the Lambda Pi Eta National Communication Honor Society. I overcame the fear and excelled as I had done in the past . . . as I had done with every job that I ever held and as I will continue to do in all my endeavors.
Some of you might be thinking of going back to school for a variety of reasons. You might need a degree to advance your career or you might be in the military and need the degree to apply for officer candidate school. You might want to switch career fields or maybe you just want to finish the degree that you started years ago before life happened. You might be scared because you might not feel as smart as the other kids in the classroom. You might think they are judging you, laughing at you, making fun of you. They aren't. Remember when you were their age? What were you thinking of? They aren't worried about you; they have their own problems, so go do it. Why not? All it's going to be is another challenge that you can and will overcome, just like all those that you have already. There is nothing stopping you but you. Don't let the fear box you out of achieving your dream because believe it or not, you can teach an old dog new tricks.
BTW: I went on to finish my second degree and go on to get my master's. So yeah . . . take that kids . . . now get off my lawn . . .

Considering going back to school? Contact ECPI University to learn more about our degree programs in technology, health science, business, criminal justice, nursing, and culinary arts. You could earn your degree in as little as 2.5 years through our accelerated, year-round programs. It could be the Best Decision You Ever Make!
This post was submitted by Alfredo Torres, Career Services Advisor at ECPI University in Manassas, Virginia.

DISCLAIMER – ECPI University makes no claim, warranty or guarantee as to actual employability or earning potential to current, past or future students or graduates of any educational program we offer. The ECPI University website is published for informational purposes only. Every effort is made to ensure the accuracy of information contained on the ECPI.edu domain; however, no warranty of accuracy is made. No contractual rights, either expressed or implied, are created by its content.
For more information about ECPI University or any of our programs click here: http://www.ecpi.edu/ or http://ow.ly/Ca1ya.