Healthcare Food Service Companies: What Do They Look for When They Hire?
The healthcare food services sector is highly regulated because it keeps the nation healthy and active. A slight mistake in the sector could put vulnerable people at risk. This explains the strict requirements during hiring. These requirements are supposed to ensure that only knowledgeable persons work in the industry to avoid dangerous mistakes regarding contamination and diseases.

The Scope of the Healthcare Food Service Industry
The healthcare food service industry is involved in the handling and supply of food to healthcare and hospitality industry. The companies handle food procurement and delivery to ensure that the highest standards are attained at every step. If the high standards of food supply and hygiene are not met during procurement and handling, a very large group of people will be exposed to health problems.
While sanitization and health protocol is important in any professional kitchen, the consequences can be different if contamination happens in a hospital or nursing home kitchen. Each of these places need to have food that is safe for the patients to consume and special orders are sometimes a matter of life or death for the person who just wants to eat their lunch.
This is why it's important that a food service manager in a healthcare situation is able to keep a kitchen clean, fresh, and healthy for everyone. Clearly, you don't know how to do all of these things after one afternoon class. Most healthcare facilities want college graduates at the helm of their kitchens to control not only cleanliness, but also cost control, purchasing, and quality.
How to Earn a Food Service Management Degree
The degree is designed to provide knowledge on the operational issues in the sector that will lead to profitable operations. Since profitability is a management issue, you learn about leadership and skills that will help you expand your prospects in the career. There are three main areas that receive a lot of attention in the course.
Financial Management: the curriculum is aimed at highlighting the consequences of financial decisions on your operations. You could learn about budgeting, accounting, forecasting, cost control and management as well as management of a facility.
Leadership: the course could help you differentiate between leadership and management. Focus is on leadership skills that are vital in the creation, communication and implementation of a vision. They typically include business ethics, workforce motivation, strategic planning and implementation as well as mentorship by industry leaders.
Operations Management: smooth operations will produce a profitable business. In this sector, special attention must be paid to the design of beverage programs, marketing- both traditional and emerging, customer service, and project management.
The program seeks to produce a professional who is grounded in the principles of food service management. It could also help you deal with emerging trends and issues in management of food services. As a graduate, you could become a competitive hospitality services manager who could work in the most demanding environment around the world.
What Do You Expect Upon Graduation?
The food service management degree is meant to equip you with skills, knowledge, and ability to work in the most sensitive food environment. Upon completion of the degree course, you should be able to establish and maintain the highest professional standards in all food operations environments.
Communication skills could also receive a lot of attention during your education. You should gain the skills and knowhow to communicate verbally and in writing to stakeholders and persons you will come across in the industry. A graduate demonstrates the desirable financial management skills that help you become a steward of highly profitable food outlets.
Staff and operational management could also form part of effective management of any food services facility. A trained graduate should design procedures and policies that help in effective management of any type of food service facility. Continuous learning is a hallmark of a successful food services manager. A graduate in food services management typically has a strong desire to keep learning and updating on the skills that will turn them into successful managers.
Are you Ready to Become a Food Service Manager?
Are you interested in working in the healthcare sector as a food service manager? If you want to earn a Bachelor of Science Degree in Food Service Management, consider ECPI University's Culinary Institute of Virginia. For more information about this exciting opportunity, connect with a friendly admissions counselor today.
It could be the Best Decision You Ever Make!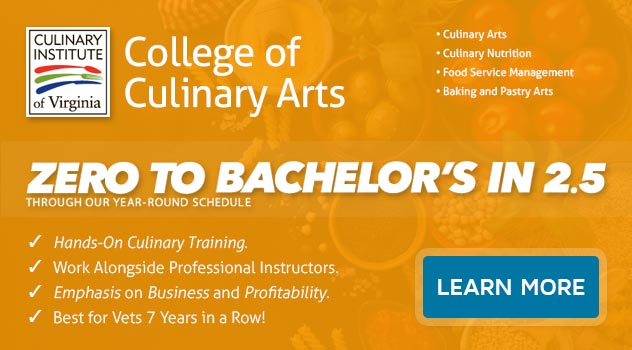 DISCLAIMER: ECPI University makes no claim, warranty, or guarantee as to actual employability or earning potential to current, past or future students or graduates of any educational program we offer. The ECPI University website is published for informational purposes only. Every effort is made to ensure the accuracy of information contained on the ECPI.edu domain; however, no warranty of accuracy is made. No contractual rights, either expressed or implied, are created by its content.
For more information about ECPI University or any of our programs click here: http://www.ecpi.edu/.