Hospital Food Service Manager: Job Description
Hospital food service managers provide leadership in private and public healthcare facilities. They handle administrative roles relating to food preparation, staff, inventory, maintaining operational standards, and more. The professionals also plan menus with the assistance of the patients' dietitian and kitchen staff. This is aimed at ensuring that the meals are adequately varied, nutritious, and suit the specific needs of individual patients.
The managers are also responsible for directing the presentation of food for staff cafeterias in addition to public and private wards. Unlike managers in fast-food chains and restaurants, professionals employed in institutional food service settings generally work regular hours.
They occasionally encounter delicate situations, particularly when it comes to handling complaints. A good food service manager must demonstrate exceptional interpersonal skills in their duties.
Expected Duties for Food Service Managers in Hospital
Food service managers are responsible for dealing with suppliers to ensure that the hospital kitchens are well-stocked at all times. They also might have to find uncommon ingredients for patients with special dietary needs.
It is common for the managers to help staff serve patients during busy periods. This is aimed at maintaining high standards of service and ensuring satisfaction. They also arrange regular maintenance and cleaning services, including pest control.

Other Tasks Food Service Managers Might Be Required to Do
Ensure compliance with relevant health and safety standards
Investigate and resolve customer complaints
Assign duties and compile the roster
Keep budgets and payroll records
Ensure accuracy of business records
Interview, hire, and train employees
Reprimand staff for any misconduct
How to help ensure a great career
Possessing a bachelor's degree gives candidates a competitive advantage on the job market. The qualification makes it easier to receive high salaries at leading private hospitals and other healthcare facilities. Many top food service professionals start their career by participating in internship programs run by non-healthcare organizations.
The majority of food service management training programs focus on food preparation, sanitation, nutrition, and business administration subjects. The coursework allows students to familiarize with the intricacies of running a successful food service outlet.
Important qualities for Food Service Managers
Leadership skills – the ability to lead by example with the aim to boost productivity and employee morale
Communication skills – managers are required to communicate effectively with both customers and staff to ensure clarity
Physical stamina – the role is demanding and entails working long hours, some of which are spent standing and walking
Organizational skills – managers must plan budgets, schedules, and inventory effectively to ensure operations run smoothly
Problem-solving skills – the ability to investigate and resolve customer complaints or personnel issues is vital for success in the field
Benefits of formal training
Undergoing training in food service management is a viable way to gain in-depth knowledge and advanced skills. The more education and training you have, the better candidate you will be to future employers who need someone to take on this very important role.
Programs in food service management should cover a variety of topics, including:
Conforming to standard business practices when handling day-to-day operational matters
The ability to handle cost controls
Implementing effective leadership techniques
Demonstrating great communication skills
Possess exceptional critical thinking skills require to make good business decisions
Understand human resources management
Analyzing external factors to adopt effective business strategies
Implementing effective operational policies and procedures
Are you interested in becoming a food service manager and potentially working in a hospital? If you want to gain the education you'll need for making a difference in the field, consider ECPI University's Culinary Institute of Virginia. With our Bachelor of Science Degree in Food Service Management, you have the opportunity to learn the ins and outs of the food service business. For more information, contact a friendly admissions advisor today.
It could be the Best Decision You Ever Make!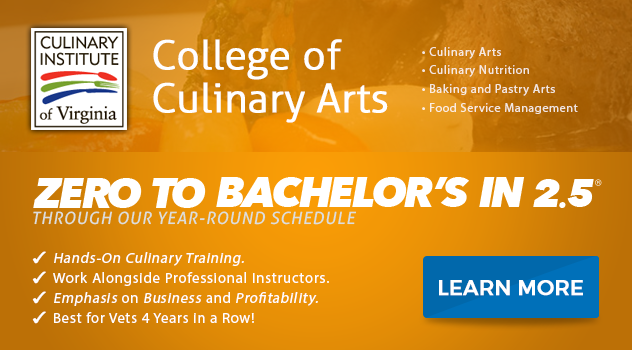 DISCLAIMER – ECPI University makes no claim, warranty, or guarantee as to actual employability or earning potential to current, past or future students or graduates of any educational program we offer. The ECPI University website is published for informational purposes only. Every effort is made to ensure the accuracy of information contained on the ECPI.edu domain; however, no warranty of accuracy is made. No contractual rights, either expressed or implied, are created by its content.
Gainful Employment Information – Food Service Management - Bachelor's
For more information about ECPI University or any of our programs click here: http://www.ecpi.edu/ or http://ow.ly/Ca1ya.