How Can a Nurse Promote Quality Care in their Profession?
There is considerable discussion in the healthcare field about what constitutes quality nursing care. For instance, the Institute of Medicine has defined quality care in terms of standards for populations and individuals that "increase the likelihood of desired health outcomes and are consistent with current professional knowledge." The IOM considers quality care synonymous with patient safety.
Similarly, the World Health Organization defines quality care as "the extent to which health care services provided to individuals and patient populations improve desired health outcomes." WHO maintains that to achieve these outcomes, healthcare should be effective, safe, efficient, timely, equitable, and peopled-centered.

Recognizing Quality Care
While most of us may not be able to articulate such an illustrious definition of quality care, we know it when we see it. As a nursing student, you will likely be introduced to lectures and literature that stress quality care. Once you graduate, you will likely strive to work for health care facilities that offer quality care. For that reason, it's important that you understand what some of the parameters mentioned above should look like.
Effective care: Services should be based on scientific knowledge and evidence-based guidelines.
Safe care: Quality health care should minimize risk of harm to users. It should avoid preventable injuries and reduce medical errors.
Timely care: Delays in providing and receiving health care should be minimal.
Equal opportunity: Health care should not differ in quality depending on a person's gender, ethnicity, race, geographical location, or socioeconomic status.
Efficient health care: Health care should be delivered in a way where waste is avoided and resources maximized.
People and culture centered: The health care should take into account the individual and cultural preferences and aspirations of the community that is being served.
Teaching Quality Care to Nursing Students
The American Association of Colleges of Nursing has led the way in enhancing nursing faculties' ability to develop quality and safety competencies among nursing program graduates. Faculty development programs have been designed to train and improve curricula so that they can meet the standards of the core competencies listed above.
Fortunately, achievements in medicine and technology have contributed enormously to quality of care. Nursing education has also improved along with these developments. Nursing educators recognize that continuous education goes hand in hand with improving the quality of nursing health care and patient safety.
Some of the issues and topics centered around quality care that nursing students might encounter in the classroom setting are as follows:
Treatment of wounds by offering timely diagnosis and evaluation
Focusing attention on patient needs in order to maintain safety, independence, recovery, or peaceful death
Basing nursing practices on systematic, planned, knowledge-based education and experience
Traceability of medical procedures
Offering patient education, motivation, monitoring, and early recognition of causes and risk factors
Reducing or removing causes and risk factors of health issues through necessary, safe medical treatment
Maintenance and optimization of health status, as well as prevention of complications from existing diseases and conditions
Appropriate wound treatment that reduces pain, increases mobility, reduces aggravating factors, and achieves a satisfactory outcome
Scientific research and knowledge about pathology of wound formation and healing
Modern achievements that accelerate independence, reduce pain, encourage faster wound healing
Practices that develop awareness, knowledge, and relevant experience
Training for a Nursing Career
Continuous nursing education, leading to an associate degree and beyond, can give you the opportunity to improve your understanding of quality care, so that you are able to deliver it yourself. For instance, an associate degree should help you develop these capabilities, which will in turn enhance your ability to deliver quality care:
Contributing to interdisciplinary health care team
Effective collaboration in health care settings with individuals, families, communities
Executing best practices from health care disciplines to provide competent, safe, effective care
Holistic care to promote and improve safety outcomes in multicultural and diverse settings
Determination of appropriate prevention and health promotion tactics, contributing to quality care
Integration of information management and technology in quality care
Demonstration of effective leadership
Why a Good Education Matters in Nursing
Nurses are responsible for the wellbeing and safety of their patients. To master the skills and knowledge you will need for this level of responsibility, you will have to commit to a rigorous educational program leading to an associate's degree that will likely involve the study of nutrition, microbiology, anatomy and physiology, acute care, pharmacology, medical/surgical nursing, and possibly maternal and newborn nursing. To be certified as a registered nurse, or RN, you will need to pass the NCLEX nursing board exams.
A great nursing school will include NCLEX exam prep in the curricula. To become a professional, a nurse must graduate from an accredited nursing degree program, pass the NCLEX, and register for licensure. Earning an associate degree is the first step on this path to nursing. Some nursing universities even offer these degree programs at an accelerated rate, so students can graduate sooner.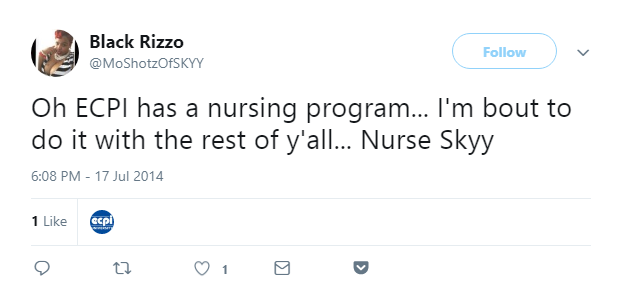 Are you interested in becoming a nurse?
ECPI University offers a variety of nursing degree programs through its Medical Careers Institute (MCI). You could earn an Associate Degree in Nursing (ADN) in as little as 1.5 years with our accelerated nursing degree programs, which include NCLEX exam prep. While your peers are still in school, you could be finishing your clinical rounds and graduating on to better things! 
If you want to earn an Associate of Applied Science in Nursing Degree, ECPI University's MCI offers accredited, accelerated, and hands-on nursing degree programs. For more information on this exciting opportunity, connect with a friendly admissions advisor today.
It could be the Best Decision You Ever Make!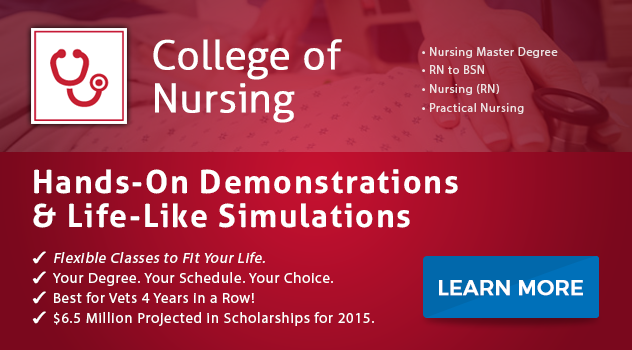 DISCLAIMER – ECPI University makes no claim, warranty, or guarantee as to actual employability or earning potential to current, past or future students or graduates of any educational program we offer. The ECPI University website is published for informational purposes only. Every effort is made to ensure the accuracy of information contained on the ECPI.edu domain; however, no warranty of accuracy is made. No contractual rights, either expressed or implied, are created by its content.
For more information about ECPI University or any of our programs click here: http://www.ecpi.edu/ or http://ow.ly/Ca1ya.