How Can I Become a Cybersecurity Expert with Formal Training?
It's difficult to ignore information about cybersecurity these days. Just about everyone you know has had hackers compromise their information at least once. But while some people are content to think the problem is out of their hands, you're different. You want to do something to combat the problem and you know that means you need formal education.

Why Can't I Just Learn on My Own?
You've probably heard stories about people who trained themselves through internet courses and free YouTube videos and are now working as cybersecurity experts. These stories, if even true, are the exception, not the rule.
A company is taking a big chance on someone who doesn't have formal training behind them. There might be holes in their education or they could have been learning something outdated or not even be familiar with the system the company works with. A college education verifies that a candidate knows their material and can apply it in practical situations.
Why is Formal Education Important in the Cybersecurity Field?
Colleges and universities which offer cybersecurity degrees strive to keep their information organized, updated, interesting, and directly applicable to the working world. In addition to your major courses, there will also be classes in English, math, general IT, and probably a sprinkling of business courses as well.
These courses help you to develop skills you will also need as a cybersecurity worker. You can expect to work on hard and soft skills such as general knowledge, communication, teamwork, and project management. It all leads to helping you become a well-rounded cybersecurity graduate.
What Path Should I Take to Study Cybersecurity?
There are millions of different ways students end up in classrooms. Some arrive already knowing a great deal about computers and networking. Others have basic skills and have much to learn about the topic. Some choose online classrooms; some arrive at school every day.
There's no right way to study in a formal setting. The important part is dedicate yourself to your task, work hard, and never lose sight of your goal. There will be times when the assignments get tough and quizzes seem impossible. But each assignment, quiz, test, and project is one step closer to your ultimate goal: graduation.
Are you interested in cybersecurity? If you want to earn a Bachelor of Science Degree in Computer and Information Science with a Major in Cyber and Network Security - Cybersecurity Track, consider ECPI University for your education. For more information on this exciting program, connect with a helpful admissions representative today.
It could be the Best Decision You Ever Make!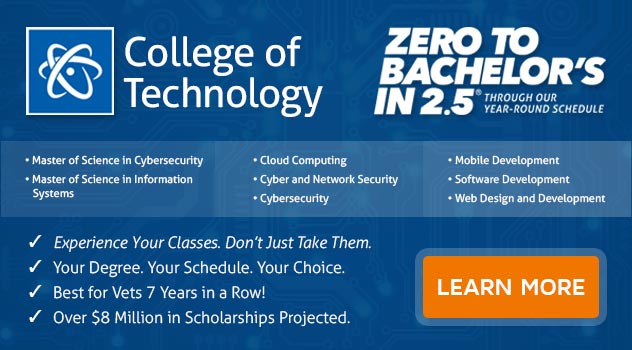 DISCLAIMER – ECPI University makes no claim, warranty, or guarantee as to actual employability or earning potential to current, past or future students or graduates of any educational program we offer. The ECPI University website is published for informational purposes only. Every effort is made to ensure the accuracy of information contained on the ECPI.edu domain; however, no warranty of accuracy is made. No contractual rights, either expressed or implied, are created by its content.
Gainful Employment Information – Cyber and Network Security - Bachelor's
For more information about ECPI University or any of our programs click here: http://www.ecpi.edu/ or http://ow.ly/Ca1ya.