How do I get started in Culinary Arts?
The hospitality enterprise is one of the few sectors that have been experiencing continuous growth globally over the previous decades. A career in the food industry can be very rewarding if you are passionate about cooking and food. The U.S. Bureau of Labor and Statistics, indicates that the employment rate for chefs and head cooks is projected to increase by 9% through 2024, which is relatively faster that the growth rate for other occupations. Not only that, but median wage for a chef or head cook is $41,500.
As indicated above, chefs are in high demand, so how do you know whether culinary arts are an ideal career for you? There are several factors to take into consideration but the following four points mentioned below will help you understand what it takes to pursue a degree in a culinary school.
1. Get Qualified

It's a get idea to start at a culinary school. Try to gain enough knowledge on nutrition and how to prepare these foods. You must develop a real passion which will help fuel you in succeeding in a culinary arts career. Proper training will ensure profound coverage in the fundamentals of cooking, with advanced courses that will enable you to explore your creativity and individuality. These tasks include plating and presentation techniques, Garde Manger and culinary artistry, international ingredients, cuisines and techniques, advanced baking and pastry arts among other things.
2. Get Enough Experience

Working in the kitchen and preparing various recipes will enable you to learn to work in the kitchen in a fun and relaxed manner. Working in the kitchen can be difficult. Long dinner hours include standing and bending and other physical feats. Be sure you're ready for the physical and mental stress of the kitchen.
3. Explore a Different Kind Of Recipes

To be a thriving cook, you need to explore the different kinds of recipes out there. In class, you will be taught numerous kinds of recipes, but it's an excellent idea to explore recipes on your own. Try what's out there and come up with some of your own.
4. Be Focused

Culinary school, especially in an accelerated program, can be very demanding. Just as commercial kitchens are demanding. Be sure you are focused on your goal and determined to reach it. Sometimes staying motivated can be difficult, make sure you have an excellent support system in place before you start your degree.
ECPI University's Culinary Institute of Virginia offers an Associate of Applied Science Degree in Culinary Arts. It's the perfect place to get your start in the culinary tradition. If you'd like more information or want to speak with a knowledgeable admissions advisor, contact ECPI University today!
It could be the Best Decision You Ever Make!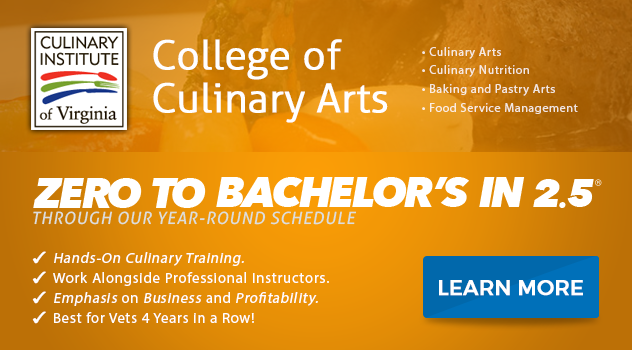 DISCLAIMER – ECPI University makes no claim, warranty, or guarantee as to actual employability or earning potential to current, past or future students or graduates of any educational program we offer. The ECPI University website is published for informational purposes only. Every effort is made to ensure the accuracy of information contained on the ECPI.edu domain; however, no warranty of accuracy is made. No contractual rights, either expressed or implied, are created by its content.
Gainful Employment Information – Culinary Arts - Associate's
For more information about ECPI University or any of our programs click here: http://www.ecpi.edu/ or http://ow.ly/Ca1ya.