How Do You Get Trained for Cyber Security: Is an Online Degree Program an Option?
In today's pervasive online digital presence, cybersecurity is a hot topic, especially in the IT arena. As the cybersecurity industry continues to expand with new opportunities opening each day, skills demanded, and the necessary framework required for compliance, the need for actionable, reliable, and affordable education is now more apparent than ever.

Where do I start learning for cybersecurity?
These is the most common question that most potential cybersecurity students ask, especially those who are looking at developing a career in this industry. There are several ways you could learn needed skills in cybersecurity and start your career.
The best qualifications for a career in cybersecurity
Information security is a multidisciplinary, complex field where choosing a learning path that will equip you with qualifications to support you in a long career, is not that simple. It is clear that such a path cannot be entirely and utterly planned for, especially in this ever-changing and demanding technical environment. You will find that most people are not able to predict how their career evolves beyond the first few years.
Do you need the technical stuff?
Most HR and Training managers will often ask the question, "are you looking for a technical job or a position in management?" A correct answer that should come from a prospective cybersecurity professional should be that they are looking for both, but not at the same time.
Any profession in information security will require you to have basic knowledge in IT systems such as software, hardware, and networks. You are also required to have a good understanding of several bewildering array or vulnerabilities and threats that characterize today's cyber-attacks. It also demands some knowledge in the security that is provided by commercial products by both large and small vendors.
Importance of the basics before learning your trade
The United Kingdom IT Governance's advice those who are still in the initial stages of their careers in cybersecurity, is to get as much experience as they can before seeking for the standard industry qualifications found in CISCO, Microsoft, or CompTIA, among others. Formal training can be the basis of a successful career if you continue to learn both inside and out of the classroom.  
Why formal education is vital while training in cybersecurity
As your experience grows, you will find that you eventually get drawn to 'dark arts' specialties that include penetration testing, security architecture, incident management, security compliance auditing, and digital forensics.
You should, however, be warned that a lot of specialist qualification and training will be a requirement in these fields. Obtaining certifications could help your career, no matter what level you're at. Continual learning can help you to stay on top of your game. Because, remember, certifications will expire after a few years and have to be earned again with newer skills and knowledge.
Is online education an option for me?
The first consideration that you should focus on before enrolling for an online degree program is if it will fit into your lifestyle. Most people who go for online courses do it so that they can continue with their jobs and still have time to take care of their families.
If you are sure that you will never be tied to scheduled events during a typical workday, get asynchronous online programs. This means that you can easily retrieve the class materials at any time and that you can submit your assignment at your free time. Be careful with deadlines because you will still be held accountable.
Is cybersecurity the right move for me?
If you want to work in the cybersecurity field but lack the skills to do so, formal education could be what you're looking for. ECPI University offers a Bachelor of Science in Computer and Information Science Degree with a Major in Cyber and Network Security - Cybersecurity Track. This accelerated program is offered completely online. For more information, connect with a knowledgeable admissions officer today.
It could be the Best Decision You Ever Make!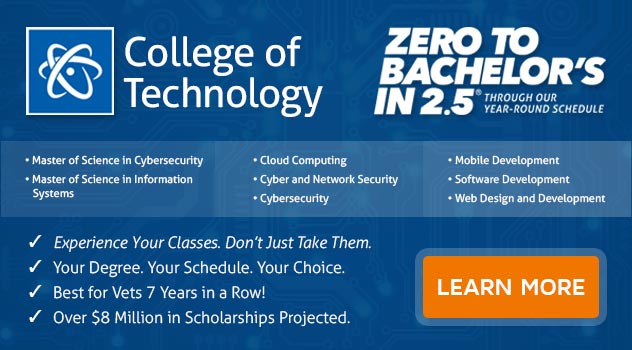 DISCLAIMER – ECPI University makes no claim, warranty, or guarantee as to actual employability or earning potential to current, past or future students or graduates of any educational program we offer. The ECPI University website is published for informational purposes only. Every effort is made to ensure the accuracy of information contained on the ECPI.edu domain; however, no warranty of accuracy is made. No contractual rights, either expressed or implied, are created by its content.
For more information about ECPI University or any of our programs click here: http://www.ecpi.edu/ or http://ow.ly/Ca1ya.