How Long Does it Take to Learn Cloud Computing Now?
Cloud adoption has skyrocketed over the past decade. Whereas many businesses -- and people, in general -- were a bit wary about the cloud in the beginning, it's largely seen as necessary now. The cloud allows for improved security, efficiency, and control over data and software, which means that businesses both small and large benefit from it.
However, to use the cloud effectively, businesses also need to hire personnel with cloud computing experience, specifically, cyber and network security experience. The demand for such professionals is only going to increase as cloud adoption continues to thrive and businesses look to improve their network security.

Why you Should Enroll in a Cloud Computing Program
Many people are technically proficient have the skills and expertise to learn cloud computing on their own. However, even if you believe yourself to be technologically savvy, you should still consider enrolling in a cloud computing program and earning a degree. The following are just a few reasons why you should take this route:
Prove your credibility: You may have all the know-how and skills in the world, but it's going to be hard to prove to potential employers without working your way up from the bottom. If you have a degree, it proves that you studied cloud computing and that you have the experience needed.
Easier to get a job: Without a degree, you're probably going to have to start at an entry-level position. With a degree, you're going to have a big advantage over other hopefuls who have applied to cloud computing positions who don't have that same education.
Advance your career quicker: While you could try to work your way up, doing so will take a lot longer. This is especially true when you compare it with the length of time it takes to get a degree from a cloud computing program. At most, it will take four years; however, there are accelerated programs offered as well that can take as little as two and a half years to complete.
The Benefits of Enrolling in an Accelerated Program
Once you've decided to enroll in a cloud computing program, you'll want to decide what program to complete. While many four-year universities offer cloud computing programs, you might want to consider an accelerated program instead. The following are a few of the advantages of choosing to complete an accelerated program:
You want to save time: Many people don't have the time to go to school for four years. This is especially true for those who are raising a family or are working. They want to get through their studies as quickly as possible so that they can get on their way to pursuing their career.
You want to advance your career: If you're currently working in an IT position and you want to complete a cloud computing program so that you can advance within the company you're working at, then the last thing you'll want to do is to spend four years getting your degree.
You know what you want to do: When a potential employer sees that you completed an accelerated program at a reputable university, they'll know that you knew exactly what you wanted to do and that you were completely focused on that one area of study. This gives employers the confidence that you're in the field you want to be in.
Are you interested in cloud computing? If you want to earn a Bachelor of Science Degree in Computer and Information Science with a Major in Cyber and Network Security - Cloud Computing Track, ECPI University offers this degree at an accelerated course of study. For more information, connect with a friendly admissions advisor today.
It could be the Best Decision You Ever Make!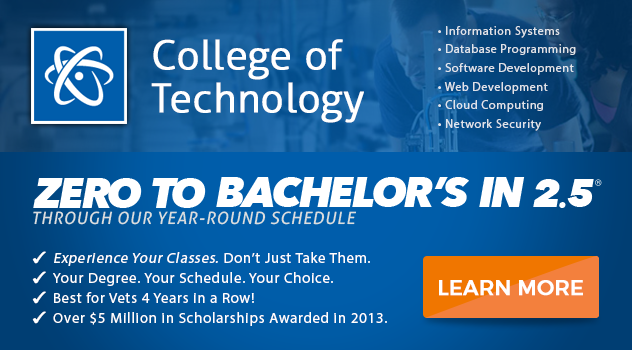 DISCLAIMER – ECPI University makes no claim, warranty, or guarantee as to actual employability or earning potential to current, past or future students or graduates of any educational program we offer. The ECPI University website is published for informational purposes only. Every effort is made to ensure the accuracy of information contained on the ECPI.edu domain; however, no warranty of accuracy is made. No contractual rights, either expressed or implied, are created by its content.
Gainful Employment Information – Cloud Computing Track - Bachelor's
For more information about ECPI University or any of our programs click here: http://www.ecpi.edu/ or http://ow.ly/Ca1ya.