How Long Does Nursing School Take?
Nursing is a work of heart. Could it be your calling?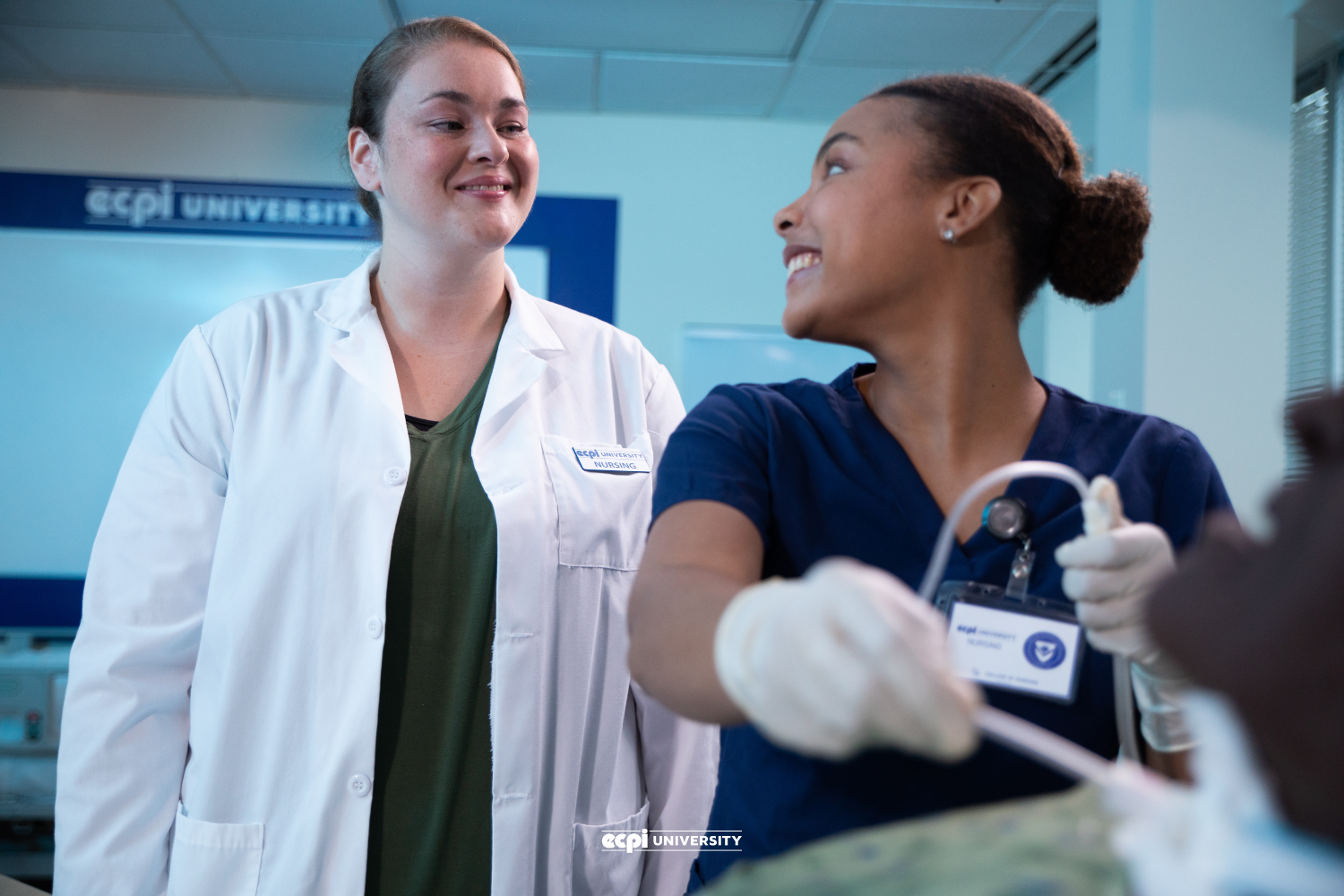 Nursing is an honorable profession. Many who become nurses do so because they feel it is their calling and purpose. To care for others, especially those who cannot care for themselves, is certainly a worthy calling to have. Those who feel this passion for caretaking may have thought about becoming a professional nurse. You may be asking yourself how difficult this path is, and how long it may take to reach your destination. The short answer: it depends on the student, the nursing school, and the degree program.
Do I Need a Degree to Become a Nurse?
As nurses hold people's lives in their hands, it is no surprise that this profession requires some specialized education. Most working nurses are encouraged to earn a Bachelor of Science in Nursing, also known as a BSN, from an accredited nursing school.
Regardless of the type of degree a nurse has earned, all aspiring nurses are required to test for licensing through the NCLEX exam. It is important to choose an accredited nursing degree program to ensure eligibility for NCLEX eligibility and state licensure. A nurse who is not licensed cannot practice.
The good news is that there are many different types of nursing degrees, at different levels of patient care, all of which take different lengths of time to complete. Take a look at our breakdown to determine which type of nursing degree fits your goals and lifestyle.
How Long Does It Take to Earn a Nursing Degree?
A nursing degree could take anywhere from one year to more than four years to earn—it all depends on what type of degree you desire and how quickly your course progresses.
Practical Nursing Diploma (PN)
A Practical Nursing diploma is a small first step into the world of nursing and can be earned in as little as 15 months through accelerated academic institutions.
This type of course is designed to introduce the knowledge, skills, and aptitudes necessary for life as a Practical Nurse. Strong communication skills, critical thinking, and a teamplayer mentality will prove valuable in this role.
After earning the diploma, PNs are eligible to take the NCLEX-PN, an exam which determines whether it is safe for the prospective PN to begin work as a Practical Nurse (PN). This is an entry-level nursing role, perfect for those looking to get started quickly and fortify their skills and knowledge on the job.
Associate Degree in Nursing (ADN)
An Associate Degree in Nursing or ADN degree is the next step for many on the path to nursing and can be earned in as little as 18 months.
After earning this degree, ADNs are eligible to take the NCLEX-RN to qualify as a Registered Nurse (RN). This type of course is designed to prepare students for basic patient care and includes coursework on Anatomy and Physiology, Microbiology, Nutrition, Pharmacology, and more.

Bachelor of Science in Nursing (BSN)
A Bachelor of Science in Nursing or BSN is the standard level of education most professional nurses are expected to possess. A BSN requires clinical experience to earn, as nursing is a very hands-on profession.
This type of course is designed to impart foundational knowledge blended with applicable clinical skills. The only way to learn such skills is by doing. A quality BSN program should include supervised clinical hours to build competencies in real medical settings.
There are many ways to achieve the BSN level:
Traditional (4 years) vs. Accelerated (2.5 years)
A BSN typically requires 4 (or more) years to earn at a traditional four-year educational institution. Some nursing schools may offer accelerated BSN degree programs, through which students study year-round to earn their BSN in as little as 2.5 years.
If you're looking for the fastest way to become a professional nurse with no prior experience or previous higher education, an accelerated BSN could be the best fit for you.
BS to BSN – 12 months
Some colleges or universities may offer a 12-month path to the BSN for students who already hold a Bachelor's degree. If you have already earned a bachelor's degree (regardless of major) and are looking for a quick way to pivot and earn your BSN, this could be the right fit for you.
Because this prospective nurse has already completed the prerequisite courses to earn a bachelor's degree, he or she can dive right into the nursing-specific coursework and graduate sooner.
RN to BSN – 12 months
Some academic institutions may offer a 12-month path for RNs looking to trade up to the BSN. If you're an RN looking for the most direct route to earning a BSN, this could be the path for you.
This course emphasizes critical thinking, clinical reasoning, leadership development, patient advocation, community health, and more. Graduates of this program should be able to assess patient condition, administer treatment, consult with other professionals, perform diagnostic tests, and more.
Master of Science in Nursing (MSN)
An MSN could take as little as 22 months to earn, depending on the institution and coursework. Some MSN programs can be completed almost entirely online, as the candidates typically already have clinical experience.
There are two common MSN concentrations:
Family Nurse Practitioner (FNP or NP)
FNPs care directly for patients in their healthcare facility. This concentration may be the right fit for the professional nurse looking to take on more responsibility with their patients. A Family Nurse Practitioner has the authority to diagnose illnesses, prescribe drugs, order diagnostic tests, and perform physical exams.
Nursing Education (NE)
NEs educate the next generation of nurses. This concentration may be the right fit for the nurse looking to lighten their manual workload and pass on their wisdom to others. A Nurse Educator trades the hectic ICU floor for a calmer classroom environment preparing lessons, demonstrating techniques, and helping aspiring nurses attain the proficiency to reach their academic goals.
Are You Ready to Become a Nurse?
Nursing is a complex and rewarding profession. Those who enter this field are everyday heroes who deserve to be celebrated!
If a future in nursing appeals to you, take the next steps today:
Determine which level of nursing education is right for you
Look up accredited nursing schools near you and online

Note that clinical rounds will need to be in-person, even in an online program 

Ask their admissions representatives about the courses and the school to find out whether they offer...

Accelerated degrees 
Hands-on clinical rotations
NCLEX exam preparation and test cost reduction vouchers

Don't forget to ask about wait lists and prerequisites!

Many nursing students prefer to seek out and attend a medical institute with little-to-no wait list, and with prerequisites included in the coursework. 
ECPI University's College of Nursing: Accelerated Nursing Programs Available
ECPI University's College of Nursing offers each of these nursing degrees at an accelerated pace with no wait list, and with prerequisites and NCLEX prep built into the curriculum. As an accredited and hands-on university, we work to provide nursing students with everything needed to achieve their professional goals.
You could earn a Bachelor of Science in Nursing (BSN) in as little as 2.5 years at ECPI University's College of Nursing in Virginia Beach, VA; Richmond, VA; Manassas, VA; and Orlando Lake Mary, FL; or online with clinical rotations for hands-on competencies.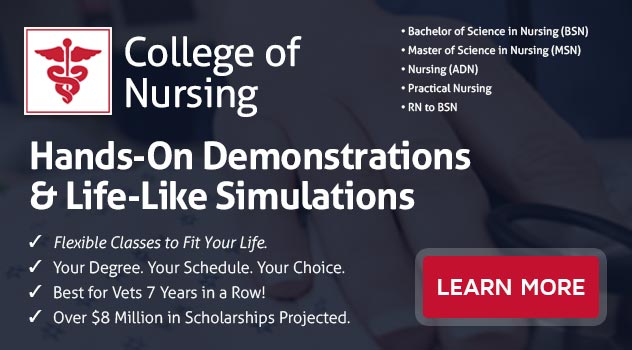 DISCLAIMER - ECPI University makes no claim, warranty, or guarantee as to actual employability or earning potential to current, past or future students or graduates of any educational program we offer. The ECPI University website is published for informational purposes only. Every effort is made to ensure the accuracy of information contained on the ECPI.edu domain; however, no warranty of accuracy is made. No contractual rights, either expressed or implied, are created by its content.
For more information about ECPI University or any of our programs Click Here.