How Many Hours Does a Food Service Manager Work?
The role of a food service manager is not for someone who longs for cubical life. You need a good work ethic, abundant energy, and the ability to multitask. You also will likely have to work long hours. Of course, there are advantages, too! Let's have a closer look at what you can expect to devote to your job as a food service manager.

Putting in the Time
As you might expect, a food service manager is usually expected to put in long hours. Whether you work in a stand-alone restaurant, or a restaurant in a resort, hotel, cruise ship, or in some kind of institution such as a hospital, you will be responsible for ensuring that the kitchen can produce multiple meals daily.
While the chef will be responsible for the menu and overseeing the actual cooking and presentation, you will need to stay on top of what goes on in the restaurant at all times -- breakfast, lunch, and dinner. A food service manager usually works evenings, weekends, and holidays, and may devote anywhere from 40 to 70 hours a week to the job.
What a Food Service Manager's Day Looks Like
What are some of the tasks you can expect to be responsible for? Here are some that might fall within your typical daily routine:
Oversee food preparation, portion sizes, and presentation.
Manage compliance with health regulations pertaining to food preparation and serving.
Manage daily facilities maintenance in restaurant, kitchen, and storage area.
Collect and record receipt of cash and charge receipts. Make bank deposits. Look over books.
Investigation of complaints about food quality or service.
Management of employees.
Here are some weekly or monthly tasks a food service manage might be responsible for:
Make staff schedule and assignment of duties.
Order equipment and supplies. Work with chef to order food and beverages, as well as kitchen supplies.
Schedule equipment maintenance or repairs.
Coordinate standard services, including waste removal and pest control.
Maintain a spreadsheet on the number, type, and cost of foods to track which might be less appealing to guests and therefore less profitable.
Managing Your Time
As a food service manager who likely works on average 50-60 hours a week, you will need to be a good time manager.
Advice abounds for those who work regular 9 to 5, five-days-a-week jobs on how to make the most of their work time. But often these tips don't apply to the hard-working food service manager. The fact is, most time management strategies won't work for the food industry, because the restaurant's routine is very different from that of others.
Here are a few suggestions for managing your daily and weekly tasks, so that you can get everything done in the least amount of time -- and possibly even have a little time left over for yourself at the end of your workweek.
Prioritize. This is usually the first tip you see for any time management scheme but it's tried and true. Always schedule your most important tasks first, and in the order they need to be accomplished.
Make a list. Don't bother putting things you'll never do on your list. But do make lists for essential tasks in various areas of the establishment. Break the to-do lists down into segments for the kitchen, bar, pantry, and restaurant. Make realistic lists, then pare them down to accomplishing three things in each sector daily.
Master the art of good planning. Don't make your plan for the day while driving to work. At the end of your restaurant day, when things are winding down, take a few minutes to review the day and make your list for the following day.
Delegate. Don't even try to do everything yourself. It's always better to work as a team. If your staff doesn't know how to do some task as well as you, then that's on you -- the manager -- to show them how.
Be a mentor. You'll likely be leading a team, so whatever you learn about good time management should be shared with your team members. In short, be a team mentor. Effective use of time can make or break a food operation.
Does the fast-paced life in a professional kitchen sound like the perfect job for you? If you want to earn a Bachelor of Science in Food Service Management, ECPI University's Culinary Institute of Virginia offers this degree at an accelerated rate. For more information about this exciting program, connect with a helpful admissions representative today.
It could be the Best Decision You Ever Make!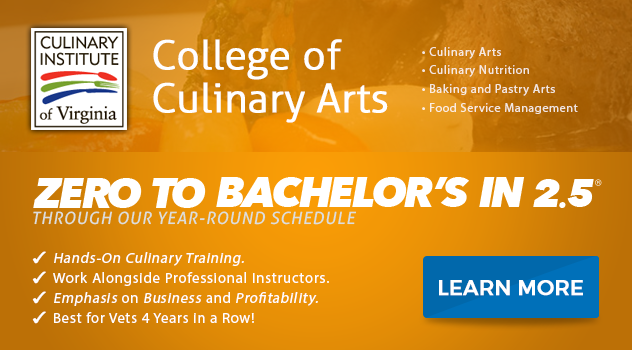 DISCLAIMER – ECPI University makes no claim, warranty, or guarantee as to actual employability or earning potential to current, past or future students or graduates of any educational program we offer. The ECPI University website is published for informational purposes only. Every effort is made to ensure the accuracy of information contained on the ECPI.edu domain; however, no warranty of accuracy is made. No contractual rights, either expressed or implied, are created by its content.
For more information about ECPI University or any of our programs click here: http://www.ecpi.edu/ or http://ow.ly/Ca1ya.