How Many Years Does it Take to Become a Chef?
Master of the menu, purveyor of high-quality product, royalty of the culinary castle. Written about in newspapers, revered by the dining public, respected by a kitchen full of people whose job it is to support you. If you're good enough they might even make a reality television show about you.
Yes, the life of the chef is a good life, which might explain why you're considering pursuing a career in the culinary arts. But it's not all headlines and praise from high-profile customers. It's a career that calls for a lot of skill, knowledge, creativity, and a lot of long hours.

But it's all worth it in the end, especially when you consider that the U.S. Department of Labor's Bureau of Labor Statistics says that there are plenty of people looking to hire qualified chefs.
The jobs, the satisfaction, the challenges, the glory, and the joys of making a career out of cooking are out there for the taking. Here's a five-step recipe for cooking up a career as a chef:
Step 1: Know the job
There is a lot more to being a chef than what is shown on reality television. Sure, the job involves cooking, quality control, and a lot of intense moments in the kitchen during dinner service.
But it also involves menu planning, equipment maintenance, recipe development, hiring, training, supervising, firing, ordering, inventory, and collaboration with food service managers and others.
The first step toward becoming a chef is knowing all that the job entails so you can start developing the kitchen and cooking skills you'll need to succeed.
Step 2: Develop the skills
So you can whip together a mean omelet and everyone thinks your guacamole is the best thing since McDonalds rolled out its 24-hour-a-day breakfast menu?
That's great! But it doesn't mean you're ready to be a chef just yet.
You're going to need to develop your kitchen and cooking skills. This includes the ability to chop, cut, slice, bake, grill, choose the right ingredients, and touch when it comes to using just the right amount of heat.
And that's not all.
You're also going to have to understand portion sizing, pastry, presentation, recipe design, and menu design. And then there is the vocabulary. You can't successfully run a kitchen if you don't know what "mise en place" means.
Running a successful kitchen requires a lot of skills -- then you're going to need to know about how the front of the house operates.
Step 3: Learn the business
At the end of the day, being a chef is about two things: food and profit.
Your job will be to use food to make sure your restaurant or company makes a profit. This means you're going to need some business acumen and sense in order to succeed.
You'll need to understand how to manage costs, deliver exceptional customer service, hire the right employees for the right jobs, keep track of inventory, adhere to safety and health regulations, procure equipment and product, manage the kitchen, and work with other members of the management team to make sure the operation is running smoothly.
It's enough to make your head spin, unless you have real-world, practical experience.
Step 4: Get in the kitchen
It's pretty safe to say that every chef started their career by doing the dirty work or learning the job behind the scenes.
Celebrity chef Bobby Flay started as a fill-in busboy before getting his first job in a kitchen. Emeril Lagasse got his start by washing pots and pans at the Moonlight bakery before he ever got to mix batter.
Every chef needs to know what every position in the kitchen does, and the only way to figure that out (really, really figure it out) is by getting in the kitchen, rolling up your sleeves and doing the jobs.
The only thing better than learning through practical, hands-on experience is learning the job through practical, hands-on experience that is combined with a formal education.
Step 5: Invest in a formal education
As you can see, being a chef requires a lot of skill and knowledge. It takes hard work, dedication, and an unwavering commitment to mastering your craft.
And enrolling in culinary school is one of the best ways to learn what you need to know.
You could learn the skills, study the art and science of cooking, gain business knowledge, and get practical experience cooking in a kitchen with instructors who can help develop your technique and creativity.
Ready to get started?
Are you ready to step into a culinary school kitchen? If you want to earn an Associate of Applied Science Degree in Culinary Arts, ECPI University's Culinary Institute of Virginia offers this degree at an accelerated pace. For more information, connect with a helpful admissions advisor today.
It could be the Best Decision You Ever Make!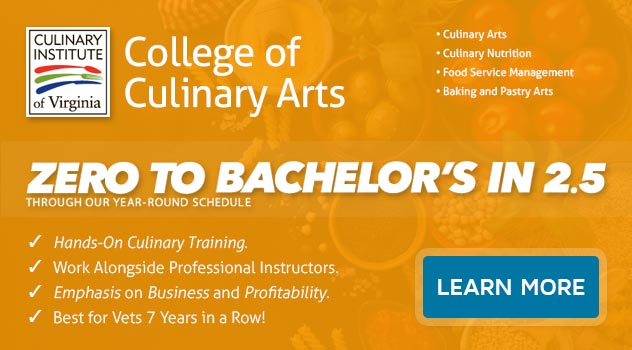 DISCLAIMER – ECPI University makes no claim, warranty, or guarantee as to actual employability or earning potential to current, past or future students or graduates of any educational program we offer. The ECPI University website is published for informational purposes only. Every effort is made to ensure the accuracy of information contained on the ECPI.edu domain; however, no warranty of accuracy is made. No contractual rights, either expressed or implied, are created by its content.
For more information about ECPI University or any of our programs click here: http://www.ecpi.edu/.