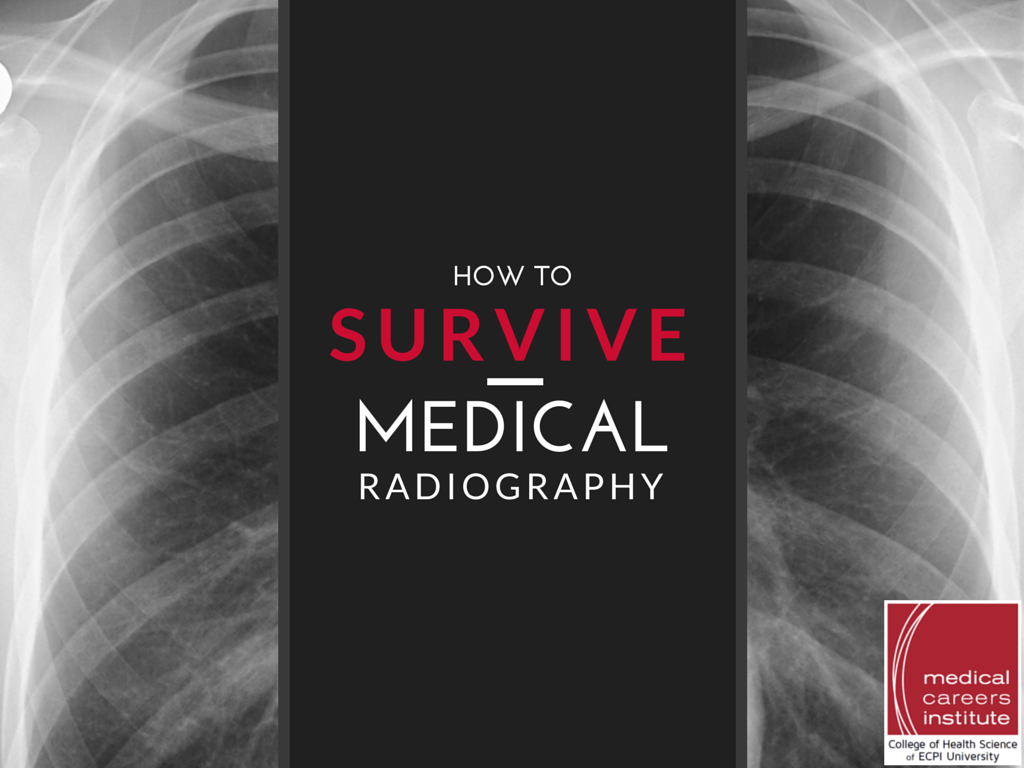 Advances in technology have made a career in Medical Radiography an exciting and rewarding pursuit. If you like the idea of getting paid to help people and support lifesaving care, now is an especially good time to explore this growing field. In this article, we'll explore the skills you need to survive a career as a Radiologic Technologist as well as information on earning potential, job outlook, and future demand.
What's in the future?
Take a look at the current facts. According to the Bureau of Labor Statistics, MRI techs earn a median wage of $55,910 per year. The lowest 10% come in around $37,000, and the highest 10% earn above $77,000.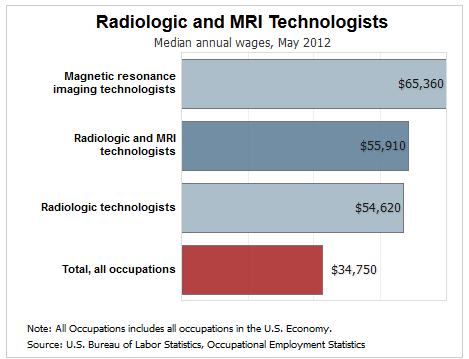 Within that range, those who move into Magnetic Resonance Imaging (MRI) see median income at $65,360, and those with a foot in Radiological Technology and MRI bring in $55,910.
More interesting is the government's prediction of growth in the field. The Bureau of Labor Statistics expects a 21-24% increase in positions for candidates with Medical Radiography degrees by the year 2022, a rate beyond the average for many fields.
Why the demand?
The population is aging on the whole, which means senior citizens will require more medical attention. Osteoporosis will increase skeletal breaks and fractures, and an increased number of surgeries will require additional tests and follow-ups.  As a result, more diagnostic equipment and skilled technicians will be essential, many of which will operate and maintain a complex range of imaging technology.
Changes in healthcare legislation and mandated insurance will also increase the patient count at doctor's offices, hospitals, and outpatient imaging centers. And, with insurance companies pressing for less expensive out-patient diagnosis, the centers are likely to multiply. As reported by the National Center for Biotechnology Information (NCBI), "The field of radiology has expanded dramatically. The range of radiology covers diseases from the fetus through to the multi-morbid aging population, from prostate to the pituitary gland and from pancreatic neoplasia to bone dysplasia."
What does it take?
Becoming a Radiologic Technologist requires a certain skillset and often attracts people who show an early interest in science and like working in anatomy, radiation physics, pathology, and patient care. The best candidates are detail-oriented, have an aptitude for math and chemistry, and work well with peers and patients.
Radiographers develop specializations with experience, but they can generally expect to:
Follow doctor orders carefully
Work with patients to understand and prepare for procedures
Take medical histories and enter data
Shield patients from indirect radioactive imaging
Maintain and operate imaging equipment
Present results to physicians
Process accurate patient records
Procedures might include radiology, x-ray technology, computed tomography (CT), mammography, bone scans, and/or magnetic resonance imaging.
What's the plan?
High-potential students like the ECPI University approach - with its mixture of practical clinical experience and on-campus classes and labs. The ECPI University model immerses students in radiation science and client protection, imaging equipment operation and quality, image processing and evaluation, ethical and legal compliance, and interpersonal communication skills. Earning an Associate of Applied Science in Medical Radiography means students can be eligible to sit for the American Registry of Radiologic Technologists (ARRT) Certification examination in as short as 18 months - a high energy start to a rewarding career.


DISCLAIMER – ECPI University makes no claim, warranty or guarantee as to actual employability or earning potential to current, past or future students or graduates of any educational program we offer. The ECPI University website is published for informational purposes only. Every effort is made to ensure the accuracy of information contained on the ECPI.edu domain; however, no warranty of accuracy is made. No contractual rights, either expressed or implied, are created by its content.
Gainful Employment Information
For more information about ECPI University or any of our programs click here: http://www.ecpi.edu/ or http://ow.ly/Ca1ya.