How Technology has Changed Education in the Past 20 Years
It is amazing how much information technology has changed education in the past 20 years. In 1998 the internet was being widely adopted but its potential as a driver for online education had not yet been realized. With fully online programs thriving in today's colleges and universities, let's focus a spotlight on how the last two decades have transformed education to be more effective and accessible to more people than ever before.

The Emergence of Online Education
The first online education courses in the late 1990s were self-contained discs that were shipped to students much like the correspondence courses that used to be sent through the mail. This had a very limited utility and provided little support to the students who took the courses. However, for many students such as parents with small children or persons with disabilities, it was often the only option for furthering their education.
As the internet speed improved in the early 2000's and applications such as Blackboard became standard on college campuses, the option of learning fully online measurably improved. Today's online students are able to enjoy a quality of education equal to any student who is taking classes on campus.
The Online Educational Experience
If you have never taken an online course before, you may wonder how students learn as much as those who attend a campus. It all starts with e-learning resources such as online syllabi, pre-recorded lectures, and live teleconference guided discussions. Reading materials for the course can often be digitized or even presented as interactive software that can train the students in technical aspects of the course.
The Canvas learning management system has become a way to integrate all coursework together in a manner that is customized to the course you are taking. Remote consultations with professors give the student any additional help that they need and all examinations can usually be taken in the comfort of your own home or at a local library. When all of these are combined with the ability to collaborate with other students via online forums, an online educational experience can provide a quality of education that is indistinguishable from on-campus coursework.
The Benefits of Online Learning
There are many benefits to online learning that you may not have considered when trying to decide between online or in-person degree programs. One obvious benefit is that if you live far away from campus or live in a place-bound situation you will still be able to attend the University of your choice despite the distance involved.
It is also convenient if you are working a full-time job and will only be able to attend to your schoolwork at odd hours when no classes are scheduled. To those with disabilities, online learning may provide more direct methods of accommodation that will help you overcome the challenges that have held you back. If you are a self-starter who has the drive and ability to work alone you may thrive in the online learning environment.
Online Learning Opens Up New Opportunities in the Job Market
The ability to work effectively with computers is becoming virtually mandatory in today's job market. More and more employers are relying on applications such as Slack to manage workflows and keep employees on the same page. The ability to navigate an online course will give you a head start on these realities of the modern workplace.
With remote work and online projects becoming more common, with stakeholders working together although they are in different cities and states, online education may give you the skills to hit the ground running when you find your first job. What used to be called "computer literacy" is now a skill virtually all workers need on their resume, and in some cases, such skills will be taken as a given. The future is here and it is online.
What Can You Learn In Online Programs?
Online programs may provide some surprising opportunities in many career fields that you may have thought would require on-campus training. Lucrative information technology jobs in cloud computing, web design, cybersecurity, and software development can be prepared for with online bachelors or masters degrees. Highly technical disciplines such as mechatronics, mechanical engineering technology, and electronics engineering are also available to change your career trajectory for the better.
In fact, online enrollment has allowed many universities to maintain and expand courses of study that may have been in danger of being discontinued due to low enrollment. You can expect the amount of these courses to grow and flourish in the next 20 years.
Are you interested in online education and want to learn more? ECPI University offers several degree programs online. For more information about any of these programs or what it's like to go to school online, connect with a friendly admissions advisor today.
It could be the Best Decision You Ever Make!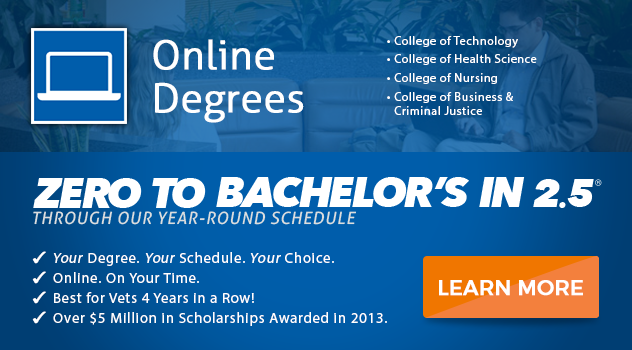 DISCLAIMER – ECPI University makes no claim, warranty, or guarantee as to actual employability or earning potential to current, past or future students or graduates of any educational program we offer. The ECPI University website is published for informational purposes only. Every effort is made to ensure the accuracy of information contained on the ECPI.edu domain; however, no warranty of accuracy is made. No contractual rights, either expressed or implied, are created by its content.
For more information about ECPI University or any of our programs click here: http://www.ecpi.edu/ or http://ow.ly/Ca1ya.