How to Be a Food Service Manager with a Bachelor's Degree
Food service management combines your love for food with business to give you the chance at a satisfying career in the culinary industry. As a food service manager, you could be in charge of food establishments like hotels and restaurants. Your work might include providing leadership in the kitchen; ranging from hiring, training and supervising the kitchen staff to ensure that food meets the industry quality standards and customers are happy with your services.
Food service managers are also typically involved in making staff schedules, budgeting, record keeping and inventory management. If you are passionate about food and business, a food service management degree could be an excellent way to start your career.

Why a Bachelor's Degree is Essential to Food Service Managers
Most food service managers normally start with entry-level jobs such as working as cooks, and work their way up. Post-high school training is not usually mandatory for individuals working in this position although it's highly recommended to go to college according to the U.S Bureau of Labor Statistics. This is because with high school education, you could get into the industry and learn on the job, but it will require patience and years of experience to get to the position of a food service manager.
A bachelor's degree is essential to food service managers as most employers prefer those already educated and knowledgeable about how to run an establishment to take charge. Earning a degree could put you at an advantage of getting the job. With more culinary colleges coming up and more people taking up culinary classes, a bachelor's degree in food service management might give you the upper hand in the job market.
Career growth typically comes much faster when you have a bachelor's degree in food service management. You get to ascend the career ladder without having to start from the bottom. A degree also opens up lucrative opportunities in high-end and fine dining restaurants which come with lots of benefits.
Working in the food industry doesn't limit you to employment. As such, individuals who look forward to starting their own restaurants need to enroll for a degree so as to gain the business management skills needed to successfully run a restaurant. Since some of the roles require deep knowledge in accounting, getting trained effectively prepares you with the skills to keep the business profitable.
What You Should Expect to Learn in Food Service Management Bachelor's Degree
A bachelor's degree in food service management will take you approximately 4 years, but you could earn it in faster in an accelerated program. Studying for this degree should expose you to a variety of skills that are applicable in every restaurant setting, be it in a school cafeteria, a hospital, or a 5-star hotel.
As a food service management student, you can expect to cover topics in nutrition, sanitation and hygiene as well as food preparation. You could also acquire accounting and record-keeping knowledge as well as marketing skills which are vital for the business aspect of a restaurant. Since the position of a food service manager consists of supervision, you will also learn leadership and people skills to help you manage and relate well with your colleagues as well as customers.
Most universities require students to undergo an internship or externship as part of the degree program in order to obtain practical skills in their area of study. After you are done with your degree, you should be well equipped to plan menus and prepare a variety of dishes, effectively use kitchen equipment, and manage kitchen inventory and finances. You might also be ready to provide direction and leadership to your juniors and solve any problems that may arise in the kitchen or with the customers.
FSM Graduates Have Higher Likelihood of Getting a Job than Individuals without Degrees
There are a number of advantages that you can enjoy by being a bachelor of food service management degree holder. Employers generally appreciate well-educated individuals in their team as they are more competent and skilled than those without formal training. What's more, you should already have background training on the fundamentals of food service management. As such, you won't cost your employer much time or money in training expenses.
With the connections you build during your internship, you could also easily get recommendations from your boss to other employers. This improves your odds of finding a job much faster compared to your counterparts without degrees.
Start You FSM Training at ECPI University
Are you ready to follow your passion in the culinary industry? ECPI University offers a Bachelor of Science Degree in Food Service Management degree program at an accelerated pace. For more information, connect with a friendly admission representative today!
It could be the Best Decision You Ever Make!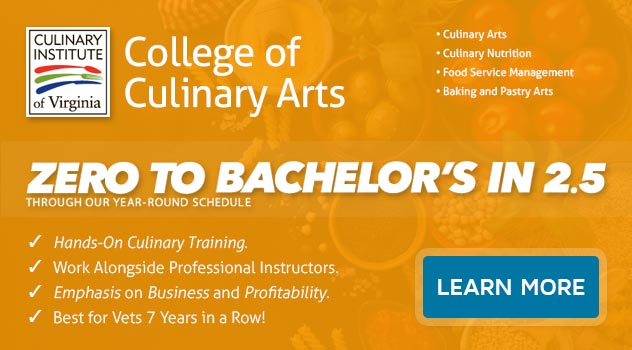 DISCLAIMER - ECPI University makes no claim, warranty, or guarantee as to actual employability or earning potential to current, past or future students or graduates of any educational program we offer. The ECPI University website is published for informational purposes only. Every effort is made to ensure the accuracy of information contained on the ECPI.edu domain; however, no warranty of accuracy is made. No contractual rights, either expressed or implied, are created by its content.
For more information about ECPI University or any of our programs click here: http://www.ecpi.edu/.