How to Become a Nurse Educator: Earning a Master's Degree in Nursing
For as long as humans have gathered, there has been a need for nurses. A need for people trained in the healing arts to help alleviate both physical and emotional pain and suffering. Today, in the modern era, things are no different and if anything, society is more in need of skilled and empathetic nurses than ever before due to the aging baby boomer generation. Of course, the great nurses needed to respond to the country's need don't just appear from nowhere. Rather, they require training and guidance by experienced nurse educators.
Nurse educators are the professionals responsible for teaching tomorrow's most skilled and compassionate nurses today. This is a commendable and rewarding profession, but one that also takes a great deal of skill, passion, and knowledge. For those with a background in the healthcare industry, earning a master's degree in nursing and becoming a nurse educator is an exciting career move both due to the rewarding nature of the job and the wealth of job opportunities available for this field right now.

The Basics of Being a Nurse Educator
As the title suggests, a nurse educator is an experienced nurse whose job it is to encourage and educate tomorrow's nurses. Nurse educators need to have a strong understanding and in-depth knowledge of nursing theories and a desire for continual learning, as the healthcare industry is consistently changing, evolving, and great teachers are able to change and evolve with it.
But knowing and understanding concepts is only part of the job. The other, arguably larger role of nurse educators is demonstrative. Nurse educators need to be good role models and should be excited and passionate to share their skills and knowledge to future generations.
What it is Like to Earn a Master's Degree in Nursing
A master's program for nursing generally requires a two-year commitment but there are accelerated degree programs that can help expedite the time. This is a program that can be done either via a traditional campus or with a more flexible online format that will work in tandem with your clinical practicum.
A few examples of courses that will probably be a part of a MSN program include:
Advanced Physiology & Pathophysiology courses: These science-based courses cover disease etiology, processes, and treatments and help inform students about the unique differences between physiological and pathophysiological issues.
Teaching & Learning Strategies for Health Care. Even the very best nurses need to undergo specialized education to understand how best to teach their skills and knowledge to others. These courses will help show students how to educate a variety of learners in a variety of settings. Students will learn both education theory and evidence-based teaching styles.
Transformational Leadership in Nursing. To be an educator is to be a leader. This course is designed to help students learn how to best take up that mantle for the benefit of their own future nursing students.
Essential Skills & Qualities of Successful Nursing Educators
Lifelong learner. Remember, the health care industry is constantly changing. Outstanding nurse educators are committed to changing with it, to lifelong learning, mentorship, and self-development.
Excellent communicator. An individual might be the most knowledgeable nurse to have ever walked the earth, but if they are unable to communicate that knowledge, then they will never be a great educator. Of course, communication skills can be honed and this and leadership skills will both be a part of the studies involved in obtaining a master's degree.
Flexibility and openness. Nurse educators must be open to working with a diverse array of students with different learning styles. They should have the skill to adapt their lessons based on those various learning styles and want to explore innovative new ways to deliver their content so that all their students might excel.
Quick to connect dots. Part of a nurse educator's job is to explain and link science and nursing processes taught in the classroom to actual patient care scenarios. Strong educators are adept at making those connections and illustrating them for the benefit of their students.
Are you interested in becoming a nurse educator? If you want to help prepare the next class of nurses for their duties through earning a Master of Science in Nursing, ECPI University offers this class at an accelerated rate. For more information on this exciting program, connect with a friendly admissions advisor today.
It could be the Best Decision You Ever Make!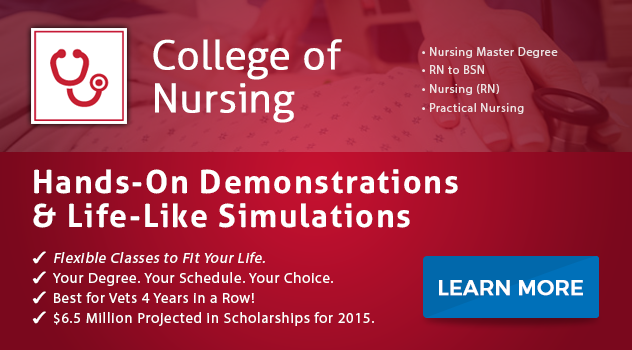 DISCLAIMER – ECPI University makes no claim, warranty, or guarantee as to actual employability or earning potential to current, past or future students or graduates of any educational program we offer. The ECPI University website is published for informational purposes only. Every effort is made to ensure the accuracy of information contained on the ECPI.edu domain; however, no warranty of accuracy is made. No contractual rights, either expressed or implied, are created by its content.
Gainful Employment Information – Master of Science in Nursing
For more information about ECPI University or any of our programs click here: http://www.ecpi.edu/ or http://ow.ly/Ca1ya.