How to Become a Professional Cook: How Culinary School Could Help You
Culinary school is more than just learning recipes and mastering measuring skills. It is an opportunity to develop a deep and comprehensive understanding of the culinary industry. For those who want to build careers and not just get a job, culinary school is an opportunity to learn how to apply this knowledge towards a professionally and financially rewarding career.

Polishing Your Skill...and Smoothing Over Bad Habits
Culinary school should help you hone your skills to a sharp point. It should also help you smooth out the rough edges in your technique and food preparation habits. It is also an opportunity to learn the proper techniques for everything from knife handling to food storage.
Your instructors should help you eliminate bad habits and adopt proper techniques that could help you land positions within the world's finest hotels, restaurants, and resorts. They'll probably also help you navigate your way around hot stoves, sharp knives, and boiling cauldrons of soup.
Among the professional skills you will learn are how to master stress management, financial management, and personnel management. These skills are essential as a chef and culinary school instructors will drill these concepts into you until they are second nature.


At the same time, culinary arts programs generally teach you how to remain flexible and open minded. These are important skills to learn because every day in the kitchen can bring the unexpected. From a delivery that is late or an employee who doesn't show up, staying flexible helps you manage the day to day disasters that can arise.
As a chef, it is essential to master these skills because customers won't care if you are having a bad day, they will only care that they had a bad meal. As a chef, you must always be prepared to find a creative solution to an everyday problem.
Exposure to New Techniques and a World of Possibilities
Culinary arts courses expose you to the wonderful world of cuisine from around the globe. You should not only learn the history of everything from pizza to pierogi, you will discover the secrets of the spices and ingredients used to craft these delicious dishes. As your knowledge expands and your horizons broaden, you will be able to experiment and tinker to create variations that are exquisitely unique in their texture and flavor.
Prepares You for the Professional Kitchen
The professional kitchen bears little resemblance to the home kitchen. It is hot. It is busy. It is full of people running about getting ready for (or recovering from) the rush. Working as a chef in a professional kitchen requires learning how to stay focused and how to juggle multiple priorities without dropping a single one. It also requires learning how to manage people, maintain harmony between the wait staff and kitchen staff, and balance the demands of budgets and customer desires.
Obtaining a Well-Rounded Education
Culinary schools do more than just teach you how to wield a knife and how to filet a fish. Instructors expose you to ideas and concepts that go well beyond the kitchen. You should learn how to budget and manage establishment finances. You should also learn how to market and conduct advertising campaigns. Learning how to manage and train people is highly important in the field.
This broad skills base could open your career to a tremendous number of possibilities. Not only does it qualify you to cook and prepare food, it might prepare you to move into managerial positions and potentially open your own restaurant down the road. In fact, many graduates of culinary arts programs end up opening their own restaurants after they have cut their teeth in someone else's kitchen.
Earning a License for Creativity
No one has a right to wear the white coat and the chef's toque. It is something that is earned through training and experience. As a graduate of a culinary arts program, you won't be just another cook on the line, you will be the chef in the kitchen. This title is both a responsibility and a license.
On one hand, it requires you to adhere to established standards in regard to food preparation and safety. On the other, it gives you plenty of room to exercise your creative muscles to create dishes that make customers return time and time again.
Are You Ready to Take the First Step?
If you are interested in becoming a professional cook, there's no time like the present to get started! ECPI University's Culinary Institute of Virginia offers an Associate of Applied Science in Culinary Arts Degree at an accelerated pace. For more information regarding this exciting opportunity, connect with a helpful admissions representative today.
It could be the Best Decision You Ever Make!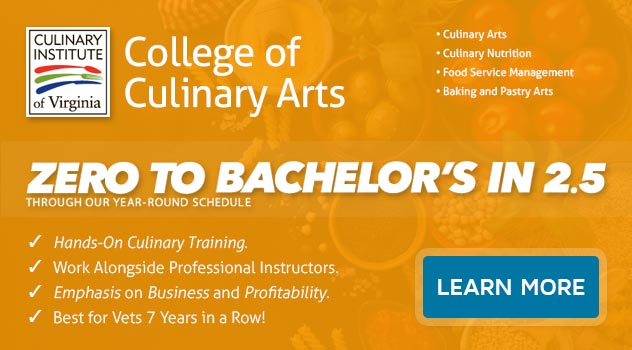 DISCLAIMER – ECPI University makes no claim, warranty, or guarantee as to actual employability or earning potential to current, past or future students or graduates of any educational program we offer. The ECPI University website is published for informational purposes only. Every effort is made to ensure the accuracy of information contained on the ECPI.edu domain; however, no warranty of accuracy is made. No contractual rights, either expressed or implied, are created by its content.
Gainful Employment Information – Culinary Arts - Associate's
For more information about ECPI University or any of our programs click here: http://www.ecpi.edu/ or http://ow.ly/Ca1ya.