Industries that hire Cybersecurity Specialists: Will I Need a Degree?
Formal education is vital to the future of cybersecurity careers. There are many reasons you need a degree, but the most important reason is this: cybersecurity professionals are educators. As a cybersecurity expert, you'll be helping and training people in all types of industries and organizations.
It doesn't matter who they are or what they do: company employees must practice cybersecurity every day, and it could be your job to help them understand how and why. You might be the go-to for the CEO and anyone within your organization that uses a computer or mobile devices to access company information. You could be someone who makes a difference.

Companies, Businesses: Every Size Organization Needs Cybersecurity Protection
You may envision working for a mega-corporation, but the reality is, every organization from Mom-and-Pop stores to non-profits and service industries needs integrated technology pros with formal education.
A bachelor's degree and training in cybersecurity is just the beginning. You will never stop learning in this challenging, exciting field.
At this time, small- and medium-size companies are the ones that need it most. Some of the practical applications for your degree in cybersecurity could include:
Administering hardware, software services
Analyzing vulnerability
Educating users about cybersecurity
Guarding confidential customer/client information
Maintaining software
Monitoring, defending networks
Performing regular penetration testing
Protecting company data
Teaching security policy, procedures
Troubleshooting hardware and software applications
Everybody Wants You
If you've ever been rejected or fear rejection, you'll be thrilled at how many industries want and need cybersecurity pros. Every organization with a presence in cyberspace and online employees needs security. You could provide protection for your company against:
Data theft
Hacking
Malware
Phishing
Ways to attack organizations that haven't been invented yet
CyberDefense Magazine reminds IT (integrated technology) technicians that not all companies are created equally. Just as office sizes and spaces differ, cybersecurity needs are different. You may be "the lone ranger" or you may be part of a dynamic team that shares concerns and methodologies.
You may even get an entry-level position as the leader of a cybersecurity team. It's discouraging for employees when a newcomer leapfrogs into a higher position. But if you've worked to get a bachelor's degree, you've earned it.
Cybersecurity degrees aren't created the same, either. If you're already working in technology, ready to change careers, or in a hurry to jumpstart what is predicted to be one of the fastest-growing industries in the U.S., you should pursue an online bachelor's degree.
If you earn a degree in cyber and network security, you could be able to find employment in many types of industries. Job titles may include:
Information security analyst
Information technology solutions provider
Network administrator
Network applications supervisor/manager
Network implementation professional
Network infrastructure support technician
Network security analyst
Technical support specialist
Your Formal Degree Gives You the Edge
It's not possible to earn a degree in cybersecurity without learning the fundamentals of IT network protection. You should learn how to:
Assess, monitor networks
Evaluate problems
Identify and prioritize customer needs
Install and educate end users on security software
Plan, coordinate, implement network security
Report and repair security breaches
Troubleshoot, Maintain network hardware/software
But here's the degree difference: You could acquire the skills businesses need to help them grow.
Your degree might help you develop confidence and leadership skills. You'll understand company financial restraints and learn how to work within budget limitations. You'll bring business skills to the workplace, including:
Customer service
Disaster recovery
Ethical practices
Logic and decision-making
Risk management
Self-assessment
Is a Cyber and Network Security Degree Your Next Move?
If you want to learn more about earning a Bachelor of Science Degree in Computer and Information Science with a Major in Cyber and Network Security, ECPI University offers this program at an accelerated pace and online. For more information, connect with a helpful admissions advisor today.
It could be the Best Decision You Ever Make!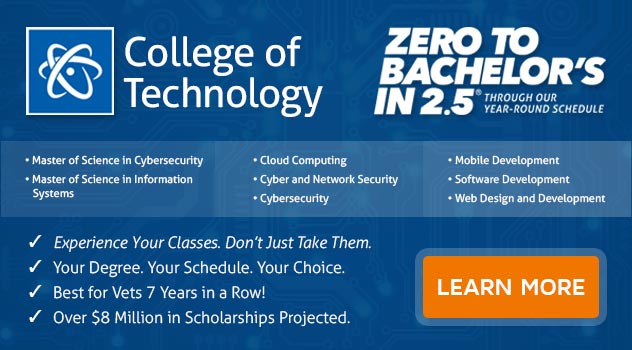 DISCLAIMER - ECPI University makes no claim, warranty, or guarantee as to actual employability or earning potential to current, past or future students or graduates of any educational program we offer. The ECPI University website is published for informational purposes only. Every effort is made to ensure the accuracy of information contained on the ECPI.edu domain; however, no warranty of accuracy is made. No contractual rights, either expressed or implied, are created by its content.
For more information about ECPI University or any of our programs click here: http://www.ecpi.edu/.