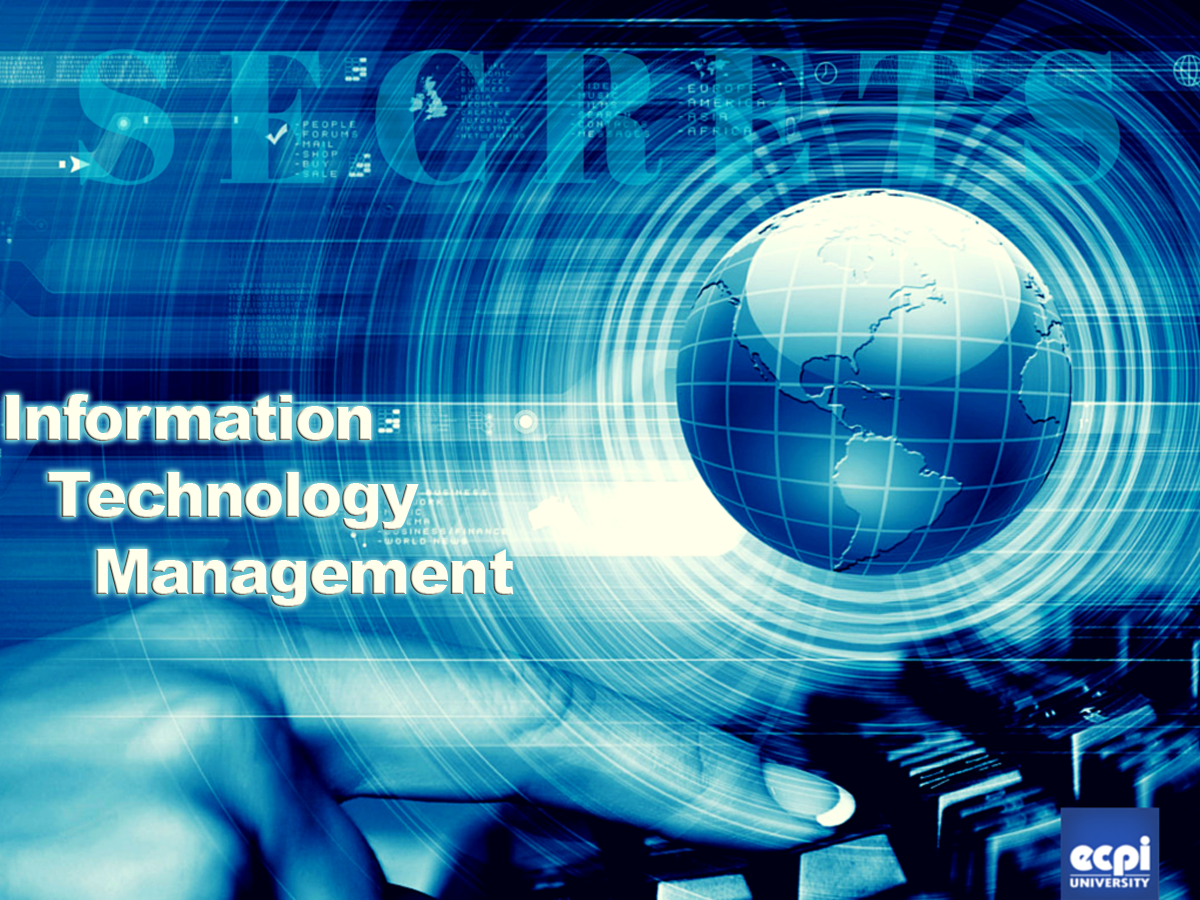 The IT field is growing…and that growth is being fueled by innovation. Such growth and change requires the steady hand and experience of a seasoned IT Manager.
It's an exciting field and if you're interested in pursuing it as a career, having the right education is where it all begins. But first, let's take a closer look at the profession.
According to the U.S. Bureau of Labor Statistics, it's all being influenced by a variety of market changes and technical advances such as:
Firms expanding their use of wireless and mobile networks
Rapid increases in demand for computer software
More resources being used to combat cyber threats
The healthcare industry's continued implementation of electronic records management
The expansion of Cloud-based IT solutions
What Does an IT Manager Do?
Depending on the size of the company, the IT Manager may specialize in one specific area or may be responsible for an entire network. Depending on your level of management and experience, you'll be directly responsible or oversee a team that conducts the set up, installation, and maintenance of the company's computer systems and networks. Such duties involve:
Determining what the company needs from its system and how best to accomplish those goals.
Installation of network hardware, continued maintenance, repairs, and making necessary upgrades as they become available.
Assuring the network remains secure and continues to operate properly.
Evaluating performance levels, as well as foreseeing and addressing potential problems before they arise.
Adding and training new users to the network.
Determining the cause and repairing any problems that come up within the system.
Income and Career Outlook...
IT Management is primarily a full time job, the risk of being laid off is low, and it's a profession that influences nearly every industry on earth. According to the Bureau of Labor Statistics, the highest ten percent within this profession earn over $187,200 while the lowest ten percent earn less than $74,940 annually. The median wage nationally is $120,950.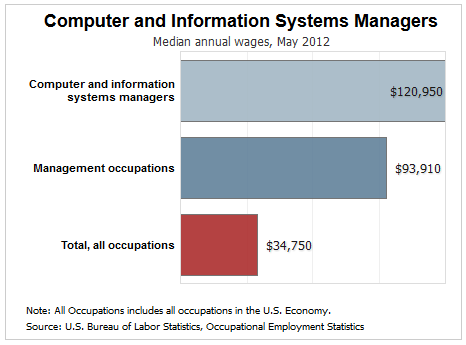 What Kind of Education do they need?
To enter the field, a Bachelor's degree in information technology management is typically required, although some companies will accept a degree in computer or even electrical engineering with a focus on programming or systems design for the entry level position. Many organizations require their computer and information systems managers to have a graduate degree as well.
Due to the nature of the field, continuing education is necessary to stay on top of current trends. Most IT Managers continue taking classes throughout their career as a way to meet this goal and to maintain professional certifications.
How to Become an IT Manager...
To break into the field as a bottom tier IT Manager, it requires just a few years of related experience. A Management Director typically requires about five to ten years of management experience. To be considered for the position of Chief Technology Officer, a person typically needs fifteen or more years of IT experience and inmost cases an advanced degree such as a Master of Science Degree in Information Systems.
A larger company may be more rigid with specific requirements in order to be considered for a job. Smaller companies tend to hire based on their evaluation of the candidate's knowledge and ability to perform the job duties.
Like any other professional career, IT Management requires education and experience. While having a layman's interest in computers is good thing, a formal education is often required to form a successful career. If you'd like to learn more, please visit ECPI University's website and explore our undergraduate degree in IT Management or our Master's program in Information Systems. Contact us TODAY! It could be the Best Decision You Ever Make!

DISCLAIMER – ECPI University makes no claim, warranty or guarantee as to actual employability or earning potential to current, past or future students or graduates of any educational program we offer. The ECPI University website is published for informational purposes only. Every effort is made to ensure the accuracy of information contained on the ECPI.edu domain; however, no warranty of accuracy is made. No contractual rights, either expressed or implied, are created by its content.
Gainful Employment Information
For more information about ECPI University or any of our programs click here: http://www.ecpi.edu/ or http://ow.ly/Ca1ya.