Is Getting a Masters in Nursing Worth it for Me?
A BSN can certainly steer you towards fulfilling your personal and professional goals, but earning a Master of Science in Nursing (MSN) opens doors to several benefits you might not have imagined. An MSN helps nurses gain advanced skills in specialized nursing fields. But before you enroll for an MSN, it's important to understand whether it's really worth the hassle. This guide will highlight the learning expectations as well as the benefits of earning an MSN. Read on for more insights.

Master of Science in Nursing Overview
If you enjoy leaving a positive impact on the lives of your patients, colleagues, and family, a Master's of Science in Nursing degree is a great idea. The healthcare climate is changing at lightning speed, and equipping yourself with the right skills and knowledge to lead a high-performing organization or nursing institution is critical. Through an MSN, you will acquire the required competence to lead the way in healthcare improvement across the globe.
An MSN program usually encompasses two high-demand concentrations: Family Nurse Practitioner and Nursing Education.
MSN – Family Nurse Practitioner
If you enjoy working with patients and you need to take up a bigger role in their treatment, you should opt for the Family Nurse Practitioner (FNP) option. The program enables you to effectively treat patients of different ages, diagnose illnesses, order diagnostic tests, prescribe drugs, and perform physical exams.
Moreover, you can choose a completely online course to accommodate your busy schedule. FNP graduates will be able to offer primary care and specialty nursing in long-term and ambulatory care settings. By completing the course, you can qualify for various positions in healthcare environments, including:
Provider Officer
Urgent Care
Public Health Departments
Occupational Health in Industrial Settings
MSN - Nursing Education
Do you have a natural passion for teaching? If you are a fantastic preceptor for nursing students, you are probably destined for a career that will help you make a difference in the lives of nursing students. The MSN degree in Nursing Education should equip you with the requisite knowledge and skills to apply the theoretical foundations of education, healthcare technology, statistics, healthcare policy and politics, and curriculum planning/development in classroom and practicum settings.
You can earn an MSN with a concentration in Nursing Education in as little as 15 months in an accelerated program.
Benefits of Master's Degree in Nursing
Still wondering whether getting an MSN degree is worth the extra time and finances you'll invest into it? To answer your question, here are ways an MSN degree will make a difference in your personal and career life as well as the nursing community:
Specializations
In the healthcare field, more specialized skills are more indispensable and highly demanded. With an MSN, you could open up your horizons for more job opportunities like Nurse Practitioner and Nursing Education. The standard is soon rising to Doctor of Nursing Practice.
Earning Teaching Credentials
With a BSN degree with concentrations in Nursing Education, you can achieve a lot more. You can get an opportunity to teach in nursing schools, hospitals, vocational schools, or universities, which adds to your resume as an educator and mentor to several prospective nursing students.
Personal Fulfillment
By completing a graduate degree, many nurses gain personal satisfaction. Now, pushing yourself to earn an MSN will greatly improve your self-esteem and sense of accomplishment. With such levels of confidence and self-worth, you could be ready to earn that long-awaited promotion, land a new job, or just live a more fulfilling life.
Positive Influence on Your Community
Many students choose the nursing field with the aim of helping people. They find it deeply satisfying and fulfilling to treat patients, enhance their overall wellbeing and quality of life. Also, give health advice to the community. By taking up more advanced positions in the healthcare field, you will be able to impart more people and improve their lives. In the end, you could have a positive influence in your society.
Are you interested in moving forward in your nursing career? If you want to earn a Master of Science in Nursing Degree, consider ECPI University for the accelerated education you're looking for. If you have any questions or want further information, connect with a friendly admissions counselor today.
It could be the Best Decision You Ever Make!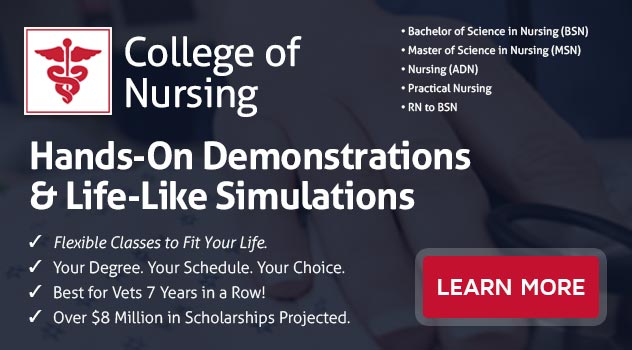 DISCLAIMER – ECPI University makes no claim, warranty, or guarantee as to actual employability or earning potential to current, past or future students or graduates of any educational program we offer. The ECPI University website is published for informational purposes only. Every effort is made to ensure the accuracy of information contained on the ECPI.edu domain; however, no warranty of accuracy is made. No contractual rights, either expressed or implied, are created by its content.
Gainful Employment Information – Master of Science in Nursing
For more information about ECPI University or any of our programs click here: http://www.ecpi.edu/ or http://ow.ly/Ca1ya.