Is Pastry School Worth It: Weigh the Costs and Benefits of a Baking and Pastry Program
Working as a pastry chef could be fun and rewarding. Watching happy customers enjoy the delicious desserts, pastries and other delights you have created could make your job feel worthwhile.
As you begin exploring this path, you'll likely be wondering what it takes to become a pastry chef. You have two primary options available to you: formal education in pastry school or learning on the job from an experienced mentor. Both methods come with benefits and drawbacks. Here's what you need to know to decide which is best for you.

Learning on the Job
The culinary industry is one in which you don't necessarily need to have a formal degree, certificate, or certification in order to be successful. It is entirely possible to build a career as a pastry chef from the ground up, working your way up through the ranks in a restaurant or bakery. This way, you'll get hands-on experience right from the start.
On the downside, some restaurants and bakeries don't have much room for advancement, or they don't necessarily have pastry chefs who are capable or willing to teach an apprentice. This means that you may not be able to progress your knowledge and skills as quickly as you might like. It could take you longer to reach your goals, as you may have to change jobs and start from the bottom again in order to find a suitable mentor who is willing to teach you along the way.
Going to Pastry School
For a more traditional route, you also have the option of attending pastry school. Many different schools offer this type of program, from universities to community colleges to specialized technical schools. Be sure to take the time to compare your options and their associated costs to find a good fit.
The biggest benefit to going to pastry school is that you'll be learning in an environment that is tried and tested. In following a rigorous curriculum, you'll ensure you gain a broad understanding of pastry arts while also learning about the culinary industry. This will minimize the risk of any gaps in your knowledge and skills.
After graduation, you should have a solid background in the culinary world, which can help give you a foot in the door with employers. You may still have to start near the bottom of the pecking order in your first job, but you may be able to progress through the ranks more quickly that if you were learning throughout the process.
Going to pastry school does have one key drawback, though, and that is the cost. This can be a limiting factor for many students. If you need to work to support yourself while you get your education, it can be challenging to balance your job duties with your coursework. Many schools offer part-time options, which can help you find more time for work, though it will take you longer to complete your degree.
Choosing Your Path
Deciding which route is best for you is a personal decision, as there is no "right" answer to this question. You'll need to weigh the pros and cons in terms of your personal needs, preferences and lifestyle.
Some factors may be more important to you than others, so do your best to be as honest with yourself as possible as you evaluate the details. If you can make the finances work, though, a formal education will likely give you a bit of a jumpstart for your career as a pastry chef.
Get Your Pastry Arts Degree in Just 15 Months
Are you passionate about baking and pastry arts? Do you want to earn a culinary arts degree before seeking employment? If you want to earn an Associate of Applied Science Degree in Baking and Pastry Arts, ECPI University's Culinary Institute of Virginia offers this program at an accelerated pace. For more information, connect with a friendly admissions advisor today.
It could be the Best Decision You Ever Make!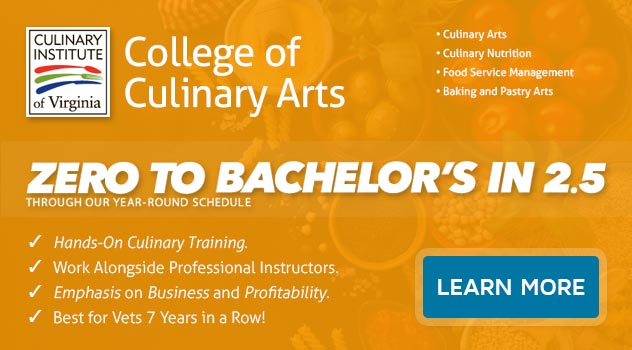 DISCLAIMER - ECPI University makes no claim, warranty, or guarantee as to actual employability or earning potential to current, past or future students or graduates of any educational program we offer. The ECPI University website is published for informational purposes only. Every effort is made to ensure the accuracy of information contained on the ECPI.edu domain; however, no warranty of accuracy is made. No contractual rights, either expressed or implied, are created by its content.
For more information about ECPI University or any of our programs click here: http://www.ecpi.edu/.