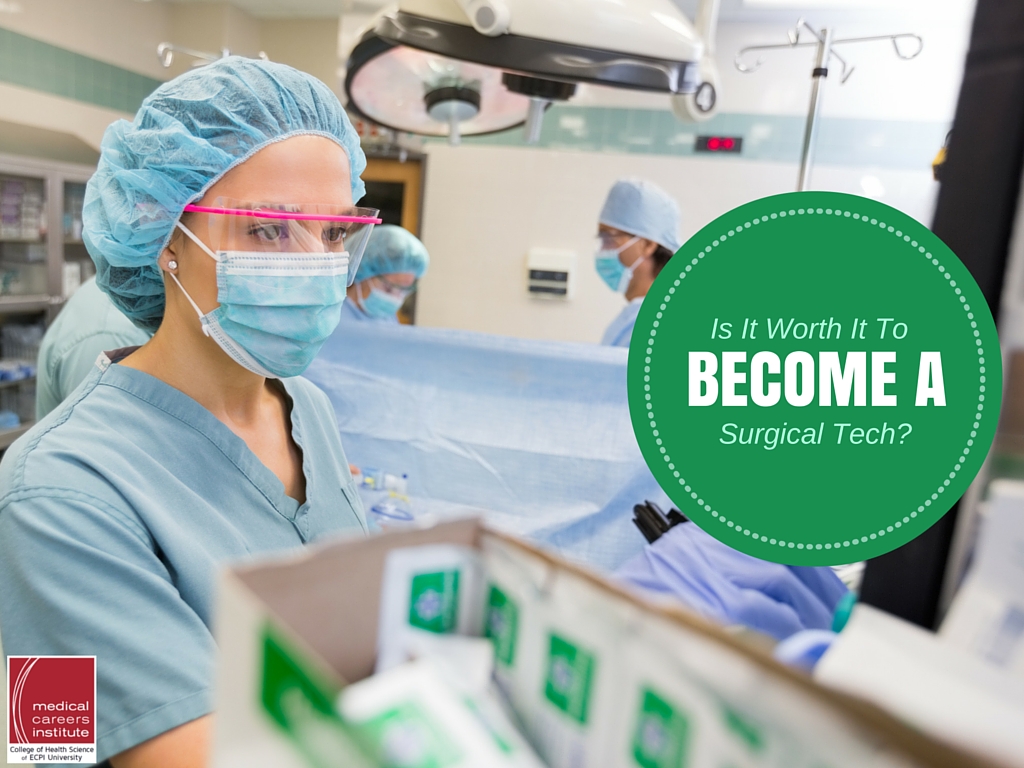 Want to get to work quickly in a rewarding career? With a salary scale well above the median compared to other occupations, a high level of job security, and the job satisfaction that comes from helping others, becoming a surgical technician could provide you with the opportunity you've been seeking.
Healthcare Demand is Growing
The demand for healthcare industry professionals continues to grow at a breathtaking pace. Forbes Magazine recently reported that from 2012 to 2014 healthcare jobs grew at their fastest pace since 1991. There are a couple of reasons for this dramatic growth.
Passed by Congress and signed into law by the president in March 2010, the Patient Protection and Affordable Care Act (PPACA) has greatly expanded healthcare services. As a result, the healthcare market has grown exponentially at all levels as more patients seek medical services.

The second, and possibly larger, reason for the growth healthcare demand is the aging of the baby boomer population. According to a Georgetown University report, 78 million baby boomers will have passed their sixty-fifth birthday by the year 2030. As the senior population continues to age and life expectancy increases, the demand for healthcare will increase proportionately.
In 1960, the average life expectancy in the United States was 69.77 years. In 2012 it had increased to 78.84 years (according to World Bank Data). And, we are only living longer.
In fact, about three months of life expectancy is added with each passing year. The Social Security Administration projects that a person reaching their 65th birthday today will live until age 85.
The effect on the healthcare industry is obvious. The demand for healthcare professionals will continue to grow at a record-breaking pace into the foreseeable future.
Why Become a Surgical Tech?
There are a number of reasons for considering surgical technology as your career choice:
Excellent Job Demand and Security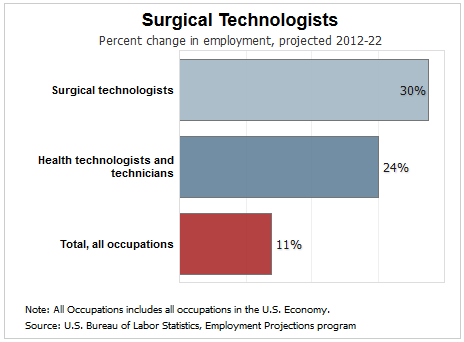 Although the demand in healthcare services and professionals will grow in all service areas, a few fields stand out from the others. Surgical technicians are among them and the demand for surgical techs is among the fastest growing in any industry.
Between 2012 and 2022, the demand for medical doctors is expected to increase at a rate of 18% and registered nurses at 19% (according to the Bureau of Labor Statistics). The rate of demand for surgical techs, however, will rise at a rate of 30%, far exceeding most other healthcare fields.
High Job Interest
If not being chained to a desk or stationed at one spot during your workday is attractive to you, then the variety of duties in a surgical tech's day will be appealing. Responsibilities include patient preparation, maintaining supplies and surgical equipment, assisting surgeons during operations, and ensuring the sterile environment of the operating room.
Surgical technicians work as a member of the surgical team. In addition to surgery duties, you will interact with doctors, nurses, other surgical techs and patients.
Provide Service to Others
Frequently, people are drawn the field of healthcare because of a desire to serve others. As a surgical technician, you will be in a position to render some of the most significant assistance possible. Surgery can be an intimidating, even traumatic, experience. The surgical tech's presence and professionalism contributes greatly to a positive outcome for patients.
Great Earnings Potential
As a trained and certified professional in an industry with exceptionally high demand, the surgical technician has earning potential greater than other comparative positions. The 2014 average annual wage for surgical techs according to the Bureau of Labor Statistics was $41,790. Positioned in an industry of high growth and demand, the expectation for earnings advancement is excellent. Typically, pay rates increase based on assignments and years of experience.
Go To Work Quickly
Course work in a surgical technician degree program includes a combination of study and hands-on training. Course studies include anatomy, medical terminology, surgery theory and procedures, surgery technology and sterilization procedures.
Unlike other healthcare fields, training to become a surgical technician can be accomplished within a relatively short time frame. Job prospects are better for those who have completed an accredited training program, received an associate's degree in surgical technology and completed the National Certifying Exam.
This is it! After today I will be a graduate of ECPI University with my Associates of Applied Science in Surgical... http://t.co/qyxUfKvvql

— Leon Mendenhall (@Im_Da_Real_Leon) April 3, 2014
Your Future in Surgical Technology Could Begin Today
Is it worth it? If you are anxious to get to work in a high growth industry with excellent earnings potential and the ability to serve others, becoming a surgical technician may be worth it.
Begin your career today and contact ECPI University for information about our Associate of Applied Science degree in Surgical Technology. As part of their accelerated, year-round program, you could earn your degree within 1.5 years. It could be the Best Decision You Ever Make!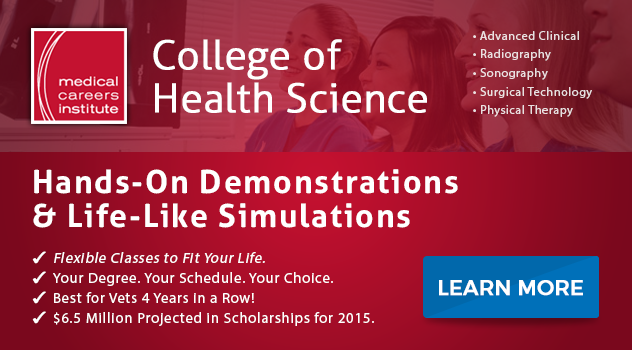 DISCLAIMER – ECPI University makes no claim, warranty or guarantee as to actual employability or earning potential to current, past or future students or graduates of any educational program we offer. The ECPI University website is published for informational purposes only. Every effort is made to ensure the accuracy of information contained on the ECPI.edu domain; however, no warranty of accuracy is made. No contractual rights, either expressed or implied, are created by its content.
Gainful Employment Information
For more information about ECPI University or any of our programs click here: http://www.ecpi.edu/ or http://ow.ly/Ca1ya.