Learning Baking Skills in a Formal Setting: Is a Degree Right for Me?
It is possible to start your bakery career with no formal training or job experience. However, there are some important advantages to earning a degree in baking and pastry arts before you start hunting for your first kitchen job.
What are some of the benefits of a degree in baking and pastry arts? How does a degree help those pursuing a lifelong career in the culinary arts? What are some of the skills taught in a formal training program that commercial bakers need to know?

Benefits of a Pastry Arts Degree for New Job Hunters
On the job training is a popular way for commercial bakeries to train new workers. These positions offer workers low pay and demanding job requirements for the chance to learn the trade. Many bakers begin their careers in this manner and go on to have long and satisfying careers. However, there are some important advantages to delaying the job search until you've completed a culinary training program.
Baking is a competitive field. A well-paying entry-level position could draw a large number of applicants. Without previous experience or training, it can be tough to stand out from the crowd. A degree makes it much more likely that your resume will get noticed.
In return for teaching you while you work, employers offer apprentices very low starting wages. It can take many years to move up to a comfortable salary. With a culinary arts degree, you can usually skip over lower wages and start earning decent pay right away.
Finding a bakery job can be a difficult task by itself. Unless you're located in an area that houses a large scale commercial bakery, it can be tough to find open positions when you need them most. Graduating from a culinary program can give you access to information that can help you locate the best positions.
Baking school is the firmest foundation for your new culinary career.
How a Degree Benefits Long-Term Career Plans
Baking school could be an essential part of a long and fulfilling kitchen career.
With a degree, you generally won't be stuck in one type of position. You could use an education to explore the options in different environments and eateries. With the business skills acquired in these programs, you also have the option of starting your own food business.
Eventually, everyone gets tired of the kitchen. When you're ready to move up to management, a combination of work history and credentials should help you reach your goals.
Commercial bakeries often offer better benefits and employment terms than smaller operations. However, their application process is much more stringent. A culinary arts degree qualifies for positions that could keep you employed for the rest of your life.
Important Lessons from Culinary Classes
Working in a commercial kitchen is demanding in multiple ways. Bakery school prepares you to take on the daily challenges of a working eatery with these essential lessons.
One of the primary skills taught in baking school is the preparation of popular confections. Students learn how to prepare tarts, cakes, artisan breads, custards, and more. A course in decorating qualifies graduates to work in grocery store bakeries as a decorator.
Cooking in a commercial kitchen is vastly different from cooking at home. Your time in culinary school should teach you how to successfully navigate a working kitchen without sacrificing teamwork.
Food costs are an important part of any successful eatery. Bakery education includes courses on inventory management, procuring ingredients, and other ways to control food costs for a more profitable operation.
Once all of your lessons are learned in the classroom, your culinary education continues at a supervised externship. Here, you get to practice your newly learned skills under an experienced eye. Once you graduate, you'll be ready to fill any entry level baking position you choose.
Are you a baker looking to take your skills to the next level? If you want to earn an Associate of Applied Science in Baking and Pastry Arts, consider ECPI University's Culinary Institute of Virginia. For more about this accelerated program, connect with a friendly admissions advisor today.
It could be the Best Decision You Ever Make!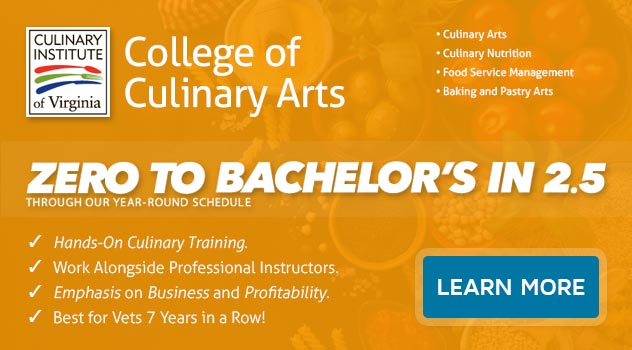 DISCLAIMER – ECPI University makes no claim, warranty, or guarantee as to actual employability or earning potential to current, past or future students or graduates of any educational program we offer. The ECPI University website is published for informational purposes only. Every effort is made to ensure the accuracy of information contained on the ECPI.edu domain; however, no warranty of accuracy is made. No contractual rights, either expressed or implied, are created by its content.
Gainful Employment Information – Baking & Pastry Arts – Associate's
For more information about ECPI University or any of our programs click here: http://www.ecpi.edu/ or http://ow.ly/Ca1ya.