Masters in Mechatronics Online: Is This the Right Course for Me?
Mechatronics is an engineering field that combines electrical and mechanical systems, and often utilizes computer programming. The Master of Science in Systems Engineering with a concentration in Mechatronics is perfect for individuals looking to venture into research and innovation.

The Master of Science in Systems Engineering - Mechatronics: Entry Requirements
To enroll for the program, students must normally have a degree in a relevant area such as Computer Science, Electrical or Mechanical Engineering, Physics, Mathematics, Electronics, or Information Technology.
The admission advisor will assess your credentials, motivation, and numeracy to determine your ability to perform at this level. For international students, you must satisfy the admission advisor that you possess equivalent academic credentials.
It's important to note that each applicant is assessed individually and may be subject to additional requirements as the situation may demand. For example, you can be advised to take short courses, increase your work experience, or take an English language test. Meeting the minimum entry requirements may not automatically guarantee you an entry space.
The Master of Science in Systems Engineering - Mechatronics Overview
If you are a creative individual with analytical and critical thinking skills, you could flourish in the field of Mechatronics. Using your hands, you could design and build autonomous machines or systems by combining your knowledge and skills in mechanical, electrical, computer science, and robotics to improve everyday functions. Industries are continuously looking for ways to simplify their processes, improve productivity, and reduce costs, making Mechatronics an important area of study.
With a Master of Science in Systems Engineering - Mechatronics, you could land a career in various fields ranging from manufacturing plants to automotive centers, high tech laboratories, aerospace organizations, and TV and even film industries.
Students get an opportunity to acquire knowledge and experience through a hands-on learning approach. With that, you can build complex systems and understand autonomous machines.
The Master of Science in Systems Engineering - Mechatronics comprises of numerous learning activities including:
Advanced courses in mechanical engineering and computer programming
Hands-on mechatronic experience through group projects
Specialist research topics
Communication and project management skills
Final research project
To stay in the program, students need to maintain a high-grade point average throughout the course.
Career Opportunities
Mechatronic engineers should work comfortably across mechanical, electrical, and computer science fields to create complex and intelligent technologies. Graduates should be equipped with the knowledge and skills to design and optimize micro-machines, build underwater vehicles, or construct the next generation cameras or mobile phones.
Depending on your passion and creativity, you could maintain a fully automated robotic assembly line. Better still, you could develop a cutting-edge defense system or medical technology. The possibilities are as endless as your imagination!
Are you interested in moving to the next level in your career? If you want to earn a Master of Science Degree in Systems Engineering with a Concentration in Mechatronics, ECPI University offers this program at an accelerated pace. For more information, connect with a friendly admissions advisor today.
It could be the Best Decision You Ever Make!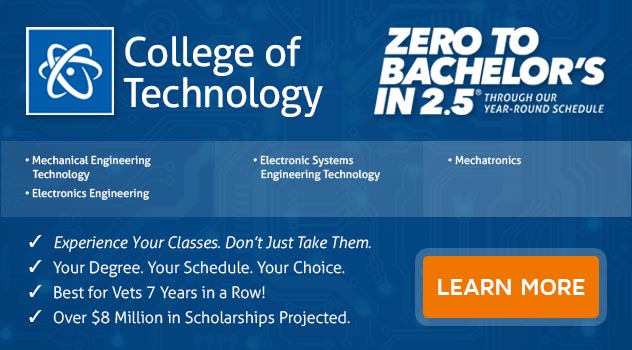 DISCLAIMER – ECPI University makes no claim, warranty, or guarantee as to actual employability or earning potential to current, past or future students or graduates of any educational program we offer. The ECPI University website is published for informational purposes only. Every effort is made to ensure the accuracy of information contained on the ECPI.edu domain; however, no warranty of accuracy is made. No contractual rights, either expressed or implied, are created by its content.
For more information about ECPI University or any of our programs click here: http://www.ecpi.edu/ or http://ow.ly/Ca1ya.