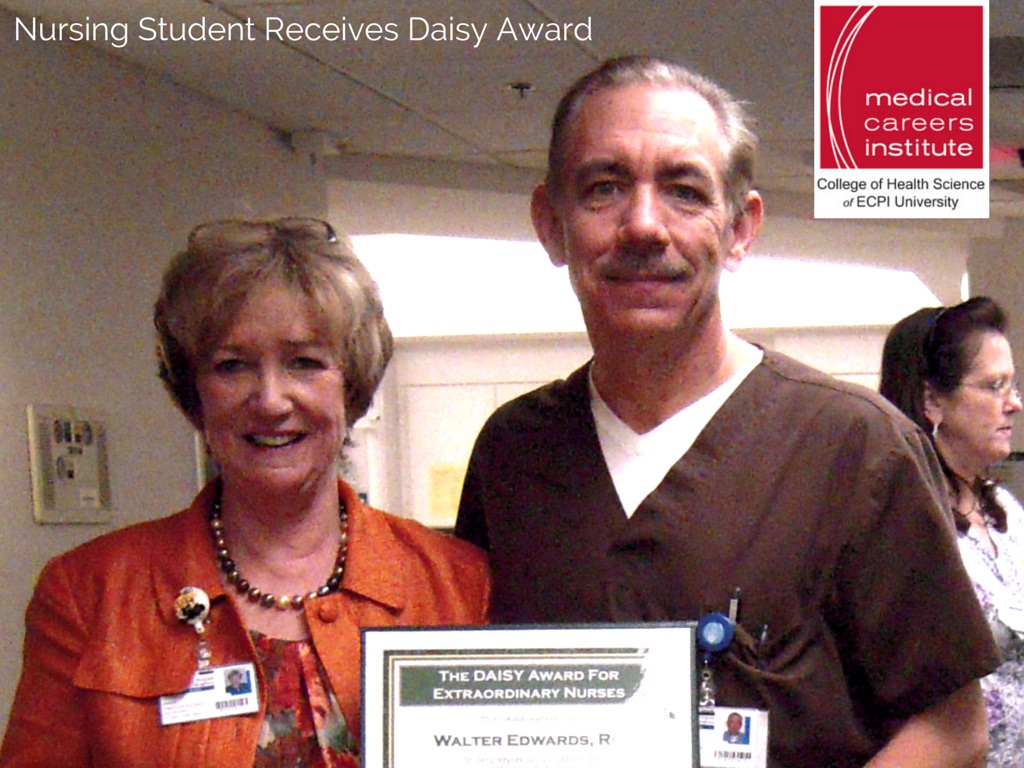 Less than two years after graduating from ECPI University's College of Nursing, Medical Careers Institute, Walter Edwards is already distinguishing himself. A nurse at Children's Hospital of the King's Daughters (CHKD) in Norfolk, Virginia, he recently received the DAISY Award for Extraordinary Nurses.
Sponsored by the DAISY Foundation, it is presented to nurses that excel in clinical skill and compassionate care. Walter was nominated by the parent of one of his patients who was extremely impressed with the special care he provided to her daughter. Having had 12 surgeries at CHKD already, she was familiar with the qualities of a great nurse. Still, as another procedure loomed, she was touched by Walter's emotional support, how he answered her questions, and his attentiveness to her child's needs.
She assumed these characteristics were the result of years of clinical experience and was shocked to learn that he had been working in the cable installation industry for the past 25 years and had only recently become a nurse! The subsequent discussion about his career change and his encouraging words – "You're never too old to learn" and "If I can do it, you can do it" – inspired her to return to school. The mother met with a counselor the following week and is now enrolled in a Medical Office Assistant program. In the mother's own words: "Some people touch you in a way that will change your life forever. Walter has done this for me."
Walter has been impressing people for some time now. The recipient of the Florence Nightingale Award at Medical Careers Institute, he has been well-received by his colleagues at CHKD. "Walter has been a tremendous part of our unit," says his supervisor, Nicole Guns. "It's not easy to enter the nursing field as a second career, but he has really stepped up to the plate."
As for Walter himself, he's humbled and grateful to receive the award but says the real satisfaction comes from seeing sick children get better. "It's incredibly fulfilling to provide comfort to families who desperately need it," he says. "When you have a sick child, there is a considerable amount of stress on the family, and you care for them almost as much as you do the patient. It's a privilege to be there for them."
ECPI University makes a unique difference to students launching or advancing their nursing careers. With personal faculty contact and self-pacing, EPCI University students can complete associate's degrees in 1.5 years and bachelor's degrees in 2.5 years. Military-friendly, small classes, free tutoring, and career services support students throughout their learning experience. Click here to learn more. 

DISCLAIMER – ECPI University makes no claim, warranty or guarantee as to actual employability or earning potential to current, past or future students or graduates of any educational program we offer.  The ECPI University website is published for informational purposes only. Every effort is made to ensure the accuracy of information contained on the ECPI.edu domain; however, no warranty of accuracy is made. No contractual rights, either expressed or implied, are created by its content.

Gainful Employment Information