Mechatronics Jobs Description: What you Need to Know!
If you're the type of person who enjoys opening up all sorts of electronic equipment, repairing, and connecting them back together, then you may fit perfectly in the mechatronics industry. Mechatronics technicians create smart machines. Smart machines are more complex beings that are made up of several parts including the mechanical system, the control systems, sensing and actuation, and software. Mechatronics technicians also help improve production by developing new and unique advanced manufacturing techniques.

What do Mechatronic Technicians Do?
Mechatronics technicians are more involved in the repairs and maintenance of smart or automated machines that can range from ATM machines to manufacturing cells. On a daily basis, a mechatronics technician maintains technical project files, designs engineering systems for automation purposes. A typical day looks like this:
Maintain record systems
Design various industrial systems
Work with engineers to perform tasks
Besides what they do on a typical day, a mechatronics technician also publishes engineering reports that document the design details or test results. Sometimes they also create mechanical designs for assemblies, parts, or finished products. Mechatronics technicians also analyze the existing manufacturing procedures either on a weekly or on a monthly basis to identify and select materials that are more suitable for mechatronics designs.
While their specific roles may vary, most mechatronic technicians develop mechanical, electrical, or computerized processes that help in performing tasks in hazardous environments, for instance, extraterrestrial mining or underwater exploration.
Other Typical Mechatronic Technicians Job Activities
Brainstorms new ideas
Plans new projects
Draws plans and designs
Creates models
Works with other mechatronic technicians to create prototypes
Tests, troubleshoot, and makes the needed adjustments
Why Should You Pursue a Career in Mechatronics?
There are wide areas in which mechatronics can be applied and this means that after graduating you will remain versatile. You could build a career in robotics, automation, electrical systems, computer science, mechanical, and electrical systems among others. Because of this versatility and acquisition of knowledge and different skills, as a mechatronics technician, you will remain competitive in the job market.
Which Hard and Soft Skills Do You Need to Become a Mechatronics Technician?
Technical Skills
Data modeling: With this skill, you will be able to estimate the dataset's underlying structures in order to identify useful patterns. You will also be able to identify correlations between data and data clusters, which you can use to detect any anomalies and regressions.
System design: This important skill will help you understand how small components are able to fit in larger systems where each piece communicates and connects with others.
Computer Science: Programming and computer science fundamentals are no longer just for computer engineers. Mechatronics technicians need to be familiar with algorithms, data structures, and computer memory manipulation.
Soft Skills
Technical skills alone are insufficient for a successful career in mechatronics. Soft skills are equally important and help in differentiating STEM professionals for employment opportunities and advancement. These skills can be developed in school, but they will enable you to navigate smoothly through various social and professional situations. Such skills include:
Problem-solving: A big part of a mechatronics technician job involves solving problems using mechanical, electrical, and computer devices. Additionally, you should be a strong analytical thinker with the ability to solve problems presented by clients and employers.
Communication skills: Most of the times you will be developing products for your clients and you will be required to explain how a complex product will help them. Remember that not all clients are familiar with mechatronics, and you will need to explain your ideas clearly and effectively.
Creativity: Mechatronics involves the designing and creation of smart machines that can be applied in almost all industries. Inventing something like that requires a lot of creativity.
Collaboration: Also referred to as cooperation, teamwork or collaboration, you have to be able to work with others successfully in order to become a mechatronics technician. According to the ASTD (American Society for Training & Development), it takes a team of engineers and professionals from other fields such as project managers, drafter, and administrative staff working together to complete a project. It would be difficult to successfully complete a project without working as a team.
Is Mechatronics Right For You?
Are you considering a career in advanced manufacturing? If you want to earn a Bachelor of Science Degree in Electronics Engineering Technology, consider ECPI University for the education you will need to get your start in the field. For more information, connect with a knowledgeable admissions representative today.
It could be the Best Decision You Ever Make!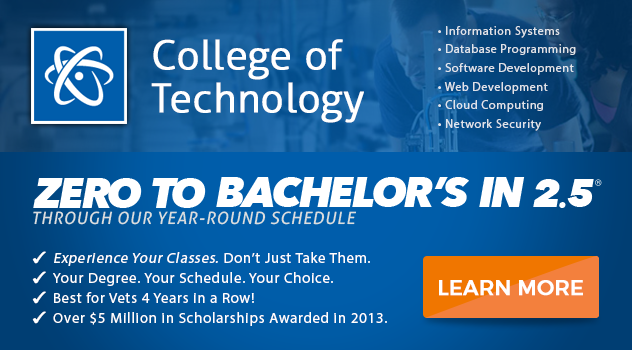 DISCLAIMER – ECPI University makes no claim, warranty, or guarantee as to actual employability or earning potential to current, past or future students or graduates of any educational program we offer. The ECPI University website is published for informational purposes only. Every effort is made to ensure the accuracy of information contained on the ECPI.edu domain; however, no warranty of accuracy is made. No contractual rights, either expressed or implied, are created by its content.
Gainful Employment Information – Mechatronics - Bachelor's
For more information about ECPI University or any of our programs click here: http://www.ecpi.edu/ or http://ow.ly/Ca1ya.