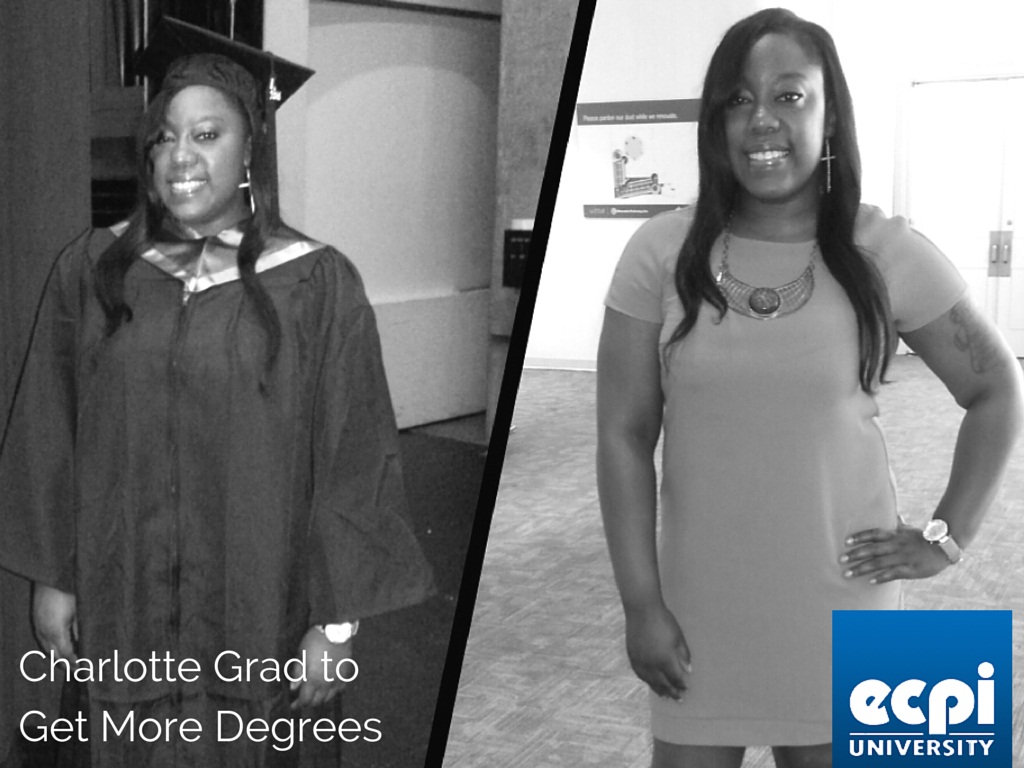 Look up the word "driven" in the dictionary and it would be entirely appropriate if Kebe Agurs's photo was prominently displayed. She's a prime example of someone with an abundance of energy who is also focused enough to make the most of each day.
She arrived at ECPI University after having put her academic career on hold. Her father fell ill and she had to return home from college to help with his care. Soon after, she enrolled at the Charlotte campus where she earned her Medical Assistant degree in a speedy 17 months. Within weeks of graduation, she began her first job with Novant Health. Then, she enrolled at ECPI University's Online campus to begin pursuing a Bachelor's Degree in Healthcare Administration.
For most people, that would be enough. However, Kebe is not like most people. She was offered a second, part-time job with Carolinas Healthcare System. So even with two jobs, she maintains a full class load and intends to graduate with her second degree by the middle of 2016. From there, she plans to continue on with a Master's degree and then a PhD.
Kebe's goal is to run a hospital or large healthcare practice…and since she doesn't like to waste idle time, maybe teach college on the side. "I really like working with patients, and it certainly gives me a ground-level perspective on healthcare, but I really think I can do my best work in management," she says. "I'm a huge fan of team building and getting everyone to work together. Creating that kind of culture is really exciting."
How does she manage to balance all the demands in her life? "I am a strict scheduler," says Kebe. "I plan everything. Once I've finished everything I have to do each day, I start preparing for the next week." Her advice for new students: stay focused, write every goal down on paper, and don't get discouraged. Most importantly, create a strong support system. Says Kebe, "for me, it's all about God, family, and friends. Put all that together with the fantastic support I get at ECPI University, and I know I am capable of doing anything. ECPI University is the best decision I ever made!"

If you are interested in a career in Healthcare Administration, the Medical Careers Institute, College of Health Science at ECPI University can provide students with the knowledge and hands-on experience to work as healthcare managers in a number of settings. To learn more, visit our website TODAY! It could be the Best Decision You Ever Make!
DISCLAIMER – ECPI University makes no claim, warranty or guarantee as to actual employability or earning potential to current, past or future students or graduates of any educational program we offer. The ECPI University website is published for informational purposes only. Every effort is made to ensure the accuracy of information contained on the ECPI.edu domain; however, no warranty of accuracy is made. No contractual rights, either expressed or implied, are created by its content.

Gainful Employment Information: Healthcare Administration

Gainful Employment Information: Medical Assisting

For more information about ECPI University or any of our programs click here: http://www.ecpi.edu/ or http://ow.ly/Ca1ya.