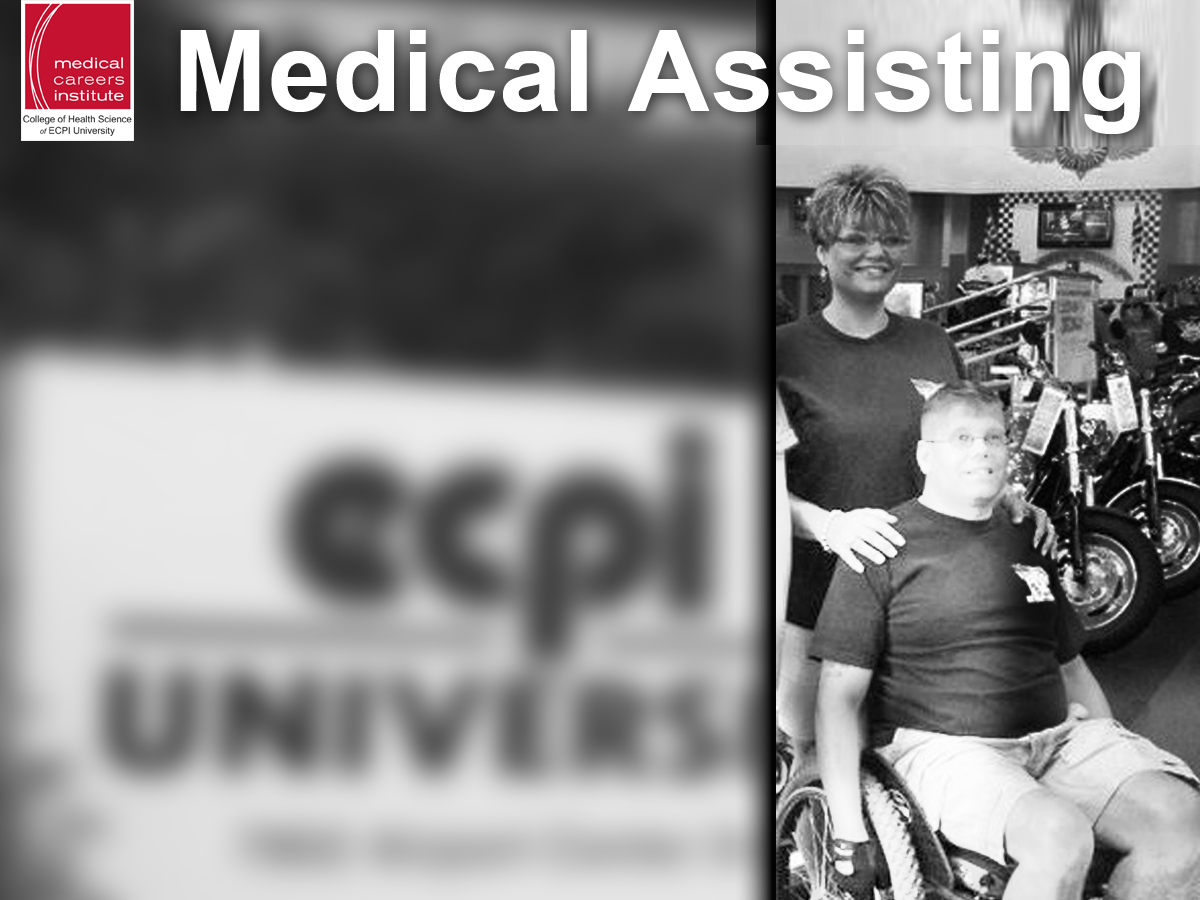 Debbi Smith is one of those people who seem to have an endless reservoir of energy, the kind of person to whom others are drawn. There's so much to her story, it's hard to know where to begin. She first enrolled in the ECPI University Greensboro Campus,  Medical Assisting program in spring of 2012. She had been caring for her husband who was confined to a wheelchair following a combat injury in Afghanistan. After an organization called Homes for Our Troops built them a new accessible home, he was able to live more independently and encouraged Debbi to pursue her dream.
"I've always wanted to work in healthcare," says Debbi. "Taking care of my husband only reinforced that desire. You can really make a difference in people's lives. I've already decided that I am going to pursue my nursing degree so I can work in a trauma unit or VA hospital."
Debbi is a member of three clubs on campus: The Medical Students Association, Phi Theta Kappa Honor Society (serves as membership secretary), and the Diversity Club. She spearheads a number of charity drives on campus – bake sales, food drives, etc. – and is known to be extremely generous with her time, always available to help classmates. "I'm a pushover," she says. "Many of my fellow students are single mothers just like I used to be. I know what they're sacrificing to make life better for their families and I really want to do all I can to encourage and support them."
Academically, Debbi is at the top of her game. Recently named Student of the Semester for the Medical Assisting program, she has perfect attendance and is on the Dean's list. So how can she give so much to others when she seems to have so much on her own plate? "My grandfather has always been my inspiration," she says. "As a father to nine children, he was always taking other children into his home to help them, even working 2-3 jobs to make ends meet.

"Debbi's drive and determination to complete her program really stands out to me," says Greensboro Student Success Coordinator Angi Kinsey. "She had her rough spots early on, but she never gave up and now she's almost done. Somehow she does it all – school, work, home – with such a great attitude and sincerity that she inspires everyone around her."
Are you interested in a career path in Medical Assisting? ECPI University offers an Associate of Applied Science degree in Health Science, Medical Assisting that you can complete in as little as 1.5 years! Contact us TODAY! It could be the Best Decision You Ever Make!

DISCLAIMER – ECPI University makes no claim, warranty or guarantee as to actual employability or earning potential to current, past or future students or graduates of any educational program we offer. The ECPI University website is published for informational purposes only. Every effort is made to ensure the accuracy of information contained on the ECPI.edu domain; however, no warranty of accuracy is made. No contractual rights, either expressed or implied, are created by its content.

Gainful Employment Information

For more information about ECPI University or any of our programs click here: http://www.ecpi.edu/ or http://ow.ly/Ca1ya.