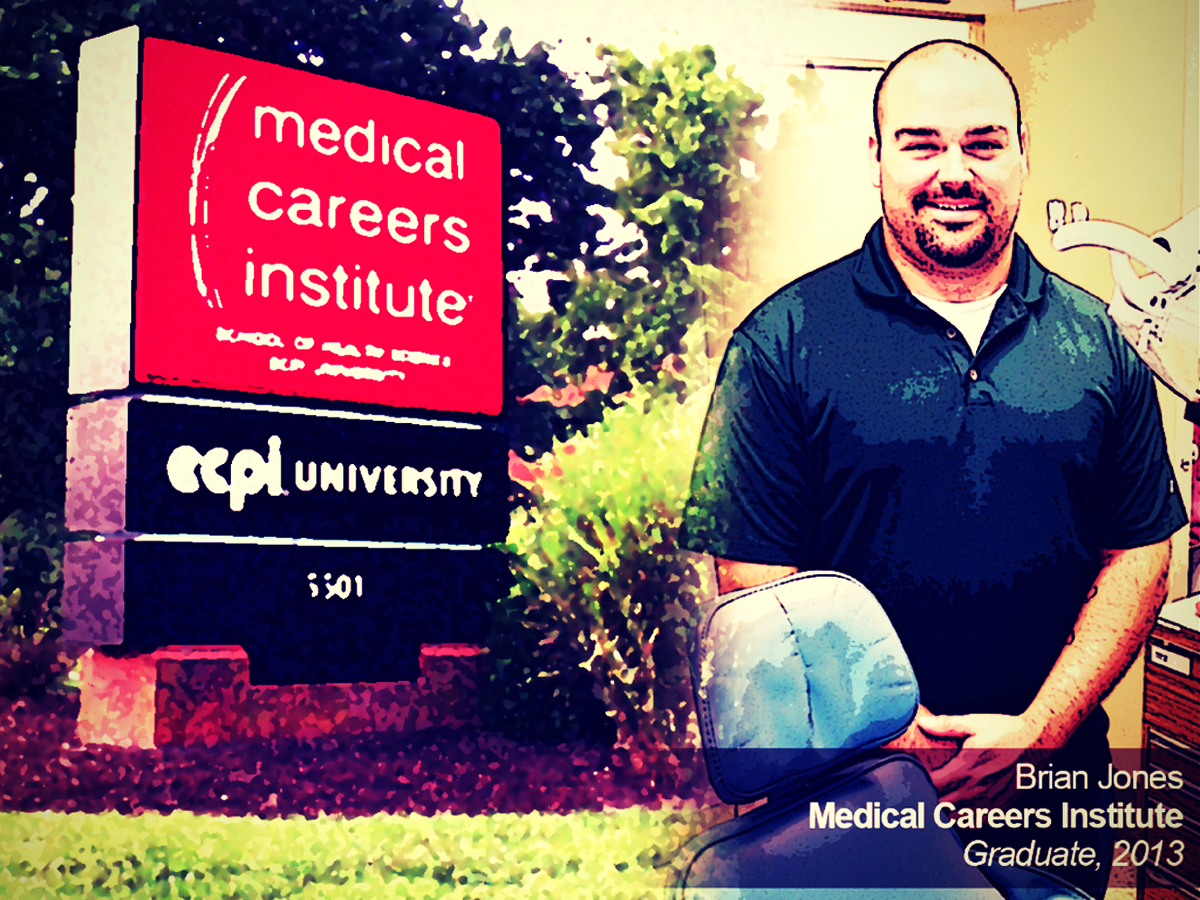 As an Army combat medic, Brian Jones rarely saw any smiles. His world was dangerous and exhausting. Still, he was dedicated to helping others. As a reservist, he stands at the ready when needed but he's also pursuing his new career in healthcare administration. Graduating this past summer from ECPI University's School of Health Science, Medical Careers Institute (MCI), he is now Executive Director of the Park Place Dental Clinic in Norfolk, Virginia.
The clinic exists to serve the homeless, low-income, and under served residents of the city, providing extractions, fillings and cleanings. "I've always enjoyed helping people," says Jones. "It's what drives me to come to work every day. What we do here makes an enormous difference in people's lives. Aside from the obvious pain involved with certain dental problems, there's also an adverse effect on a person's self-confidence. Some people are embarrassed about the appearance of their teeth. Others say it keeps them from getting jobs. So, we really are changing lives."
Brian has embraced his new job with an eye on increasing the clinic's pool of volunteers. He is one of only three full-time employees that care for more than 1,300 patients per year. "All the organizational and administrative skills I developed at Medical Careers Institute – I apply them in my job every day," says Brian. "The healthcare landscape is constantly changing. Not only has MCI help me deal with what's happening today, my teachers really instilled in me a dedication to lifelong learning which will serve me well in the years to come."
Brian says one of the most important things he learned attending MCI is time management. "Today, everyone is being asked to do more with less. What first attracted me to MCI was the opportunity to earn my bachelor's in 2.5 years. I knew I would need to manage my time well to pull that off and my teachers gave me to the tools to do it. It's worked out great. If I had attended a traditional university, I would be sitting in a classroom right now instead of my own office."
"If I had attended a traditional university, I would be sitting in a classroom right now instead of my own office." - Brian Jones, 2013 Graduate, Medical Careers Institute
To learn more about Medical Careers Institute or ECPI University, visit our website at http://www.ecpi.edu/ today!


DISCLAIMER – ECPI University makes no claim, warranty or guarantee as to actual employability or earning potential to current, past or future students or graduates of any educational program we offer. The ECPI University website is published for informational purposes only. Every effort is made to ensure the accuracy of information contained on the ECPI.edu domain; however, no warranty of accuracy is made. No contractual rights, either expressed or implied, are created by its content.
Gainful Employment Information
For more information about ECPI University or any of our programs click here: http://www.ecpi.edu/ or http://ow.ly/Ca1ya.