Military and College at the Same Time: The Benefits of Online Classes
To get a promotion in the armed forces today requires that you advance your knowledge and skills. More and more people in the forces are choosing to upgrade their education to take advantage of the opportunities that come with military service as well as to prepare their transition to civilian life. What's more, it is now easier than ever before to pursue your degree. Technology has made it easier to earn your degree online even during deployment.

5 Benefits of Pursuing a Degree While in the Military
Your tuition will probably be covered: Military service has several educational benefits, including Tuition Assistance and GI Bill®. If you have spent enough time in service to earn GI Bill® benefits, you may qualify for a monthly living pay and full tuition coverage. In case you're still in active duty, you can choose to use your GI Bill® or Tuition Assistance which pays up to $4,500 per month towards college tuitions and other expenses related to your education.
You could advance your career: Whether you're in the civilian workforce or in active duty, earning your degree could help you get promoted.
Easy to start: There are several military-friendly institutions that accept your military benefits, and help you through the rigorous application process.
You have limited time: If you're not in active duty, you have 10 to 15 years before your GI Bill® benefits expire. Although it may seem like a long time, they go by faster than you may think. In case you're eligible for Tuition Assistance and are thinking of separating from the military, you should know that these benefits are only good when you're in active duty.
It's convenient: Online education is flexible and this has made it more popular than ever before. Regardless of where you're stationed, you can study wherever and when you want – and earn a degree similar to that you would have earned in a traditional institution. However, being convenient doesn't mean that it's any easier. Online courses are demanding and rigorous just like traditional classes.
Common Obstacles and How Online Education Can Help
If you're thinking about going back to school, you may be wondering which mode of study is right for you. The biggest decision most adults have to make is whether to attend on-campus classes or online classes. Unfortunately, on-campus classes aren't convenient because you will have to leave work. On the other hand, online education helps you pursue your educational goals while still working. Other common problems that online education solves include:
Variety of programs
When thinking about what you want to study, besides your interests and career opportunities, where to study is also a major factor. One great obstacle of on-campus classes is you are restricted to the courses being offered. While relocating is a viable option, it's not realistic for a working adult. Those who choose on-campus classes have limited choices because of geography, and these schools may not always offer the program they're interested in.
Online classes will give you unlimited options when choosing a degree program. You will also be able to choose a school that offers the degree program you're interested in, regardless of whether the institution is in a neighboring state or across the country.
Crowded lecture halls
Traditional universities require students to sit in crowded classrooms or large lecture halls for instruction. However, online programs give you complete control over your environment. You can learn in any place as long as you have an internet connection.
You learn at your own pace
Students don't only learn differently, but also at different paces. Traditional institutions force students to follow specific learning pathways. For instance, tests are scheduled at specific dates and assignments should also be submitted by specific dates.
For working adults, a traditional classroom setting may not give them ample time to understand the course material. However, with online classes, you won't only learn at your own pace but also easily access other reference materials that will supplement your learning and help you to master the subject.
What's the Next Step for Me?
Are you interested in online education? If you want to earn a degree at your own pace from anywhere in the world, consider ECPI University online degree programs. With focuses on business, technology, criminal justice, cyber security, and much more, you could find the right fit for you. For more information about this exciting opportunity, connect with a friendly ECPI University admissions advisor today.
It could be the Best Decision You Ever Make!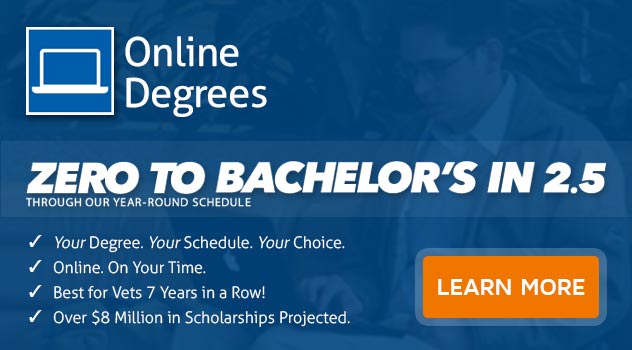 DISCLAIMER – ECPI University makes no claim, warranty, or guarantee as to actual employability or earning potential to current, past or future students or graduates of any educational program we offer. The ECPI University website is published for informational purposes only. Every effort is made to ensure the accuracy of information contained on the ECPI.edu domain; however, no warranty of accuracy is made. No contractual rights, either expressed or implied, are created by its content.
For more information about ECPI University or any of our programs click here: http://www.ecpi.edu/ or http://ow.ly/Ca1ya.