Mobile Development Courses Online: Is an Online Degree Right for Me?
Thousands of mobile apps are published to the Apple App Store and Google Play every day. Most of these apps are e-commerce, but some are games and social media apps. Building mobile apps requires immense skills in software development, and that is why mobile development courses are increasingly becoming popular.

Mobile Development Overview
As computers and mobile devices continue to play critical roles in society, there is a rising demand for skilled developers to design, develop, and implement software solutions for consumers and businesses. Software apps connect you to a computer, tablet, or smartphone and enable you to interact is a myriad of ways. Many web-based, cloud, and mobile apps are developed every year to make businesses more efficient and free time more enjoyable.
Mobile apps have dominated the technology field over the recent years. Today, mobile traffic has eclipsed desktop traffic and the trend continues to grow. Mobile has taken a greater portion of our time as more and more people interact, shop, chat, and even hold meetings on mobile devices.
Mobile Development Courses Online
Mobile Development courses are generally skills-based and utilize the latest technologies across platforms that embrace virtualization. Students pursuing mobile development courses are encouraged to obtain industry certifications and internships to gather real-world experiences that will be useful in the job market.
Benefits of pursuing mobile development courses online
Working adult students mostly find online programs very convenient, flexible, and cost-effective. You could now pursue your bachelor's degree in mobile development online and make your way into this lucrative career field. Here are the benefits of choosing online courses:
More Flexibility
Studying online means that you can access course content 24/7, 365 days every year. It's easy to work around your work schedule and fix classes in your most convenient times of the day or night. For older students juggling between studies and other life commitments, online programs could be your best fit. Moreover, you can choose to do your homework all at once during the weekend or handle them in chunks between other tasks.
More often, online students have the freedom to choose their preferred pace of study depending on their lifestyle. For example, you could opt for a compressed program that runs for a whole year or take shorter terms that make it easier to concentrate on a single course at a time. Again, considering that many online students have already gained substantial work experience, most colleges will offer credits towards their bachelor's degrees.
Improving your skills
You could complete an online course from the comfort of your home or desk at work and improve your computer skills tremendously. After all, all of your classes will be on a computer. If you landed your current job with a high school diploma or an associate degree, you may realize that you need a bachelor's degree to move into management positions.
Additionally, you may just want to improve and refresh your skills or learn new job-specific skills to meet the changing needs in your profession. Depending on your field, some employers could offer partial tuition reimbursement if you pursue work-related courses. For example, is a new technology has changed how your industry functions, your employer might value an online program that keeps you on top of new industry trends.
Enhancing Career Relevance
When undertaking online courses, you will interact with others who are passionate about your field. You can discuss and share industry experiences and network with these professionals. Moreover, online education can be more practical as you can relate what you study to your tasks at work hence improving performance.
New Career Opportunities
Sometimes, you can take an online course to revamp your resume for a whole new career field. Even if you want to stick with your current employer, it's possible to gain new skills that will position you for different roles in the company. An online program can be a real value to working adults as it helps you build the knowledge and skills you require to advance your career while networking with like-minded professionals in similar positions.
Are you interested in mobile development? Do you want to earn a Bachelor of Science in Computer and Information Science with a Major in Software Development - Mobile Development Track? ECPI University offers this program at an accelerated pace. For more information about this exciting degree program, connect with a helpful admissions advisor today.
It could be the Best Decision You Ever Make!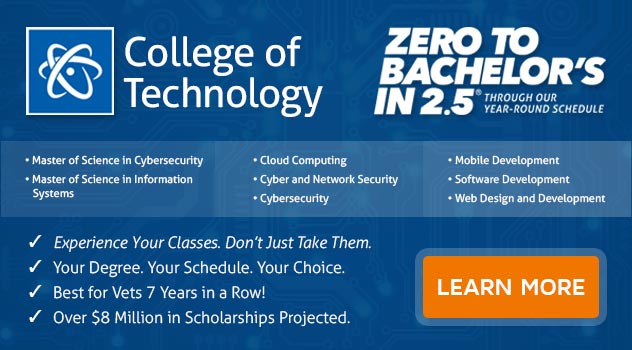 DISCLAIMER – ECPI University makes no claim, warranty, or guarantee as to actual employability or earning potential to current, past or future students or graduates of any educational program we offer. The ECPI University website is published for informational purposes only. Every effort is made to ensure the accuracy of information contained on the ECPI.edu domain; however, no warranty of accuracy is made. No contractual rights, either expressed or implied, are created by its content.
For more information about ECPI University or any of our programs click here: http://www.ecpi.edu/ or http://ow.ly/Ca1ya.