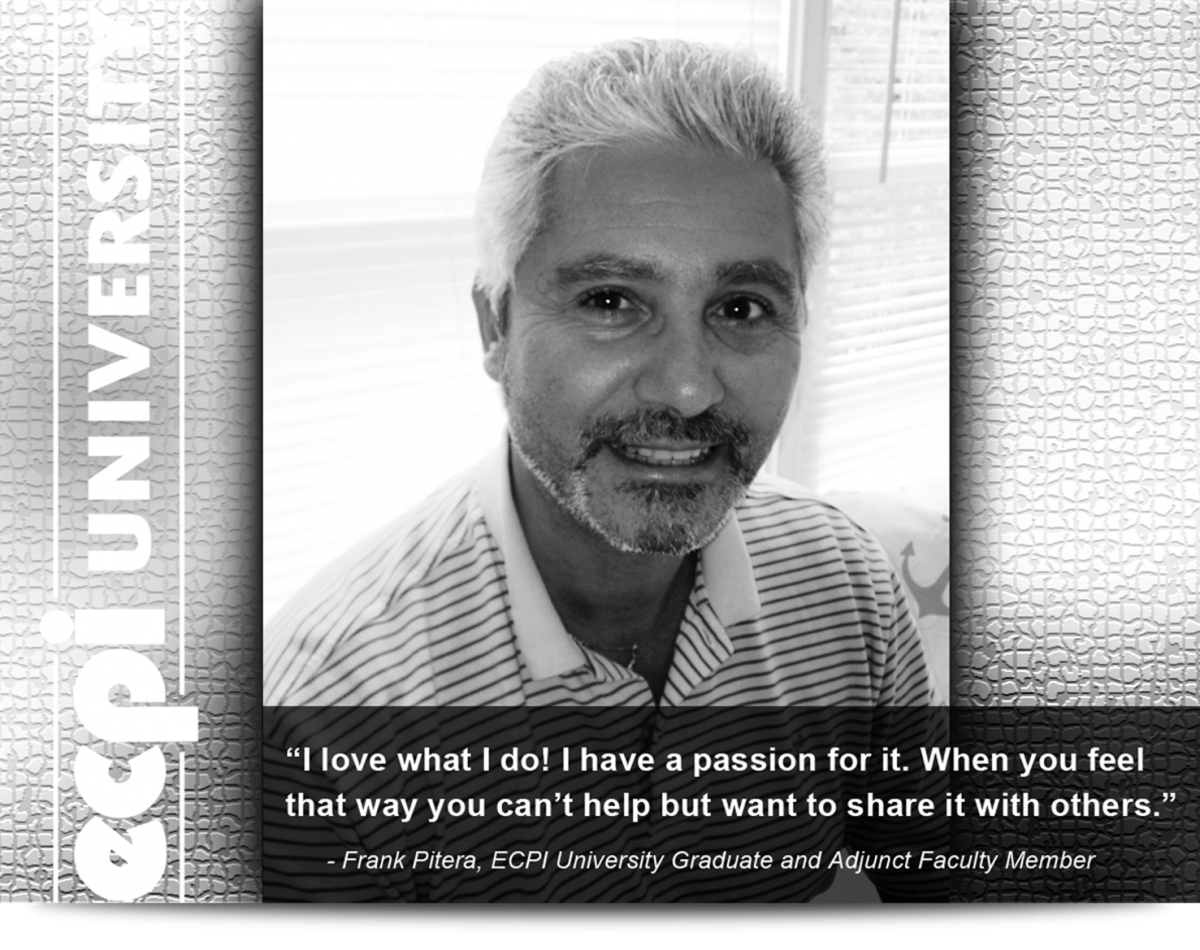 Before Frank Pitera enrolled at ECPI University, he already had a lifetime of experience. Having worked 25 years as an information project manager for a number of Wall Street banks, he was confident and comfortable doing what he had always done…maybe too comfortable. "I was becoming increasingly interested in the security side of information systems and I wanted to get outside of my comfort zone and try something else," says Frank. He already had two college degrees, but needed to expand his expertise.
So, Frank moved to Richmond, Virginia, enrolled at ECPI University, and soon earned his Bachelor of Science degree in Computer Information Systems with a concentration in Network Security. "I enjoyed every moment I spent at ECPI," he says. "Even while I was attending classes, I knew I wanted to come back and share my experiences at some point." Since graduating in 2011, he has earned a Master's of Science in Information Systems Security and has spent the past three years working for the Virginia Department of Accounts.
In his capacity as an information security officer, Frank works to protect all of the sensitive information associated with the Commonwealth's financial transactions, including payroll for more than 200,000 state employees. "Adjunct faculty members like Frank play an essential role in delivering real-world knowledge to our students," says ECPI University Innsbrook Campus President Jacob Pope. "He is current with all the newest threats to information security because he sees them every day. He then comes to campus and shares examples of network security scenarios that may have just challenged him hours earlier."
Frank truly enjoys having a foot in both worlds, professional and academic. "I love what I do," he says. "I have a passion for it. When you feel that way, you can't help but want to share it with others."
If you enjoy a challenge, a career in network security may be just what you've been looking for. In as little as 2.5 years you can earn a degree and learn the skills you need for rewarding careers as a network security professional. Your Bachelor of Science Degree at ECPI University could be the first step toward making you an attractive candidate to employers! Contact us TODAY to learn more!

DISCLAIMER – ECPI University makes no claim, warranty or guarantee as to actual employability or earning potential to current, past or future students or graduates of any educational program we offer. The ECPI University website is published for informational purposes only. Every effort is made to ensure the accuracy of information contained on the ECPI.edu domain; however, no warranty of accuracy is made. No contractual rights, either expressed or implied, are created by its content.
Gainful Employment Information
For more information about ECPI University or any of our programs click here: http://www.ecpi.edu/ or http://ow.ly/Ca1ya.