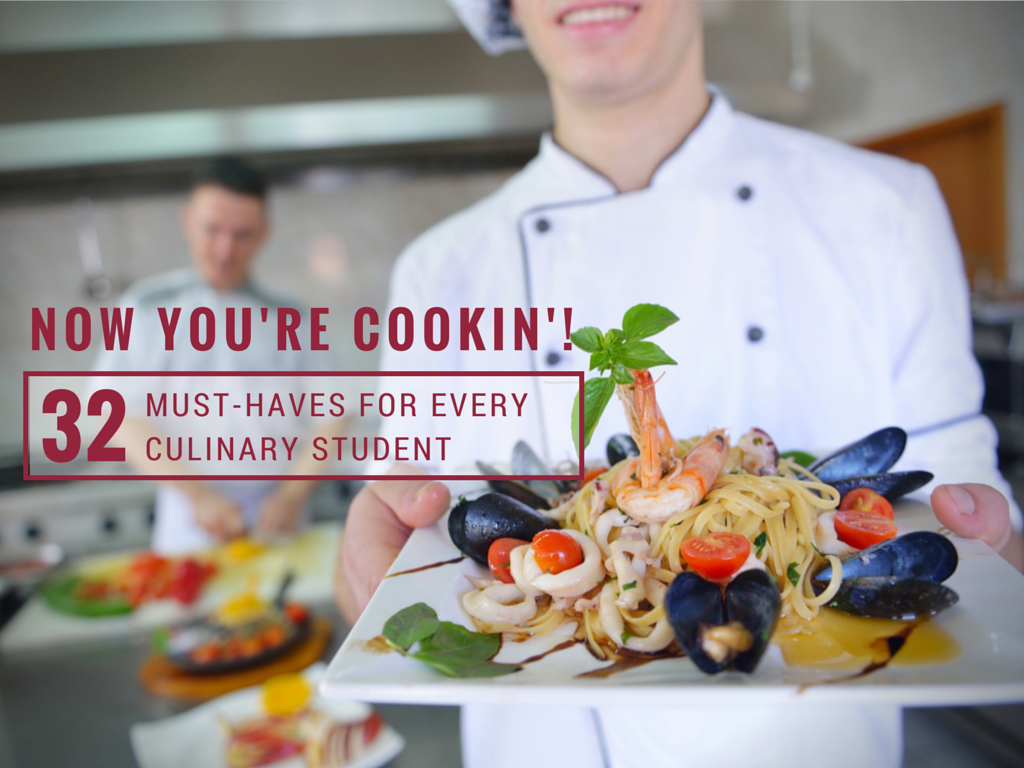 Every type of education has its particular supply list, from kindergarten's naptime mat to high school's graduation robes. Only in culinary school would you expect to see steel-toed shoes, sheet protectors, and a pastry brush on the same list. When you begin your studies at ECPI University's College of Culinary Arts, Culinary Institute of Virginia, you will find that you will be using an array of tools, many of which you may have never heard of before.  As you develop your proficiency with these tools, you will no doubt want to add many of them to your home kitchen.
Want to be a Chef? Look the Part!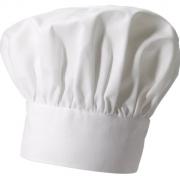 Culinary Institute of Virginia provides uniforms for kitchen and dining room work, the costs of which are covered by program fees. A white shirt, tie, and black pants give you a smart and polished look in the dining room. The kitchen jacket keeps you safe from sauces, and the patterned pants hide stains cleverly.
Do not presume to purchase your kitchen hat beforehand. The unknowing layman may opt for the toque blanche that towers over everyone because, of course, bigger is better. This could get you—forgive the expression—in hot water on the first day, since only the highest ranked chefs in the kitchen wear the tall toque. Both men and women should be prepared to wear a hairnet. Beard nets—for men only, we sincerely hope—are also necessary.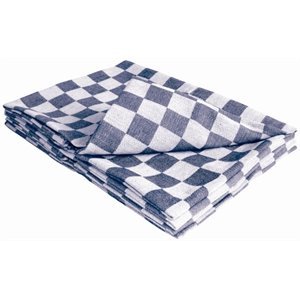 Stand up and look at your feet. Right now, look at your feet. If you see sneakers, open-toed shoes, sandals or flip-flops, you are not ready for a busy commercial kitchen. To protect against knife drops, boiling water and other mishaps, expect to be wearing comfortable, steel-toed shoes. Look for slip-resistant soles; most chef's shoes are black.
You will need quick access to dish cloths. Do not expect to see potholders anywhere in a commercial kitchen. Expect to get burned, repeatedly, until you remember to pick up pot handles with your torchon, or dish cloth, in your hand. Add a knee-length apron. And do not forget the neckerchief—it is your secret weapon against sweat.

Rattle Them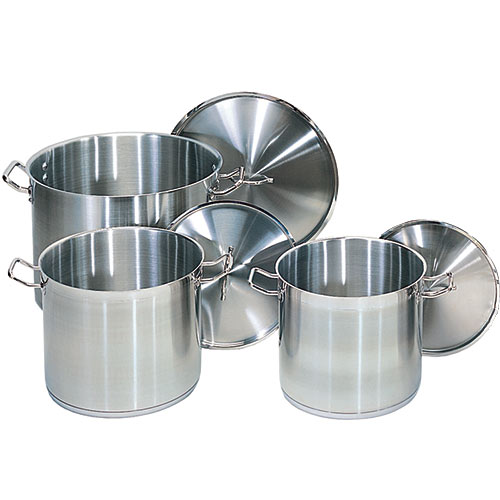 You cannot stock your own home kitchen with commercial kitchen pots. It simply is unrealistic to have a 100-quart stockpot share space with...well, just about anything else in your house. Still, if you want to practice your skills, get three essentials:
saucepan
sauté pan
stockpot—A modest 12-quart size is just fine
Best material? Invest in pots that have copper bottoms and stainless steel linings. The stainless steel does not react with food, and the copper heats up fast.
Kitchen Cut Up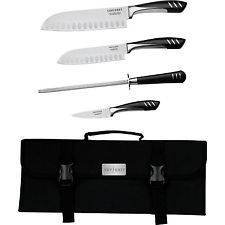 Resist the idea that your first culinary school knife set is the one you will treasure for life. Your first knives are equivalent to that gigantic fat pencil with which you mastered your letters, back in first grade. You will receive a basic starter set, such as this array arranged from short to long:
2 ½" tournè knife
3 ½" paring knife
6" boning knife
7" flexible fillet knife
8" chef's knife
9" serrated bread knife
10" slicing knife
13" cake slicing knife
Having a kitchen fork and a sharpening steel is useful, but wait to use the steel until you receive instruction in sharpening your knives. These kitchen knives are stored in a handy travel roll. As your knife skills improve, you can look forward to replacing less expensive knives with better quality tools.
A Pinch of This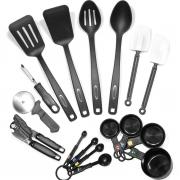 In the culinary arts, you can amass great quantities of gadgets, and you probably will in your culinary career. Some simple tools, beyond your knives, will get near-daily workouts:
Bench scraper
Spatulas—Metal, straight, offset in various sizes
Peeler
Large balloon whisk
Kitchen shears
Pastry brush
Corkscrew
Tongs
Measuring spoon sets—standard and metric
A Dash of That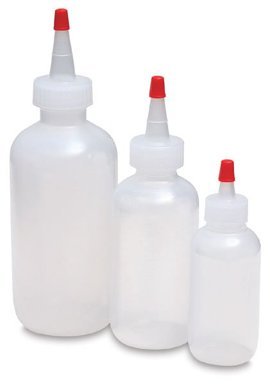 While nobody likes a show-off in class, having a few special extras can transform you from terrified tyro to confident cook in the kitchen. Be your own superhero of the stove with these items:
Infrared thermometer
Bowl scraper
Zester
Sheet protectors to keep recipes clean
Wooden spoon with a sharpened end (a sneaky-clever way to poke holes in pastries)
Lazy Susan—Keep this out of the class kitchen and use it to practice slicing cake layers, frosting cakes, and decorating cakes.
Squirt bottles—Remember those beautiful ribbons of chocolate and raspberry sauce on dessert plates? Mere seconds before your received your dazzling dessert, a chef used a squirt bottle to lay down the magic.
You can see that this supply list cannot be gathered in a weekend. Many items will be given to you as part of your culinary program and others you will acquire as your budget and time allows. Practice special techniques as you add to your toolkit. Then, when your culinary career starts to really take off, you will be ready!

The Greatest Tool: A Culinary Arts Degree
To learn more about Culinary Institute of Virginia's Associate of Applied Science in Culinary Arts, visit ECPI University College of Culinary Arts on the web. It could be the Best Decision You Ever Make!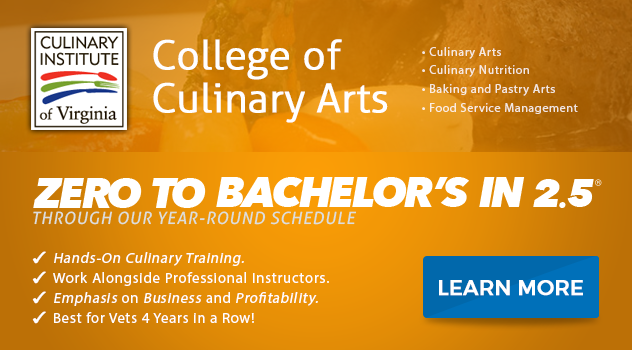 DISCLAIMER – ECPI University makes no claim, warranty or guarantee as to actual employability or earning potential to current, past or future students or graduates of any educational program we offer. The ECPI University website is published for informational purposes only. Every effort is made to ensure the accuracy of information contained on the ECPI.edu domain; however, no warranty of accuracy is made. No contractual rights, either expressed or implied, are created by its content.
Gainful Employment Information
For more information about ECPI University or any of our programs click here: http://www.ecpi.edu/ or http://ow.ly/Ca1ya.