Nursing: Recommendations for Those Considering the Career Field
Are you a recent high school graduate looking for a career path? Alternatively, are you a bit older and seeking a career change? Either way, maybe nursing has been suggested as a well-paying career where employment is generally steady.
Certainly, good career outlook as far as job growth and salary are great reasons for entering the field, but there are some things you'd be wise to consider before you take the plunge. Consider these recommendations if you're seriously considering nursing as a career.

Nursing education is intense and demanding
There's no point in soft pedaling it: earning a nursing degree takes hard work and dedication. If you're not willing to put in the time to study and master the material, you won't succeed. It's also important to have the support of family and friends to help you carve out the time you need to devote to your studies.
Nursing offers a wide range of career opportunities
Although most nurses start their careers as RNs, or registered nurses, with a focus on providing hands-on care for patients, nursing offers a wide variety of career choices beyond that of RN. Look at the possibilities: labor and delivery nurse, flight nurse, emergency room nurse, psychiatric nurse, travel nurse, school nurse, and many more. There are so many options, you'll need to give careful consideration as to which career path suits your personality best.
Those lacking a sympathetic, compassionate personality should probably find another career
It's pretty safe to say if you don't like caring for and helping other people in an often intimate and hands-on way, nursing might not be the best career choice for you. The most successful nurses are those with a highly developed sense of compassion and caring, and a willingness to relieve suffering.
The nurse is usually the key link between the doctor and the patient, and is often critical to the patient's recovery. Most nurses report this makes their field one of the most satisfying they can imagine.
Today's nurses are looking for advancement
Many of today's nurses are not content to remain RNs for their entire careers, but are aiming higher by pursuing bachelor's degrees, master's degrees, and beyond. Nurses are moving up the ladder and becoming nurse educators, nurse practitioners, and managers.
This is particularly important as a nurse ages and perhaps finds that the physical demands of the job are proving more challenging. With the right education, a nurse who has been involved mainly with care giving may find doors open to greater levels of responsibility, where other skills are needed.
Nursing is a good second career
Some careers are difficult to break into after you reach a certain age, but people in their 30s and even their 50s find that once they complete their nursing education, jobs are open to them. What's more, if you already have a bachelor's degree, you could have an edge in obtaining a nursing degree.
As long as you are physically able to meet the demands of nursing, there's no reason not to pursue it as a career even if you're on the upper end of middle age. After all, 45 percent of RNs are 50 years old or more, according to the National Sample Survey of Registered Nurses.
In fact, this same survey reports that the average age of all licensed registered nurses is 47, and that this average age is increasing every year, as more students enter the field after having been in another career. Second-career nurses are well known for the energy and focus they bring to their studies, and are generally top academic performers.
Nursing allows you a flexible lifestyle
Depending on the type of nursing job you pursue, you can arrange your life in a more flexible pattern that suits your personality. If you want regular 40-hour, five-days a week shifts, you can find them, but if you want longer shifts that allow you several days off in a row, the jobs are there.
These larger clumps of time in a week make it possible for nurses to pursue their educational goals, spend quality time with family, volunteer, or travel. After all, nursing is a round-the-clock profession so there is a chance of finding the nursing job that suits your ideal schedule.
Is this the Right Career for You?
Nursing is a demanding career, requiring successful completion of a rigorous educational program to enter the field, and once on the job, the ability to meet a daily round of physical and mental challenges. But while the challenges are great, so are the rewards.
Do you think the nursing field is for you? First, you need to get your nursing education to get you started. If you want to earn an Associate of Applied Science in Nursing Degree, ECPI University offers this degree at an accelerated rate. For more information about this exciting program, connect with a helpful admissions advisor today.
It could be the Best Decision You Ever Make!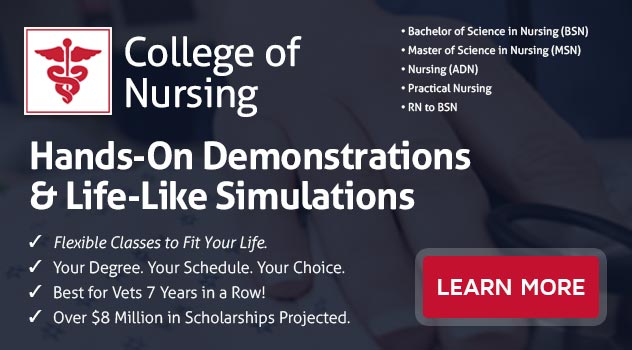 DISCLAIMER – ECPI University makes no claim, warranty, or guarantee as to actual employability or earning potential to current, past or future students or graduates of any educational program we offer. The ECPI University website is published for informational purposes only. Every effort is made to ensure the accuracy of information contained on the ECPI.edu domain; however, no warranty of accuracy is made. No contractual rights, either expressed or implied, are created by its content.
Gainful Employment Information – Nursing - Associate's
For more information about ECPI University or any of our programs click here: http://www.ecpi.edu/ or http://ow.ly/Ca1ya.