Online Cyber Security Courses: Is Studying Online an Option for Me?
Every business – every organization today – is a technology company. Cybersecurity is the future of business, and the demand for educated, trained cybersecurity professionals is huge. Obviously, it's a hot field for employment. Couple that with online education, and you've got a winning combination that's hard to resist.

Why Are Cybersecurity Professionals Needed So Desperately?
While digitizing is now a necessary way to operate businesses, it puts companies in the direct path of hackers. TechCrunch predicted 2019 would be the worst year yet for cyberattacks.
"This bad news is compounded by the harsh reality that there are not nearly enough cybersecurity pros to properly respond to all the threats," says the online magazine. "The technology industry has never seen anything quite like it…job openings can linger almost indefinitely. The ever-leaner cybersecurity workforce makes many companies desperate for help."
Globally, there is a need for almost 3 million cybersecurity professionals, and the ideal candidates will have bachelor degrees in computer science.
"Cybersecurity has long been a field that has embraced people with nontraditional backgrounds," continues TechCrunch. A non-traditional way of earning a degree – online education – attracts the kinds of people interested in cybersecurity. It's a win-win for employers.
Cyber and Network Security Degree: Online Makes Sense
Earning a degree on your own time is a dream-come-true for busy families and people who are already working full- or part-time. What is it like to study for a degree in cybersecurity online?
If the entire degree were about coding, many students would breeze right through a cybersecurity curriculum. A well-rounded cybersecurity degree program includes studies and coursework that will give you real-world skills. Business communications, legalities of online security, and how to work with a team on security projects (Positive Psychology is a good example) are the kinds of classes you will generally need.
3 Advantages of Online Education
Let's take a look at some of the advantages of earning a technology degree online. Keep in mind, these are just some of the benefits you could expect from an online degree program.
1. Money Savings
No dormitory expenses, no student fees, no transportation costs, fewer office supplies, are some of the online education financial advantages. If you're juggling a family and/or a job, meals can be more about saving time than money. On-campus students (or their parents) sometimes purchase dining-hall meal plans that may go to waste at the end of the semester.
2. Freedom
Let's face it. Technology has given us the freedom to work, play, rest, and learn on our own terms. An online degree allows you to take as long as you need during the week. The pace of your coursework is all about your schedule: not a university's. Look for a school that offers a year-round and accelerated curriculum if you don't want to take four years (or more) to finish your studies.
Online education also offers another type of freedom: You can learn about anything and almost everything. If you live in an area that doesn't have a technology school nearby you used to be out of luck. Either more or study something else. But now, you can live and travel wherever you like and all you have to do to access your classroom is fine a Wi-Fi connection.
3. Online Degrees Are the New Normal
On-campus education still offers value: Leaving home for college is another important step toward maturity and personal growth. It seems like eons ago that online degrees were viewed with distrust and cynicism. Very few schools don't offer online degree programs, and they are so convenient, online degrees are becoming the new norm.
Some employers see online degrees as an indicator you can set and achieve goals independently. Online education has the respect it deserves, when offered by accredited universities.

Your Cybersecurity Career Begins with ECPI University
Are you interested in cybersecurity? If you want to earn a Bachelor of Science in Computer and Information Science with a Major in Cyber and Network Security, consider ECPI University for the education you want. For more information about our accelerated programs, connect with a knowledgeable admissions counselor today.
It could be the Best Decision You Ever Make!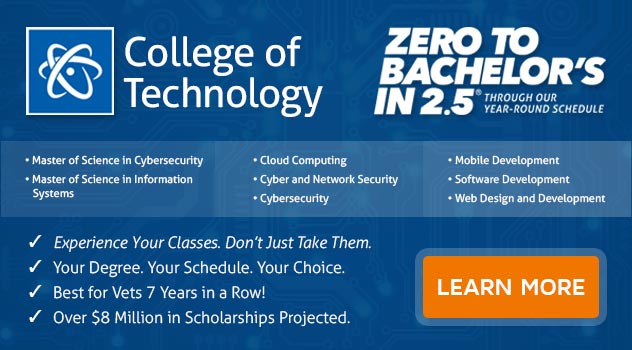 DISCLAIMER – ECPI University makes no claim, warranty, or guarantee as to actual employability or earning potential to current, past or future students or graduates of any educational program we offer. The ECPI University website is published for informational purposes only. Every effort is made to ensure the accuracy of information contained on the ECPI.edu domain; however, no warranty of accuracy is made. No contractual rights, either expressed or implied, are created by its content.
For more information about ECPI University or any of our programs click here: http://www.ecpi.edu/ or http://ow.ly/Ca1ya.