Online Degree in Cyber Security: Could This Be the Start of a New Career for Me?
Over the last decades the whole world has gone from analog to digital and just about everyone is online. There are very few places around the world that do not have a way to connect to the Internet. Here in the U.S., the Internet has become a part of our daily lives.
Businesses depend on the Internet to the point where they can no longer exist without it. Everyday items, from refrigerators to lightbulbs, are being connected to the Internet. As our dependence on the Internet grows, so do cybersecurity worries.
More and more cybercriminals are applying their skills online by hacking into company networks. As such, there is an increasing demand for cybersecurity specialists. Enrolling in a cybersecurity program is a great way to get started on a career in cybersecurity -- and seeing as how it's an internet-based career, there's no reason why you can't get your cybersecurity degree online as well.

The Benefits of Obtaining an Online Degree
If you're interested in pursuing a career in cybersecurity, then be sure to take into consideration the benefits of earning a cybersecurity degree online:
Online classes are less expensive in the long run – When you attend an online class you don't have to travel to school every day, pay for parking, buy a campus meal plan, or even rent an apartment near campus. You stay in your regular routine, your current town, and are able to avoid campus-related expenses.
Scheduling flexibility - Instead of having a fixed class schedule, taking online classes allows for a lot of scheduling flexibility. This is particularly beneficial for students who have personal responsibilities outside of class. For example, if you're working full time or are raising a family, you could still be able to complete your degree by taking online classes.
Easier to participate - If you're attending classes in person, it can be difficult to get one-on-one attention, especially if you're in a larger classroom and you're more of a quiet person. Online classes make it much easier for students to participate and make it more comfortable to engage as well.
Avoid the need to move or commute - One of the drawbacks of taking classes in person is that you have to travel to your classes every day. If you don't have a car, this can be a real challenge unless you're living on or near campus. By taking classes online, you don't have to leave your home, thereby eliminating the need to drive or take public transportation. It also opens up your options as far as what program you want to enroll in. If you were going to class in person, you would have to choose a school that's located nearby. With online learning, it doesn't matter where they are located.
Improve your technical skills - Learning cybersecurity skills could be a lot easier to do online from the comfort of your computer than in a classroom setting. You'll be able to use your personal computer, which can make learning technical skills a lot easier than in a classroom taking notes on a strange computer.
Skills You Need to Succeed as an Online Learner
Taking classes online is a lot different than taking classes in person. It's not necessarily easier or more difficult -- just different. As such, it's important to understand what is required of you in order to succeed as an online learner. The following are a few of the skills you will need:
Computer literacy - If you plan on taking online classes for any type of program, you're going to need to have adequate computer literacy skills; however, this is especially true if you're pursuing a degree in the technology field. It's going to be a real challenge if you're attempting to pursue a career in cybersecurity if you're having trouble figuring out how to complete assignments online.
Self-discipline - Because of the scheduling flexibility, it can sometimes be easy to fall behind your coursework if you're not careful. You need to have self-discipline when it comes to carving time out of your schedule in order to take your online classes, to do your homework, to study your course materials, and to take your tests.
Time management - If you're working steadily or raising a family, then you're going to have to figure out how to manage your time quickly. Even if you have self-discipline,  you could still fall behind if you don't manage your time properly.
Learn More About Our Online Cybersecurity Program
Cybersecurity specialists are in high demand and will continue to be in high demand for the foreseeable future. According to the Bureau of Labor, the predicted job growth rate for information security analysts throughout 2026 will be roughly 28 percent, which is much higher than most other professions.
Are you interested in learning cybersecurity, but believe learning online would better suit your needs? If you want to earn a Bachelor of Science Degree in Computer and Information Science with a Major in Cyber and Network Security - Cybersecurity Track, ECPI University offers this program completely online and at an accelerated pace. For more information, connect with a knowledgeable admissions counselor today.
It could be the Best Decision You Ever Make!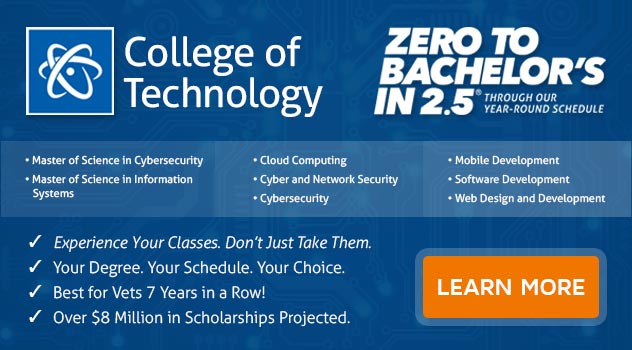 DISCLAIMER – ECPI University makes no claim, warranty, or guarantee as to actual employability or earning potential to current, past or future students or graduates of any educational program we offer. The ECPI University website is published for informational purposes only. Every effort is made to ensure the accuracy of information contained on the ECPI.edu domain; however, no warranty of accuracy is made. No contractual rights, either expressed or implied, are created by its content.
For more information about ECPI University or any of our programs click here: http://www.ecpi.edu/.