Passion for Cyber Security? How to Turn it into a Career!
As data continues to become a valuable business asset, more companies need professionals who can handle their data security needs. Data breaches affect businesses in many different ways. Not only do they result in financial loss, but they can also affect a company's reputation and growth. This is why cybersecurity has become a rapidly growing field in recent years.
If you have a passion for data, analytics, and cybersecurity, why not turn it into a career? Doing what you love could make waking up every day a much easier task. Not to mention that companies need IT managers, network security analysts, and technical support professionals who can help them manage their data safely and efficiently.

Cybersecurity has evolved into a vibrant career
The cybersecurity field is expanding year after year. As more companies rely on data analytics to uncover valuable insights and drive their operations, you can expect to witness significant growth within this field. In fact, the global cybersecurity sector is projected to grow from $120 billion currently to over $300 billion by 2024.
If you enjoy working with data, understanding how networks and IT systems operate, and keeping up with industry standards that surround data management, a career in cybersecurity may be the perfect fit for you. Just a few years ago, not a lot of companies would hire personnel specifically for managing data and maintaining data security. However, growth in the analytics field has fueled a need for cybersecurity professionals.
There are two main reasons why this growth has occurred. First, more businesses realize that data holds lots of value. This information can be used to understand more about customer preferences, cut down on operational costs, and identify opportunities for growth. Therefore, businesses are racing to collect and analyze larger amounts of data daily.
This so-called "data frenzy" has also created a window of opportunity for hackers. Hackers understand the value that business data provides, and they're relentless in their attempts to compromise company information. As a cybersecurity professional, you'll be in the frontlines protecting business data from hackers.
Your career could be challenging, exciting, and fast paced. It might allow you to develop many different skills that could make you a more valuable asset over time.
Why obtaining a formal education in cybersecurity is important
The field of cybersecurity involves many different roles. From installing networks to managing data usage in organizations, you could wear many different hats depending on the needs of the organization you'll be working for. This is why obtaining a formal education in cybersecurity will set you apart from other candidates in the job market.
While you may be able to teach yourself about network security or IT systems, formal education should give you hands-on experience in multiple strategic fields of cybersecurity. This means that you should have an opportunity to learn about hardware and software security, network monitoring, and managing data recovery efforts after a threat occurs.
A formal education could also teach you about ethical and professional practices within the field, in addition to being aware of the latest governmental regulations about cybersecurity. Investing in formal education will usually make you a more valuable candidate for businesses when looking for career opportunities.
What are your career options?
As someone passionate about cybersecurity, you may be wondering what a career within this field looks like. What makes cybersecurity so unique is that there are many different career options available. Businesses of all types need to keep their data safe. From banks to hospitals and even educational institutions, you'll be able to pursue positions across multiple industries.
Cybersecurity professionals also work in many different capacities. With a formal education, you could have the skills and abilities to work as any of the following:
Providing technical support and assistance to departments within an organization
Working with network security implementation
Working as a network analyst (either as a consultant or as a company employee)
Installing and managing data security hardware/software systems
What you can expect in a cybersecurity program
When undergoing formal education in cybersecurity, having a passion for the field could drive your success. This is because the program involves a combination of hands-on experiences and theoretical concepts. The idea is to prepare you for the vibrant cybersecurity sector in many different ways.
As part of a program, you'll generally learn about installing hardware and software, monitoring them for security, and identifying any potential breaches. You could also learn how to protect and recover data after a threat has occurred.
Are you ready to explore the world of cybersecurity?
If you are passionate about the field of cybersecurity and want to learn more, consider ECPI University and our Bachelor of Science in Computer and Information Science Degree with a Major in Cyber and Network Security - Cybersecurity Track. For more information about this exciting opportunity, connect with a helpful admissions representative today.
It could be the Best Decision You Ever Make!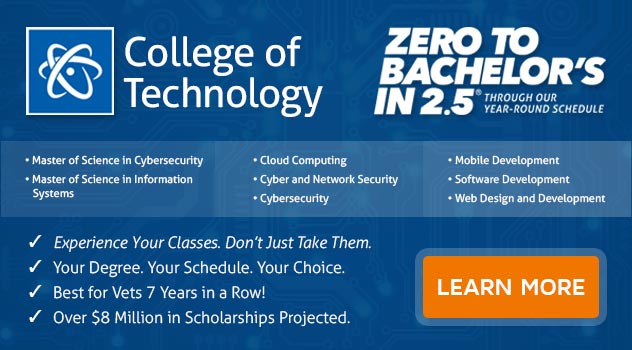 DISCLAIMER – ECPI University makes no claim, warranty, or guarantee as to actual employability or earning potential to current, past or future students or graduates of any educational program we offer. The ECPI University website is published for informational purposes only. Every effort is made to ensure the accuracy of information contained on the ECPI.edu domain; however, no warranty of accuracy is made. No contractual rights, either expressed or implied, are created by its content.
Gainful Employment Information – Cybersecurity Track - Bachelor's
For more information about ECPI University or any of our programs click here: http://www.ecpi.edu/ or http://ow.ly/Ca1ya.